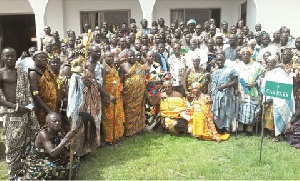 By Kwame Okoampa-Ahoofe, Jr., Ph.D.
I was reticent about the creation of new regions in the country, but the regressive agitation by the Trokosi nationalist-sponsored Homeland Study Group (HSG) has convinced me that it is well-nigh time for the materially shortchanged Akan- and Guan-dominated areas of the Volta Region to have their own political sphere of influence, in order to facilitate the rapid development of these areas of the country (See "Committee Formed to Push for Proposed 'Oti Region'" Ghana News Agency / Modernghana.com 4/12/17).

Recently, the Akufo-Addo government established a Consultative Committee to commence the process of creating Oti Region out of the Northern Volta Region. It is anticipated that some fanatical supporters of the main opposition National Democratic Congress (NDC) will be kicking vehemently against this otherwise all-too-salutary process.

But, of course, they will be promptly and duly ignored; for it is rather ironic for a people who claim to be fighting for either complete separation or autonomy within the geopolitical parameters of the country to be protesting against the inalienable right of other Ghanaians to be ceded a healthy political status, to enable them to catch up with the rapid development of the other regions of the country.

In the past, people from the soon-to-be Oti Region had bitterly complained that Ho, the Volta regional capital, located in the southern-half of the region, did not facilitate the fair and even distribution of development resources and amenities. The centralization of our governance system also meant that the Anlo-Ewe-dominated areas of the region would receive relatively more attention from the policymakers in our nation's capital of Accra.

At a press conference inaugurating the Oti Region's Consultative Committee, the chiefs and the elders and the people encompassing such districts and townships as Jasikan, Kadjebi, Krachi-East and -West, Krachi-Nchumuru, Nkwanta-North and -South solemnly pledged to live together as kinsfolk and good neighbors, despite their ethnic and cultural diversity.

The new Oti Region will also include such nationally recognized traditional areas as Akpafu, Santrokofi, Likpe and Lolobi.
The main opposition National Democratic Congress' partisans, particularly those from the Ewe-dominated southern Volta Region, led by Mr. Koku Anyidoho, one of the party's several Deputy General-Secretaries, are likely to speak vehemently against the creation of the Oti Region and even virulently pretend as if it was a strategically divisive policy aimed at vitiating the veritably mythical coherence of the region and its people.

But, of course, what is also significant to bear in mind is the fact that had former President John Dramani Mahama won his desperately fought reelection bid in December 2016, the Northern Region-descended Mr. Mahama would have embarked on this same process of creating new regions in the country.

We must also promptly highlight the fact that although the idea was originally proposed by the key operatives of the ruling New Patriotic Party's widely recognized architects of decentralization, the National Democratic Congress' leaders had characteristically latched onto this healthy ideational initiative and quickly and shamelessly claimed it as their own.

There are, of course, a couple of other regions, or so, to follow suit. How the consultative process pans out in the Oti River Basin area would have considerable impact on the other areas which are on their way to being elevated to the enviable status of new regions and/or major administrative areas.

We wish the well-meaning and progressive members of the Consultative Committee of the proposed Oti Region Godspeed.

*Visit my blog at: kwameokoampaahoofe.wordpress.com Ghanaffairs
By Kwame Okoampa-Ahoofe, Jr., Ph.D.

English Department, SUNY-Nassau

Garden City, New York

E-mail: okoampaahoofe@optimum.net