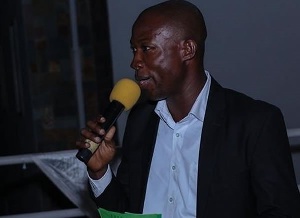 By Akyena Brantuo Benjamin
Trust in the lord with all your heart and lean not on any man or political party.

For the man who trust in God is like a tree planted my the river banks. The Bible says, it bears fruits both in the dry season and raining season.

If you will only trust in God, it really will not matter which political party will be in power, you will accomplish whatever purpose God has for your life, even in education, business, marriage, and family. Indeed the lord will perfect all that concerns you.

However, those whose trust are in men or men in politics, bible says curse be upon you. For you trust in flesh than God.

I should not be misunderstood. Celebrating or mourning the victory or demise of one's political party is legitimate. It must however be limited to your confidence in that political entity's sound political program for the efficient running of the polity.
The problem is when you jubilate or mourn because you believe the progress or misery of your life is also dependant on the fortunes of that party.

I conclude with two evidence in the Bible to back this point.

Daniel became most prominent while he was in slavery in Babylon. He flourished so well at a time native Babylonians were slaves to him. So was Joseph in Egypt. As a slave he became a Prime Minister by the help of God. And was served by native Egyptians.

On the contrary, David as an anointed royal and warrior of Isreal was a fugitive in his home land Israel under the leadership of King Saul, a man he had helped to defeat Goliath.

A casual study of the history of Ghana's politics will show that it goes without saying that several leading political figures have perished while their government were in power while opposition political party elements have flourished in private practice and received favourable disposition from the ruling government.
Who do you want to trust your life with, God or a political party?

On my part, I will encourage you to trust in the lord with all your heart instead of leaning on a political party.

Akyena Brantuo Benjamin

Broadcast Journalist with Ahotor Fm.

benakyena@yahoo.com
NB

I thank God for peaceful elections. I wish the next government well, whoever it is.

Amen.