If Bawumia and Kyerematen are part of this disastrous regime, what makes them special as presidents?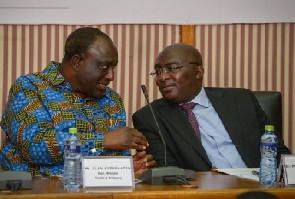 It's unsettling that several NPP politicians, who are part of the current administration, that have destroyed financial institutions, enterprises, and investments in the country, have announced their intention to contest for the party's presidency. What sets them apart from other government officials when they are behind this calamitous system of governance that is playing out in front of our very eyes?
Ghanaians are incapable of learning and never will. Despite the tragedy that has befallen our country and taken a toll on the physical and mental health of the oppressed masses, many citizens still want to embrace further catastrophes because in Ghana, tribalism is what matters, not development. If not, a president wouldn't hold office for over six years without making a substantial contribution.

Despite the suffering of the masses, NPP politicians act as though they are either deaf or unaware of what is going on around them. I don't think the NPP will excel to be among other political parties in Ghana if the country's constitution allows for the examination and analysis of each political party, based on performance because there are no words to describe this particular party. It's horrible.

Like the president, Nana Akufo Addo, and his relative, the quack finance minister, Ken Ofori-Atta, all the NPP politicians are incompetent. Even though the majority of these politicians have failed to build factories, roads, or employment, they have been openly praising their achievements for more than six years, without listing them for Ghanaians to see. I challenge them to bring out the list.

Unless you lack a conscience and ethical principles, you won't be concerned about the changes happening in Ghana today. Everything in this nation is disintegrating because it is being run by a family of political fraudsters who has been passing themselves off as leaders capable of governing and overseeing our money. Regrettably, they have largely destroyed the financial and economic systems.

Ghana is in debt, and the NPP cannot point to any specific projects or evidence to convince Ghanaians that one particular project is to blame for the country's debt. Thus, the current financial crisis in Ghana is a result of both corruption and financial incompetence. Every time the president or any so-called preacher responds, "We should continue to pray for the nation," I think it is extremely dumb indeed. Why should I pray?

Akufo Addo and Ken Ofori-Atta are to blame for the tragedy that has befallen our country, and their involvement can be traced back a few years. The majority of NPP politicians, including Akufo Addo and Ken Ofori-Atta, engaged in rampant spending and high-level corruption that led to the collapse of the banking system, the economy, the currency, and foreign investments in the nation.
Ghanaians shouldn't be shocked if the president, a relative of Ken Ofori-Atta, has blocked all attempts to remove him from his position as finance minister. Since the finance minister is tied to the president, I stated in many of my publications that Ghana cannot succeed as a country. These appointments are uncommon because they encourage corruption, but lo and behold, it has occurred in Ghana.

Therefore, if individuals such as Vice President Bawumia, Ken Agyapong, Alan Kyerematen, and others who are in the government and accountable for the disaster that has befallen the country, declare their desire to become president, then as an educated Ghanaian, you must consider what they can offer the country. People who failed to prevent the country's economic collapse, are claiming to have a magic wand that can save Ghana if they become president. God should have mercy upon Ghanaians.

The president's pledge to combat corruption is a disturbing aspect of this administration. What impression do you provide as a president who is bright and reputed to fight corruption by appointing corrupt officials to your administration? And to be honest, there are other foreign diplomats inside and outside the country that have little respect for Akufo Addo, in addition to the numerous Ghanaians who do.

People like Charles Bissue, Ken Ofori-Atta, Eugene Arhin, Kwasi Anin-Yeboah, and Paul Adom-Otchere shouldn't be permitted to serve the government in any developing country, let alone one that is already developed. Their contributions to the country make fun of and belittle Ghana. Everyone in the country, especially foreign ambassadors, would agree that Ghana is not only a joke of a country but also that its president is corrupt.

Everyone can see how president Akufo Addo keeps disgracing himself by asserting that, he "has fought corruption more than any previous leaders in the political history of Ghana," while he has engaged corrupt politicians in his administration. Those who fight corruption sack people involved in corruption and with this government, Ghanaians are about to witness the worst; they haven't even begun.

There is nothing wrong if Alan Kyerematen, Bawumia, and others declare their desire to lead Ghana, but as intelligent Ghanaians, you should ask them to provide a list of their accomplishments that qualify them to lead Ghana before you consider any of them. Trust me, no one can come close to matching John Mahama's record of success. The truth must be said, and if you are intelligent, you will put tribalism to rest because it contributed to Ghana's demise.