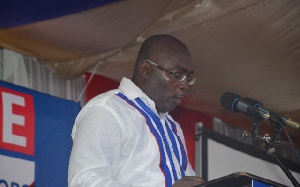 They claim Ghana is bankrupt and that nothing good is working or moving here. It is all gloomy, hopeless and messy, is their terrible message.
So they keep on lying that if the NDC is retained in power Ghana will tumble.

Again, the NPP lying brigade is moving with Usain Bolt speed spewing serious lies that, only the NPP could rescue Ghana from going further downhill.

Yet the International Community (IC) and institutions notably the World Bank (WB) see things differently about Ghana. The IC sees the prospect about Ghana. The WB for instance projects that next year precisely 2017 will see a remarkable economic breakthrough for Ghana.

According to economic estimates released, the WB is saying emphatically that Ghana's Gross Domestic Product (GDP), which is the total value of goods and services that would be provided in 2017, would hit 13%, thus projecting Ghana to be one of the fastest growing economies in 2017.
If therefore, Ghana's economy is totally bankrupt as being trumpeted by Mahamadu Bawumia, the vice presidential candidate of the NPP, why then is the World Bank painting a prosperous picture about Ghana in 2017? Do you remember Lying Bawumia projecting that as we enter the last stretch of the "Campaign 2016" Ghana's cedi would exchange for the dollar at 5:1? Yet what do we see today? Even inflation was down from 17.2% to 15.8% in October. This is a big decrease of 1.4% during an election year. Imagine if NPP were in power and had recorded this. Just imagine!

If indeed, Ghana's economy is that terrible or was in shambles, can the NPP turn it around in just 100 days in office? The truth is that the NPP is in a hurry to come and enjoy where they have not made an input, to harvest what they have not sown, and to make merry from the labours of the NDC government that has strived within the past four years to lay a smooth economic transformational agenda for Ghana.

Ghana is being touted today because when you visit every region you see a major infrastructure either completed or in progress. Never in the history of this country since the overthrow of Dr Kwame Nkrumah, has a government touched the very lives of every citizen in all parts of the country no matter how small.

Nigerians troop to Ghana every day to transact business and for leisure. Some of them have bought properties in Accra notably East Legon and Airport Residential Area. They have seen the remarkable changes in Ghana within the past 8 years. They therefore talk about it openly and relish that they have a President like Mahama to do the same kind of things in Nigeria.
Mahamadu Bawumia, who seems to know everything except the total amount of money he spent during the redenomination of the Cedi in 2007, keeps talking down Ghana's economy in order to scare investors away from Ghana. To him it is only when power is in the grips of the NPP looting brigade that Ghana will once see economic light. As a result, he daily castigates the NDC ruling government by branding it with unprintable words. His wife is even worse.

Indeed, President Mahama has laid a solid economic foundation in Ghana that will see a remarkable leap in 2017. His government has seen enough construction of roads, schools, hospitals, clinics, markets, a football stadium, and notably the completion of the "Gang of Six" roads (Legon-Madina Road, Achimota-Ofakor Road, Sofoline Road among others) left in tartars by ex-President Kufuor.

The NDC apart from these has constructed a number of prominent roads notably the eight-lane Awoshie/Ofankor road. This beautiful road is the only eight-lane road in Ghana today. If NPP had constructed this road, Ghanaians would be reminded about it until Kingdom come. Yet, we don't hear anything about this road from NDC Communicators. Very sad!

The Circle Interchange fully came online when President Mahama commissioned it last week Monday. This beautiful edifice makes the Tetteh Quarshie interchange, considered the lousiest interchange ever constructed in a country looks like a trash can. I wish Kufuor who keeps praising himself daily, as the best President Ghana has ever had, will pass the Kwame Nkrumah Circle occasionally to see things for himself.
We have the Kasoa interchange, which will come on stream before the end of this month. This is a beautiful interchange, which will surely reduce the heavy traffic flow from Accra to Cape Coast. It will also help the residents in Kasoa who have to wake up at 4 am daily to prepare for work.

We can talk about the beautiful road from Kumasi to Tamale and from Tamale to Bole/Bamboi and from Tamale to Wa. We can also mention the Accra/Ho road and many more. The Suhum road to Kumasi has been completed.

President Mahama has done his bit with modern markets in Kumasi and Cape Coast, schools, hospitals a stadium at Cape Coast and a boxing gym at Bukom, Accra. Cape Coast, Accra, Tema, Kumasi, Tarkwa, Tamale, Wa, Sunyani, Koforidua, Ho and many prominent towns have seen many of their roads asphalted. If you go to Kejetia Market, you would not believe what you are seeing. Kumasi has also seen the construction of the beautiful Rattray Park, which was commissioned last year.

The Ridge Hospital in Accra has been turned into a Regional Hospital to be commissioned soon. We have many, many projects that have been commissioned or under construction, thanks to the vision of President Mahama. Yet we have NPP fanatics who think Ghana belongs to them and that if any project is not undertaken by them, and then it is not good, bastardizing all these projects, but quietly enjoying them. God hates hypocrites! That is why the NPP is what it is today.
Another four years for President Mahama will move Ghana further beyond our wildest expectations. Ghana will further grow under the NDC. It is growing, therefore, this is not the right time to steer the ship from clear waters. NPP waters are muddied. NPP's is bloodied water full of envy and mischief. In fact, it is full of confusion, in-fighting, hatred, deceit and lies. They are a bunch of nation wreckers. If somebody stands on a campaign platform and says that NPP cannot afford another four years in opposition, then you don't need to be saint to know the true intentions of the NPP. Ghanaians should therefore stay away from these nation wreckers.

Please stay with above information until you hear from me again!

magjackson80@yahoo.com

http://majjacks80.blogspot.com