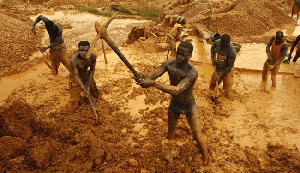 Once upon a time, a Ghanaian acquired a piece of land on the edge of Nweneso No. 1 village with the aim to search for gold. However, a few residents objected.
Then, with the twinkle of an eye, multitudes of Chinese miners moved in with excavators, destroying farmland and denuding the local stream into a trickle of mud.

"The Chinese destroyed our lands and our rivers, they are sitting there with pick-ups and guns, plenty of guns. " "They wield guns and would fire at anyone who dares to confront them to stop mining", a native of the village said (graphic.com.gh).

I am not a blithe doomsayer, or a gleeful grumbling geezer, but if we failed to curb the activities of the recalcitrant illegal miners in our countryside, I am afraid, we are, of course, be heading towards a gargantuan environmental catastrophe.

I must admit, I hold a contrary view to a school of thought who believes that the NPP government's efforts to halt the illegal mining will come to nothing if they failed to provide alternative livelihoods for the galamseyers.

The sceptics somehow argue that the galamseyers will most likely return to the illegal activities in the absence of alternative employment.

In as much as there is an element of truth in the sceptics assertion, lack of employment does not give anyone an absolute right to engage in criminalities and go scot free.

Succinctly put, illegal miners (galamseyers) are criminals like any other criminal on the street and must therefore be treated as such.
Then again, why must we pamper an illegal miner who is bent on stealing our natural resources, destroying the environment and above all terrorising the indigenes ?

Many observers would also agree with me that the illegal activities of the galamseyers in our country side are unprecedented (apologies to the late Mills).

And more so what appears baffling to many discerning citizens is the fact that the illegal miners have been enjoying an unfettered fun over the years without any serious action to curb their activities until recently.

In the time past, we witnessed a few occasions whereby the illegal miners were rounded up and the powers that be ended up setting them free.

There have also been reported cases of deliberate killings of informers and anti-galamsey crusaders by illegal miners .

"A reality documentary on DSTV's Discovery Channel which was shot in Ghana and captured horrifying scenes of foreigners taking over mining sites and killing indigenes has sent Ghana's Lands and Natural Resources Minister fuming"(See: 'Jungle Gold' film: Gov't orders arrest of two US nationals; Inusah Fuseini fumes over mining documentary, Myjoyonline.com/Ghanaweb.com, 10/05/2013).

In another instance, two Ghanaians were shot dead in 2013 by illegal Chinese miners in Obuasi (See: 'Two Ghanaians shot dead by Chinese miners in Obuasi; myjoyonline.com, 09/05/2013).
It was reported that the two Ghanaians were among a group of Ghanaians who attempted to resist the Chinese illegal miners from encroaching on their land. How pathetic?

"They wield guns and would fire at anyone who dares to confront them to stop mining," Mr Yeboah-Asare told graphic.com.gh (See:graphic.com.gh/.../illegal-chinese-miners-resume-operations-in-parts-of-ashanti.html-).

It seems that a section of Chinese miners become extremely spiteful when they find themselves in mirthful Africa.

Take, for example, two Chinese foremen injured 13 miners by opening fire on a crowd of Zambian demonstrators at the Chinese Collum Coal Mine in 2010.

This incident touched off a wave of anger throughout Zambia (See: cesran.org/index.php?...id=1468%3Achinas...).

Of course, we cannot allow a few obdurate criminals to hold us to ransome. Suffice it to stress that even the Holy Book, the Bible, tells us that whoever brandishes a gun should die from the gun. That, for me, is a pragmatic stance.

Indeed, there is nothing wrong to resort to a draconian measure, if that will indeed circumscribe the menace of illegal mining.
Let us face it, they, the scumbags, are well -prepared and they routinely carry out their illegal activities with military precisions, and can strike as lighting, and as deadly and destructive as molten magma.

In any case, the barbaric murder of the innocent Captain Mahama by the Denkyira Obuasi's merciless and uncivilised mob (alleged galamseyers), should be a wake-up call to all and sundry.

Given the criminal intent of the vast majority of the galamseyers, we are, more than ever, urgently required our military power to combat the menace of the impenitent nation wreckers who are bent on despoiling and denuding the environment through illegal mining.

In theory, the illegal miners invasion of our country side with a view to forcibly digging our mineral resources, polluting our sources of drinking water, destroying the environment and above all terrorising the natives is tantamount to war.

I will, however, venture to state that if we failed to act sooner than later, we risk a possible conflict between the incompliant galamseyers and the state futuristically.

Take, for instance, the United Nations maintains that in the last 60 years, at least 40 per cent of all intrastate conflicts have a link to natural resources, and that this link doubles the risk of a conflict relapse in the first five years (UNEP, 2017).

The United Nations stresses that since 1990, at least 18 violent conflicts have been instigated by the exploitation of natural resources, whether 'high-value' resources like timber, diamonds, gold, minerals and oil, or scarce ones like fertile land and water' (UN, 2017).
Consequently, the United Nations went ahead and mandated a few peacekeeping missions with a view to helping the host country to better managed its natural resources.

One such example is the 2003 UN Resolution 1509, which sought to help the war thorn Liberia to protect its natural resources from illegal miners (UNEP, 2017).

The other UN mandated peacekeeping mission is the 2010 Resolution 1925, which aimed to protect life and property in the Democratic Republic of Congo (UEP, 2017).

In sum, illegal miners are flamboyant nation wreckers. So, let us join hands with the NPP government and flush the impenitent criminals out of our country side.