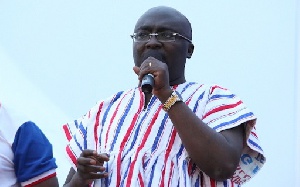 We heard it all in the campaign trail. The Mahama led NDC government was incompetent and corrupt. We were told the ruling NDC functionaries did not read and therefore clueless! We listened with rapt attention to the promise of better times and of roads made of concrete, of factories in all our districts and of dams in all our villages.
Bawumia led the charge in almost all attacks that sought to deliver the governing rights of our homeland Ghana to NPP and thus bring change post 2016. The man had already won our hearts in the election dispute of 2012 when he demonstrated articulate brilliance and superlative flair that left some in the learned fraternity lost for words and arguments. It was certainly not lost on us that his counterpart in the NDC, and former boss at the Bank of Ghana, was found wanting with 170 questions Bawumia put to him. More than anybody else, and without taking the shine off his colleagues, Bawumia defined the NPP campaign on the road and refined their rhetoric at rallies.

Thus, we read his lips and remained hooked to every word he said or penned, and we trusted the meaning and interpretation he gave of issues at stake. We believed him and believed in his intellectual capacity to see through the flaws in government that many of us could ordinarily not fathom. We felt assured that as Vice Pee, Bawumia the accomplished banker and economist will deliver an economy of profound opportunities, a society of equal access to services, a nation free from insecurities and a country that works for all without exceptions.

Ghanaians headed to the polls and voted for the change, not interchanges; the change that will clean up mess in governance, put money in our pockets and bread and butter on our tables. The change that will tackle corruption head on and ultimately translate into transparency in governance and accountability of public officials. Ghana deserved better! On January 7th 2017 we got the change, we got Bawumia and we got the work cut out for the NPP. We had our great expectations and Bawumia was the man to watch even as we acknowledged he was not the President and governance can be a complex interplay of competing interests and powers even within the same party.

We saw early signs of delivery when nursing students laughed all the way to the banks for allowances. We have seen the menace of galamsey to our water sources and arable lands tackled with a palpable sense of mission hitherto unknown in our annals. We are witnesses to the roll out of free SSS education for all even as some doubting Thomases or Otabils still nurse their pent-up reservations. The initial throw ups notwithstanding, many are those of us who hail it as a better late than never way to go in our education and development progress. We heard of a paperless system at our ports and of less bureaucracy and short cuts to private pockets. Our hopes have lifted with reports of early signs of better revenue collection at the ports.

No doubt, we are not too impressed with the inflated number of ministries or ministers and the toll it is possibly taking on our public purse. We are not amused by the perceived cronyism and nepotism especially when we are told in the face that we are all no longer Ghanaians with equal opportunity to jobs because NPP Ghanaians are more Ghanaian. We have not been inspired by the vigilantism unleashed on us in broad daylight. Not that it would be any more acceptable in the thick of night, but it gives away a real state of our insecurity and a culture of impunity we would not usually associate with a party that prides itself as our party of law. We fear for the worst when persons caught in acts of brazen vigilantism walk away emboldened with judicial slaps on wrists. Alas, we still hear of killings on our roads of innocent travellers by rogue elements and we hardly hear the culprits have been caught or punished accordingly.

And now this! The Ghana GPS app has attracted severe criticism from the day it was launched. We know former President Mahama is also said to have dismissed it as 419, and we now hear that irked Bawumia unconsolably even though Mahama is clearly not the first and certainly not the last to hang the app. Bawumia quickly pulled punches, declared Mahama has no clue and returned to the campaign theme of corruption of the NDC in government as if we need reminding.
Bawumia should need no telling that electorates tend to watch more the party in government for their actions and inactions, and listen more to the ones in opposition for alternative solutions to national problems. While the experts and patriots are unanimous that a digital address system will help transform the economy and greatly enhance the response of our emergency services, they seem to have also agreed that the one which was launched in our name is a repackaged, not fit the purpose or simply not value for the tax payers' 2.5million USD or so paid for it. The reviews are out there and all over the place. The verdict is far from hosanna!

We appreciate Bawumia would want us believe in our own products and accept willy-nilly that our GhanaPostGPS is better than those operated in the UK, the US and Sweden. Laughable as it seemed, we did not chuckle when he said so, we actually clapped for him because we all want a better Ghana after all. We realise he may have staked his integrity on it and hate the negativity that arrived on the heels of the launch. Yet, fans of Bawumia (and yours truly is not an exception) expect him to switch off the campaign vibe, take the heat generated in the kitchen and get on with the much harder business of governing.

In this case of the app brouhaha, we would rather Bawumia checks in with Vokacom, order them to read the reviews, take learning from them if any, and revisit the app in our collective interest to have a working digital address system made possible by a GPS that is far better than those in developed economies. Ghanaians have to have faith in the app if it is meant for Ghanaians and designed to work for Ghanaians. We also want Bawumia to leave the reactionary business of telling Mahama off to the NPP communication infrastructure or, better still, to our Ministry of Information. They have duty to educate us on issues and policies. And should they feed us with spin instead, we will still understand they are doing their job.

We are not unaware of rumours that the powers and office of the Vice Pee have diminished with the NPP style of having a Senior Minister. Some say Bawumia's clout is actually clipped by it - wilfully or unwittingly - and thus frees time for him for the less productive or calculated attacks on adversaries such as Mahama. Rightly or wrongly, Ghanaians sufficiently demonstrated they are persuaded by the strength of his arguments when they voted in 2016. It is time to govern, work hard and deliver on the promises!

Did somebody not say actions speak louder than words? We imagine that as the NPP winds up one year of governance, Bawumia will be chronicling their achievements per annum. The GhanaPostGPS will have right of place written in gold only when it is seen by Ghanaians to be working for Ghanaians. Until then, the critics – however negative - cannot all be clueless, can they?