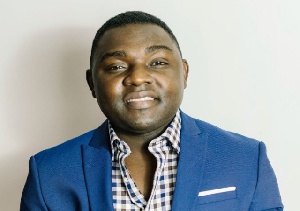 It was extremely interesting listening to the American-based Ghanaian social media commentator, Kevin Taylor, ventilating his arousing disgust over the UNESCO proposed Comprehensive Sexuality Education in Ghana.
I must, however, confess that it was because of hypocrites like the vociferous social media critic, Kevin Taylor, who made me to break my earlier vow not to wade into the public discourse on the Comprehensive Sexuality Education.

Verily, I tried to remain indifferent, but the double standards being exhibited by the self-proclaimed morally upright commentators like the American-based social media commentator, Kevin Taylor, keeps getting on one's nerves.

In fact, if Kevin Taylor really abhors gayism and lesbianism, he should, first of all, condemn such practices in his present country of abode-America.

Truly, Kevin Taylor is surrounded by millions of LGBT people, so if he is really disgusted about the act of gayism and lesbianism, he should present a petition to President Donald Trump.

Indeed, Kevin Taylor should first stage a protest in America over the actions of the men and women who have volitionally chosen to go contrary to the conventional way of making love.

Mind you, Ghanaian parents and guardians have every right to protest against any undesirable content in the school curriculum.
But that said, the 1992 Constitution of Ghana criminalises the practice of homosexuality.

If that was to be the case, the scaremongers like Kevin Taylor should then spare our ears of their needless cacophony because no elected politician or an erudite educationist can introduce the teaching of such practices into our educational system.

Indeed, since the Constitution of Ghana frowns on the practice of homosexuality, I would like to believe that it will be unlawful for anyone to introduce the teachings of 'gayism and lesbianism' in our schools.

So the alarmists like social media commentator, Kevin Taylor, should cease their unnecessary outbursts because until the Constitution of Ghana is amended, no one can introduce the teachings of such praxis into our schools.

Therefore there is no need for the likes of Kevin Taylor to keep hurling insults on anyone over the supposedly 'Comprehensive Sexuality Education' curriculum in our schools.

The fact however remains that over the years, we have been living with gays and lesbians in our communities.
So whether we like it or not, gays and lesbians will continue to practice in secrecy until thy kingdom come.

In any case, Kevin Taylor should bear in mind that basic human rights are based on values like dignity, fairness, equality, respect and independence.

But then again, human rights are not just abstract concepts – they are defined and protected by national and international laws (EHRC).

In essence, human rights are the basic rights and freedoms that belong to every person in the world, from birth until death.

Interestingly, the legal obligations of States to protect the human rights of lesbian, gay, bisexual and transgender people are already detailed in international human rights law, which have been articulated severally in the Universal Declaration of Human Rights and other internationally agreed human rights treaties.

In addition, the International Covenant on Civil and Political Rights is candid on the universality, interdependence, interrelatedness and indivisibility of human rights.
For instance, Articles 2.1 and 26 of the International Covenant on Civil and Political Rights stress on universal coverage without discrimination. And, Article 17.1 emphasises that "no one shall be subjected to arbitrary or unlawful interference with his privacy, family, home, or correspondence, or to unlawful attacks on his honour and reputation'. Whereas Article 17.2 stresses that 'everyone has the right to the protection of the law against such interference or attacks" (UN 1966).

It is also worthy of mention that all members of the human family are protected by the Convention against Torture and other Cruel, Inhuman or Degrading Treatment or Punishment (UN 1984).

But despite the enactment of all these pragmatic provisions, lesbian, gay, bisexual and transgender people are more often than not, face discrimination and violations in most countries.

Under normal circumstances, once a human rights treaty is ratified by a state, it becomes legally binding on the said state (Neumayer 2005; Cole 2009).

Yet meta-analysis suggests that some States Parties often do not comply with the treaty obligations following ratification (Hathaway 2007).

In ending, let us remind the scaremongers like Kevin Taylor that since Ghana's Constitution frowns on the praxes of 'gayism and lesbianism', the authorities cannot introduce any aspects of homosexuality in the internationally agreed 'Comprehensive Sexuality Education' proposal document.
K. Badu, UK.

k.badu2011@gmail.com