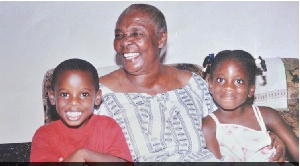 A decade ago, you passed into the bosom of our creator and the news of your passing got to us as a big blow but the Almighty God we serve continues to console us. Auntie Evelyn Charity Nornooo, we are also consoled by the assurance that you are resting beside your Maker till we meet again. Your good deeds and encouraging words on earth, especially to us your children, grandchildren and other family members still live in our hearts.
We will fondly remember you and promise that we will honour your memory till we meet again.

When your good heart stopped beating, a good soul ascended into heaven. Ten years ago, we parted ways in pain but remembering your wonderful and gentle soul will forever remain in our hearts. Rest in peace, Auntie Comfort.

In celebrating the 10th anniversary of your demise, we pen down these few words to honour your memory;

"Auntie Pramang, mum, in a million if I were given a chance to choose a mum, I would select you over and over again. You will forever live in our hearts and your name will be imprinted in our family history books, continue to rest in the bosom of your maker"---- Sister Afi Tagboto Sarpong.

"Evelyn, I have really missed you these past 10 years. My beautiful, elegant, brilliant and industrious woman I call mum. I will never forget you because of the discipline and virtues you instilled in us. You will forever remain in our hearts. We love you a lot" — Chief David Mensa Bonsu
"Auntie Evelyn was a family-oriented woman. She would go to any length to assist family members in need. Her life was a blessing to the family as a whole. She impacted positively on the lives of most family-members, particularly in the field of education. She was instrumental in ensuring that family members pursued their educational goals to the highest level, myself being a living example. Auntie Evelyn was also protective of family assets and took care of them well. Her industrial nature was also an example for the family members to follow. The vacuum you created is still bearing on in life"— Dr John Adu Gyamfi Poku.

"Exactly 10 years ago, you left us for eternity, the pain and sorrow your departure created in our hearts are still with us. The vacuum you created has not been filled. You are fondly remembered by the church"— Pastor Osei Wusu.

Grandma, its been 10 years since you disappeared from the surface of this earth to join the dead. Even though we were young, we remember you pampered us. We used to braid your hair while you sat in your favourite chair. You will always remain in our hearts forever. We miss you — Grandchildren

"Dear mum, words cannot express the way we miss you. It's been 10 years but it seems only yesterday because we continue to talk about you because of the solid foundation you laid for the family and others. I am sure you are enjoying yourself up there. Till we meet again, thank you, thank you and thank you. We love you,"— Ciao Yaw

It's been 10 long years since you departed to be with your Maker. Ten years on June 6, 2007 seems like only yesterday. Fond memories of you still linger on. We remember you every day in good and bad times. You left us with such rich memories of you and we were proud to be part of your life when you were on earth.One thing we ask of the Lord is to grant you the opportunity to see him face to face on the last day of resurrection when we will all meet again. Fondly remembered by your children Chief David Mensa Bonsu and Sister Afi Tagboto Sarpong and your cherished grandchildren, in-laws together with the entire family and friends both home and abroad.