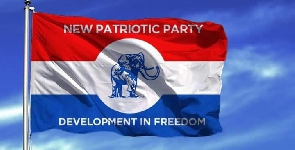 I am pleading with most, if not all, the eligible voters in the Kumawu Constituency, to go to the polls in their numbers to vote for the NPP candidate, Ernest Yaw Anim, in the upcoming by-election scheduled for Tuesday, 23 May 2023.
You are entreated to not only give the NPP the benefit of the doubt but also, to express your sympathy and love for the late Philip Basoah (Hon.), my father-in-law by the Akan tradition, by going out to vote massively for the NPP.

I am sure the NPP has learnt a bitter lesson following the reaction of the majority of the constituents expressing their anger at them for their mistreatment of Basoah to cost Kumawu Constituency their share of the national cake.

I am sure the leadership of NPP will not hate or ostracise Ernest Yaw Anim as they did to Basoah to somehow endanger his health to culminate in his premature death.

Now that the NPP has realised their mistake and taken to frantically granting Kumawu Constituency her fair share of the national development projects, I will only have to appeal to my fellow Kumawu constituents to rally solidly behind NPP to elect their candidate, Ernest Yaw Anim, come Tuesday, 23 May 2023.

All the supporters of Basoah should please go out to vote for Ernest Yaw Anim, the affirmed trusted friend or confidant of Basoah. By this, you will not only be making Basoah happy wherever he is at the moment, but keeping his memory for many years to come; preserved for posterity.
I was myself annoyed at the NPP leadership for their ostracization of Basoah. Nevertheless, for the love of Basoah who continually insisted on belonging to NPP whether rain or shine, probably sacrificing his life for the cause, I have pardoned them.

Similarly, I call on all sympathisers to forgive NPP for any offence they may knowingly or unknowingly have committed against you and Basoah, to rally behind them to win the by-election.

The NDC can neither be a better alternative to the NPP, nor the independent candidates at this period of worldwide economic crisis.

I am ending here by once again requesting you to overwhelmingly vote for the NPP candidate, Ernest Yaw Anim, all ye discerning electorates, and the supporters of the late Philip Basoah (Hon.).