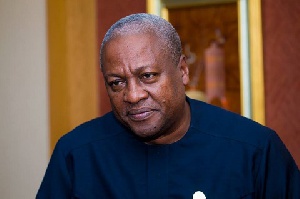 The New Patriotic Party [NPP] pioneered the concept of opening up its electoral college to include ordinary party members to be partakers of decision-making processes, from the polling stations to electing a flagbearer at national congress.
This novelty was replicated by NDC; but as has always been on record, every single policy initiative by NPP that has been stolen by NDC, ends up in spectacular disaster; and examples of such scenarios actually abounds.

For me, when NDC started trumpeting the idea of expanding their electoral college, I was convinced it was going to be a fiasco on a gargantuan scale, by way of naked violence and unprecedented heights of fraud; and my predictions never failed to materialize.

100% endorsement mirage

Before NDC presidential primaries which John Mahama contested only the ghost of Atta-Mills, there was a propaganda drive by NDC "GOEBELLIAN" loud-mouths to the effect that the president was going to garner 100% of valid votes cast in the party's flagbearership race because the president was contesting alone.

But in the end, the over 62,000 "NO' votes, which invariably represent the voice of dissent in the party and disapproval of the president's performance, were very much evident, with some polling stations in Bimbilla actually recording more "NO" than "YES" votes.

The final votes gained by President Mahama had not been announced as I put finishing-touches to this article. But whatever it turns out to be, it will be a complete disaster if he should garner less than 99.99%, considering the fact that;

1. He is the sitting president with the capacity [money-bag-wise] to whip his party people into one 'logo-logo' line

2. Running alone

3. Claims to have turned Ghana into Dubai of Africa.
Complacency

But with this revelation notwithstanding, the John Mahama-led NDC government still remains a formidable force to contend with, in election-2016, and underrating them, based on a quantum of dissent votes and general abysmal performance, in an intra-party contest, is definitely a dangerous thing to do.

I will therefore advise that there should never be any room for complacency in a party that is serious in defeating the NDC in 2016; and my reasons are:

1. Pound for pound, DC is currently the most financially-endowed political party on earth.

2. The current voters' register contains nearly 1.5million NDC ghosts whose already thumb-printed ballot papers are hidden somewhere in the vaults of EC.

Cash-soaked NDC

Currently, our dear nation is going through its worse form of socio-economic crisis in living-memory. This has bred a sea of poverty-stricken populace who have become highly susceptible to inducements. And this is where NDC draws one of its strength; admittedly, the party is legendary generous when it comes to dishing out pure cash for votes. This scenario is going to be perpetuated in grand-style, and on a scale never witnessed in human-history.

As a matter of fact, this clandestine process of vote-buying is already in full swing, with sharing of free fertilizers to farmers, gas cylinders and solar lamps in the hinterlands, nationwide.

Again, Nana Oye-Lithur, under the guise of her ministry expanding the beneficiaries of Livelihood Empowerment Against Poverty [LEAP], is busily sharing free cash to hundreds of thousands of people, all across the country.
The voters' register

Enough evidence has been provided as to its over-bloated nature, and how it is virtually bursting at the seams with nearly a million of ECOWAS nationals and mysterious ghosts who have the capability to emerge from their graves, during every 4year electoral cycle, exercise their franchise in a particular direction, and peacefully retire into their graves.

Indeed, a clear evident of participation of our electoral process by these 'ghosts', was evident in 2012 elections where nearly 500,000 of them emerged from their garves,voted for John Mahama in the presidential polls, and peacefully went back into their graves without bothering to vote for either NPP or NDC in the parliamentary polls.

So if the current voters' register is not significantly improved upon, by way of its creditably creditable credibility, then, NDC will clearly start the 2016 general elections in poll position, while NPP will be taking part in a 100meter dash with a severely severe severity of a hamstring.

In view of the above enumerated factors which all point in the direction of NDC having an edge over NPP as we go into election-2016,there are certain steps the latter needs to take in order to effectively counter the former, turn the tables around, and win the elections with cheeky-ease.

1. Selflessness

2. Vigilance

3. Unity

4. Tolerance
Selflessness

After being in opposition for close to 8years now, NPP is definitely cash-strapped. And here I don't mean if the party had been in power, taxpayers' monies would have been scooped into private pockets of party functionaries but we are all aware of how a ruling party easily attracts resources.

As a matter of fact, NPP has proven to be competent in managing the economy so well to enable businesses thrive and this makes the party so attractive to the business community both home and abroad.

On the other-hand, we have "OPANA" political which operates on officially-sanctioned policy of "CREATE, LOOT and SHARE", and therefore is able to put up a $20million office complex without nobody knowing where they got the resources from.

This therefore puts NPP at a serious disadvantage in the area of cash to oil the campaign so, as followers of the party, we must be prepared to walk, bare-footed and over long distances, in the hinterlands across the nation to canvass for votes, without necessarily waiting to be financially-induced.

And here, I would like the party leadership to do away with this totally unthinkable attitude of dumping the party's foot-soldiers by the way-side with a damn useless alibi that they don't have the requisite academic credentials, import their overseas-domiciled relatives/friends, and throwing gargantuan/juicy appointments on their laps, just like how fresh chunks of meat are thrown into the cages of carnivorous animals in a zoo.

Vigilance

This is simple; with the belligerence being exhibited by the new EC boss, it is clear a new voters' register will not be compiled. And for me, there is one key anti-dote to any intended plans of electoral fraud being contemplated by NDC/EC collaboration.

The votes are cast and counted at the polling stations, before the collations at constituency level and ultimate transmission of these collated figures to EC headquarters to be announced.
So when the party's agents at the polling stations are able to get hold of officially-declared figures, nation-wide, send them to the party's specially created, well-equipped and competently-manned collation center, even if Her Excellency Mrs. Lordina Mahama was the EC boss with Mr. Ibrahim Mahama as her second-in-command, NPP cannot be cheated through polling station figures being routed through STL, and being transmogrified before onward transmission to EC.

Unity

I believe it is the most vital ingredient needed for any serious battle. The party, in recent times, has been beset with all manner of 'petty-petty-quarrels' [PPQs]/petitions which have occupied the time/energy of both the Disciplinary Committee and National Council, culminating in certain drastic decisions being taken.

As a loyal member, I fully back decisions taken by recognized organs of the party, even if I have personal reservations, and this is the attitude every member desirous of the party's resounding victory in 2016, must adopt.

We have just a little over 3months to the next epic general elections, and time therefore is very much of the essence. In this regard, the current constant flow of intra-party petitions should be discouraged, and those already received, handled with 'JELLY' hammer.

Tolerance

The issue of Mr. Paul Afoko has been put to a final rest and I would love to see, henceforth, any member who sincerely desirous of NPP's resounding victory, to resolve all misgivings amicably in the spirit of brotherliness. Our energies must never be expended on waging internal battles.

Rather,we must expend our energies on waging effective/sustained battle against our avowed political 'foe'[NDC] since failure to win the 2016 election in order to liberate our sinking nation, will be a great disservice to the current suffering citizenry and generations yet unborn.

Writer's e-mail: justnoff@yahoo.com