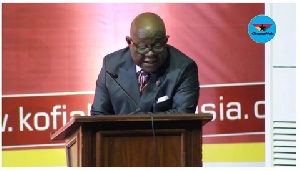 September 21, 2018 marks 109th birthday of Ghana's first President, Osagyefo Kwame Nkrumah.
I enjoy reading from Professor Aaron Mike Oquaye, the speaker of parliament because of his impeccable erudition when it comes to the political history of Ghana.

Intriguingly, he appeared to be the main consigliere of president Akufo-Addo to distort Ghana's political history to raise Dr. J. B Danquah above Kwame Nkrumah.

"The political historian Prof Mike Oquaye, has said no Ghanaian child must be taught in school that Ghana's first president, Dr. Kwame Nkrumah, declared the Gold Coast independent of British rule at the Old Polo Grounds".

What a whirling frenzy coming from a political science professor, punctuated by a crass hysteria in the annals of Ghana's history, and emanating from a needless partisan vendetta.

"Until they become conscious they will never rebel, and until after they have rebelled they cannot become conscious" (1984). "Doublethink means the power of holding two contradictory beliefs in one's mind simultaneously and accepting both of them" (1984). "The only good human being is a dead one" (Animal Farm).

Before I proceed on why Nkrumah was a liberal democrat, Koo Nimo, the Alomo Bitters-induced interrupter, I wish to continue this needful digression a little further!
The above quotes are mutually exclusive paradoxes from the British avant-garde, dystopian and absurdist novelist, Eric Arthur Blair, better known by the pen as George Orwell. The quote above attributed to Prof Oquaye went further to state that the Old Polo Grounds, where Nkrumah reportedly said Ghana our beloved country is free forever was at the Convention People's Party (CPP) congress grounds.

So, Nkrumah was a product of which party? Is professor Oquaye claiming that any statement made by President Nana Akufo-Addo at his New Patriotic Party [NPP] congress grounds cannot be historical? Professor Oquaye must rather tell the public that Nkrumah was a liberal democrat!

Anyhow, Nkrumah has been roguishly portrayed by some intellectually dishonest individuals as a callous dictator without a proper analysis of the prevailing political conditions which, turbocharged the implementation of 1958, Preventive Detention Act (PDA), which empowered him to arrest and detain without trial, individuals who posed a threat to his government.

For example, Professor Adu Boahen's egregious banality and implicit prejudices toward Nkrumah was not only depressing but equally distorted the true political nature of Nkrumah. In line with Abraham Lincoln's standard, democracy is a government of the people by the people and for the people. The fact that Nkrumah was for both the elites and the masses made him a Democrat.

In the developing countries, what is needed in the sphere of ideological synthesis, apart from the political decisions that must be made by the citizens themselves, is collation, interpretation, and application of the most relevant ideas advanced in the rest of the world by teams of scholars and educators.

When it became increasingly clear that Danquah could not lead the independence struggle for Ghana, he and his consigliere became self-loathing and full of bitterness and the darkest dungeon of ethnic bigotry to the core of the words' logic. They left Nkrumah to his fate.
Out of desperation, Nkrumah's attempt to respond to Ghana's answers to socialism, Marxism and the social revolutionary requirement of Africa turned into a grotesque attempt to graft. For example, Lee Kuan Yew narrated his encounter with the corrupt Krobo Edusei, one of Nkrumah's minister in his book, "From the third world to first: The Singapore story-1965-2000."

In the early 9160s, Krobo-Adusei ordered a golden bed at the cost 3000.00 pounds for his wife. The corrupt staff of Ghana's public banks awarded huge loans to themselves and declared them as bad debts.

Instead of helping Nkrumah to transform Ghana, Danquah and his team were dabbling in partisan political skirmishes to undermine his progress.

In fact, it is inhuman to arrest and detain people without trial as happened to Danquah! Nonetheless, president Akufo-Addo must also tell the world, the dark side of his grandfather!

During his lecture to commemorate the centenary celebration of Nelson Mandela, President Akufo-Addo attempted to equate the 1964 incarceration of his grandfather, J. B Danquah with that of Mandela without recourse to the fact that Republic of South African anti-apartheid liberator was a victim of the obnoxious institutionalized racially segregated government while Danquah and his colleague remained obdurate to undermine Nkrumah before and after independence to the extent of assassination attempt on his life.. I think Akufo-Addo's attempt to equate Nkrumah and Mandela with his grandfather is far ahead of his own time.

Nkrumah's obsequious allegiance to Pan- Africanism and to the plight of black racial stock might not permit him to deviously incarcerate Danquah without a cause.
It is argued that a politician can only be effective in the affairs of the society when he/she has evaluated the extent of receptivity or tolerance of that society as well as ideas.

In order to accomplish the afore-stated measure one must know the given society, its tradition, history and related factors contributing to the making of its collective values, and the forces that mobilize the masses in the street, its silence, it's sitting silently at how (Professor Hamid Dabashi, Columbia University, New York).

Danquah, unlike Nkrumah, was eluded by the foregoing criterion. Thus, Nkrumah-Danquah strain relation was the outcome of the contentions of the anglophile [the love of English political ideals] and the Americophile [the love of American political ideals] vis-avis their nationalist orientations which accelerated the decolonization spirit.

Danquah was trained in Britain, the homeland of royals and constitutional monarchy which conflicted with American trained Nkrumah's wanton disdain for royal kingdoms, love for simplicity, equal opportunity for everyone, proudly influenced by the puritan egalitarian ideals: all men are created equal, entrenched in the constitution of USA. This partly explained why Nkrumah was mass-oriented and Danquah was for the embourgeoisement.

Nkrumah's opponent compelled him to lead a secluded life after the August 1962 Kulugungu bombing assassination attempt of him. Nkrumah declared Ghana one-party state because he was afraid of his own life in a multiparty democracy. He was not sure what might have happened to him on a campaign platform.

After it became apparently clear that Danquah could not put forward effective resistance to Nkrumah, following his 10% of the total vote cast against Nkrumah in the 1960 presidential election, Danquah and some of his colleagues became the darkest epitome of the devil's incarnate, relative to jealousy and envy, full of narcissism, ideological eccentricity, and repository of political knowledge.
Danquah was the finest specimen of ethnocentricity and arrogance who did not understand why Nzema boy he brought from England to be general secretary of his minted United Gold Coast Convention [UGCC] must lead him. It did not make a soupcon of sense for Nkrumah to jail without trial an opponent who was not a match to Nkrumah when it comes to popularity.

Nkrumah's intelligent report revealed to him that his opponents were plotting assassination on his life. He arrested Danquah in 1961 and released him for an intelligent report better known to Nkrumah himself. It was after the Kulugungu attempt that he incarcerated Danquah again. It was very unfortunate that Danquah died in detention.

Franklin Roosevelt claimed that the ultimate rulers of democratic governance are not the president, the legislators, and government appointees, but the voters of the country. This also means that whether a leader will be democratic or a dictator is contingent on the attitude of the ruled.

We all saw the reaction of president Akufo-Addo, after Mr. Koku Anyidoho's ignoble faux pas over USA-Ghana military co-operation agreement! The reaction did not make president Akufo-Addo, a dictator! He was only being a responsible leader. On the occasion of Nkrumah's birthday, I humbly and nonchalantly appeal to Danquah's family to forgive the liberal Nkrumah who only became a responsible dictator by responding to the prevailing political exigencies of his time!

Indeed, Nkrumah was a democrat! No one is a paragon of virtue! Nkrumah remains the only leader in Ghana without enviable personal properties, albeit, his numerous development projects in the country! The foreign power was envious of the intrepid and astute Nkrumah and as a corollary master-minded his downfall! How long shall they kill our prophets while we stand aside and look! -- Bob Marley!