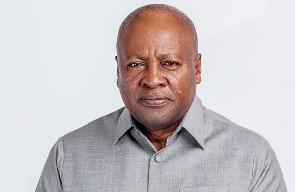 From what I hear on radio as playback on promissory speeches by former president John Dramani Mahama to the NDC executives and delegates across-the-board, if he became president of Ghana come election 2024, is a shocking food for thought for all Ghanaians.
As a known person devoid of, and deficient in, ideas worthy of making Ghana great and Ghanaians happy of living a life without much economic hassles, he has been making promises only pertaining to bettering the lives and living standards of the NDC executives and delegates and their families. He promises giving their children scholarships to go abroad to study to become great persons to cater for their families. He promises offering the delegates better jobs and positions and so on and so forth.

Was it not this same John Dramani Mahama who not long ago, went to the USA, met some NDC members and sympathisers in the company of then NDC National Chairman, Samuel Ofosu Ampofo and Julius Debrah, former Chief of Staff under Mahama, and assured them of his dreamed policy of "No Contribution No Chop" (NCNC)?

He announced through Samuel Ofosu Ampofo that in his next administration, if he won election 2024, he will only cater for those who will have contributed massively towards bringing him and NDC to power in year 2024 under the campaign slogan and banner, "No Contribution No Chop" (NCNC).

Are his campaign tour messages as said above not confirming his real intentions as to coming to cater for only a section of Ghanaians? What about the many other NDC members and sympathisers who will have voted for him but unfortunately unable to contribute heavily in terms of money hence their names are not handy in his good notebooks?

This John Mahama man is a proven liar overflowing with incompetence and cluelessness. He is not sharp-thinking but a jumpy populist politician always playing on the intelligence of Ghanaians by joining the bandwagon. What an absolute opportunist he is, always siding with the expressed fears and worries by the public as though, such concerns are always right and grounded in facts in this current worldwide economic crisis.
Dr. Kwabena Duffour on the other hand is promising to institute a pension scheme for the executive members and or, delegates, of NDC throughout Ghana, if he became the president of Ghana following election 2024.

I am a bit concerned about their intentions. Is it about persuading the delegates to vote for them, or they are very serious about such promises?

In both cases, how do they cater for the interests of the majority of their NDC members, let alone, that of the majority of Ghanaians or all Ghanaians? Think about that, both ye NDC foot soldiers and entire Ghanaian electorates.

During the campaign of then presidential-candidate Nana Akufo-Addo, he made promises that could be seen to cater for the interests of all Ghanaians.

Look at his free Senior High School education, One District One Factory (1D1F), One Village One Dam (1V1D), Creation of the Zongo Development Fund, etc. promises made. Were they not of wider benefits to most, or, all Ghanaians? Were they of limited benefits to a few people as in the case of the NDC promises being made as indicated above? No!!!
That of Dr. Kwabena Duffour could be understood to some extent. The delegates could be asked to contribute into a fund specifically set up for them and invested for them as in say, life insurance policy. This could be feasible, possible and easily done without necessarily excluding Ghanaians since the delegates themselves may be contributing into the fund with a little seed money from the president but John Dramani Mahama's is questionable.

Nana Akufo-Addo's promises did not exclude anyone from benefitting from them but rather encompassed all Ghanaians or majority of Ghanaians. He did not even go for the implementation of the policy of "positive discrimination" as I had wished or will have suggested.

Under the previous NDC administrations, some tribes and some political parties members had been excluded from getting employment into many public companies, organisations and services. It was official discrimination galore, obvious to many a Ghanaian except those who are economical with the truth.

Considering that conspicuous official discrimination to disadvantage some tribes and people, it was all too correct for Nana Akufo-Addo to have practised "positive discrimination" to bring the advantaged and the disadvantaged to par but he didn't.

Why are the aspiring NDC flag bearers thinking differently in the best interests of a few people?
Much as Dr. Kwabena Duffour could be exonerated from blame, John Dramani Mahama could not.

Are Ghanaians happy to bring back John Mahama as president of Ghana upon all his known dreadful skeletons in his cupboard?

You had better go for Dr. Kwabena Duffour but in the greater interest of Ghana and Ghanaians as Africans or black people, go for the candidate to be presented by NPP, as either in the person of Kennedy Agyapong (Hon), Alhaji Mahamudu Bawumia or Kwadwo Alan Kyerematen.

How perfect will it be to have a team of Kennedy Agyapong, Dr. Mahammudu Bawumia, Alan Kwadwo Kyerematen, Dr. Kwabena Duffour and IGP Dr. George Akuffo Dampare governing Ghana with each given absolute powers to bring on board the good things in them for strict and proper implementation to help Ghana and Ghanaians.