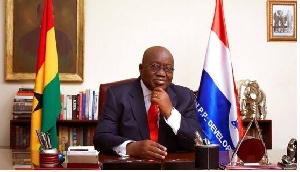 By Francis Kwarteng
"Ungrateful nation wreckers! Hypocritical inglorious bastards, Ghanaian politicians—all of them!" (Francis Kwarteng, "Will Kufuor Vote for Akufo-Addo? Ghanaweb, December 7, 2016).

The politics of complacency

"By all means marry; if you get a good wife, you'll be happy; if you get a bad one, you'll become a philosopher" (Socrates).

At this point in time we have no evidence to support the idea of whether Annan's "positive" or feel-good remarks about Akufo-Addo's alleged technocratic prowess were strategically meant to assure foreign investors and the international community at large of an imaginary vibrant economy yet to unravel under the political stewardship of Akufo-Addo, to assure Ghanaians of a healthy economy under the incoming government of Akufo-Addo, or to reinforce the idea of a wobbling or collapsed economy under President Mahama and the NDC, or a combination of all the above.

Whatever the real intentions of Annan, the fact still remains that he completely ignored the unpredictable context of the global economy and that of the market economy of cash or commodity crops (including gas/oil and mineral).

On the basis of this technocratic omission therefore, we should not and cannot entertain the politics of complacency and allow it to crush the people's collective hope in the likely event that the incoming administration does not deliver in line with Akufo-Addo's grandiose electioneering promises.

Failed and broken promises are what Ghanaians have had to pay for their political illiteracy and ignorance.

Both the NDC and the NPP have managed to build their vampriric empires of political and ideological lies on a flaunted fountain of the politics of complacency.

The neoliberal kleptocrats of the NPP under Kufuor allowed the underground cocaine economy to flourish under legitimate businesses associated with members of the NPP and the party's political financiers and patrons, and others sympathetic to the NPP and its corrupt leadership.

These slimy neocolonial, neoliberal kleptocrats and their calculating Western patrons cooked up figures to buttress the idea that Ghana was "the fastest growing economy in the world" when, in fact, at the same time mass poverty and illiteracy, sale of state assets to service the country's debt burden as well as to pay state employees, rising cost of living, poor or lack of public services, homelessness, child-street hawking, under-tree classrooms, road networks remained untarred and broken, generally poor standard of living and quality of life of the masses, and dumsor defined the political economy under the Kufuor presidency.

At a time when the global economy was in a relatively—yet generally—good health and the market economy of cash crops (and minerals) looked up against the backcloth of debt relief, remittances and proceeds from the underground cocaine economy generously flowed into the national economy under the watchful presidency of Kufuor, thereby generating a cosmetic grounding for the country's micro- and macroeconomics.

Bureaucratic incompetence and political abuse of state institutions (the Ghana Police Service (GPS), the Bureau of National Investigations (BNI), and the Criminal Investigations Department (CID), etc.) for purposes of arbitrarily exercising coercive power against perceived political opponents were normalized or intensified under the Kufuor administration.

Kufuor even encouraged public corruption for fear that dealing with it as the public and his political opponents demanded could have potentially brought down his government. As expected, Akufo-Addo remained politically silent throughout this troubling dispensation of moral decay.

Akan-driven ethnocentric hegemony also intensified under the Kufuor administration.

In fact, Kufuor reportedly used the creditworthiness of the state to acquire a loan (and grant) facility for the Asantehene and the Okyehene while President Mahama allowed the North to rot under the crushing weight of public corruption and official ineptitude.

No one appears to know what exactly happened to this loan (and grant) facility. Accountability and transparency have no doubt gone to the dogs.
These cracks under the Kufuor administration continued to widen somewhat further under the democratic socialist kleptocrats of the NDC, the spitting images of the neoliberal kleptocrats of the NPP.

Now, it is clear that the mixed messages emanating from the Akufo-Addo camp that he may or may not legally pursue the kleptomaniacal corruptocrats within the NDC is not comforting, to the say the least, a policy position which directly speaks to his being afraid of his own shadow.

In a nutshell, how can the criminal prosecute his fellow criminal? The simple truth is that the ruling elites have each other's backs! The Ghanaian should take a second hard look at the ruling elites!

Let us not also forget that no good leader can afford to ignore institutional corruption in all of its manifestations.

Any investigation (s) into institutional corruption should cover the entire period of the Fourth Republic, including the period of the Kufuor presidency when Akufo-Addo served in that government as Attorney General/Minister of Justice and Minister of Foreign Affairs!

What sort of political wives have Ghanaians been living with since the dawn of the Fourth Republic? Good political wives? Or simply bad ones?

Are Ghanaians happy because they have good political wives? Or simply that they have become philosophers because they have always had bad political wives?

Is Akufo-Addo a good political wife? Or a bad one? Are Ghanaians happy with him? Or that time is going to tell whether he is a bad political wife?

Are Ghanaians ready to accept their collective fate as philosophers if Akufo-Addo turns out a bad political wife?

Some critical observations

"The truth is an offense but not a sin" (Bob Marley, "Jah Live").

Certainly, Annan may have underestimated the implicit and overt corruptibility of Akufo-Addo, of executive dominance and its concomitant willingness to exercise coercive power, of the corrupt nature of Ghanaian society, public institutions and officials, of the extent of organized crime and criminal syndicates in Ghana, and finally, of the unpatriotic character of the Ghanaian and the ruling class.

To overcome these tentative inferences ascribed to Annan however, Akufo-Addo (and his incoming government) should acknowledge his potential limitations before Ghanaian citizens, the men and women with whom he shared his overly flattering electioneering and sloganeering promises—political contract, after which they may properly be placed to calibrate what exactly to expect from his government should he fail to deliver.

This political contract now becomes his word of honor. Let us not gloss over the fact that this political contract is non-binding, yet its fulfillment or otherwise surely will underpin his political and moral character as a man of his word, a man who keeps his promises by being transparent and uneconomical with the truth about his potential deficiencies and strengths, or simply a liar.

Beyond these basic ideas, we may also have to accept "change" as a term of conceptual relativity. Then there is the additional factor of whether it is going to be cosmetic or sustainable.

The concept of "change" in the Ghanaian political economy has mostly been cosmetic and unsustainable—to say the least.
It is why the country is stuck in the crushing doldrums of underdevelopment and mass poverty. Change has never come to Ghana!

Obama has said his administration brought "change" to America yet the American Electoral College gave the presidency to Trump, a subtle rejection of the Obama presidency and its characteristically trite rhetoric of change.

Of course, Americans are not Ghanaians and neither are Ghanaians Americans but the average American elector is, relatively speaking, more discerning and sophisticated in terms of the dynamics of his grasp of issues-based electioneering and sloganeering than his Ghanaian counterparts.

Was the Ghanaian voter discerning when he elected Rawlings, Kufuor, Mills and Mahama to political office?

Ignorance, lack of quality education, general apathy, grinding poverty (or privation), superstition and religiosity, ethnocentric and political regionalism, illiteracy, manufacturing consent and aliteracy, and uncritical thinking paralyze the average Ghanaian almost to the point where he has become an unthinking slave to the splendorous magic of easy political manipulation.

Even the so-called highly educated is not exempt from this demeaning victimhood of political stupidity!

The educated Ghanaian bourgeois is more dangerous to the state than his supposed illiterate—unlettered—counterpart of the proletariat.

And, sadly or regrettably, we have refused to acknowledge this basic fact of life on the sheer basis of the politics of complacency, of convenience.

"Democracy is a form of government that substitutes election by the incompetent many for appointment by the corrupt few," George Bernard Shaw once wrote.

There is no such thing as "few corrupt" in Ghanaian society, certainly not in the ruling class too. In any case corruption in Ghana expresses itself through a thunderous wavelength of pandemia.

Vigorous pursuit of sustainable change will therefore constitute a formidable challenge for the kind of corrupt political leadership that continuous to define the schadenfreude kleptomaniacal democracy of the Fourth Republic, for that grassroots critical mass simply does not exist to support the overthrow of this morally filthy environment of mass corruption.

And, since corruptocracy has completely usurped the moral fiber of the Ghanaian society, Akufo-Addo and his incoming government are implicitly indicted under this system—of blanket corruptocracy.

In other words, it is unimaginably regrettable that Ghanaians will elect a well-known ethnocentric corruptocrat to the highest office in the land.

Nevertheless, at the end of the day, Akufo-Addo and his incoming government must seek to avoid what Bob Marley called "Them Belly Full (But We Are Hungry"):

"Them belly full, but we are hungry

"A hungry mob is an angry mob…
"Cost of living gets so high…

"Now the weak must get strong

"They say, oh, what a tribulation!

The second line underscores the righteous anger of a critical mass that is waiting to see change in society…else!

Here is Bob Marley's "Wake Up and Live":

"Wake up and live, y'all!

"Wake up and live!

"Wake up and live now!

"Wake up and live!...

"Rise from your sleepless slumber!

"We're more than sand on the seashore

"We're more than numbers

"All together now!

"Flee from hate, mischief and jealousy!

"Don't bury your thoughts; put your dream to reality…

CONCLUSING REMARKS: KOFI JUMAH ON AKUFO-ADDO'S CAMPAIGN PROMISES
"Nana Akufo-Addo made a promise and it spans for four years. But to put a gun to his head and give him an ultimatum of 100 days, that is what is ridiculous. If they know how to give ultimatums, I think that they should redirect their ultimatum to the previous government…

"I was expecting enlightened people to suggest that we expect Nana Akufo-Addo to put together a budget that will guide his administration SO THAT HE WILL BE ABLE TO IMPLEMENT SOME OF THE THINGS THAT HE SAID HE WOULD DO and that would have been a more enlightened approach, but the way they are stating it, they look like a bunch of ignoramuses: they don't know anything, they are ignorant people. It's even unfair for them to come out like that" (our emphasis).

Reality is no lying partisan chameleon, so deal with it Mr. Kofi Jumah.

Then again no insults please, Mr. Kofi Jumah!

OUR TAKE

In sum, political realities are beginning to dawn on the nation. More of such controversies are already in the offing. The true nature of politics can indeed sometimes, if not all the time, disappointingly present with chameleonic or tendentious reading of policy strategies and tactics.

Thus, those who make promises must rise to the occasion by being true to themselves, by doing right by the people and the nation they preside over. As a matter of fact they simply can't afford to do otherwise. There is probably an NDC-driven Occupy Ghana already hiding under the thin skin of Ghanaians.

Of course, Jumah may be right but he and his party should be prepared for more public agitations in the near future. The public will be testing the credibility, openness, and resolve of the incoming government. What probably began and continued via the Mahama presidency is bound to repeat itself.

There is nothing new under the sun.

We shall return with Part 5!

REFERENCES

Ghanaweb. "It's Ridiculous To Restore Trainee Allowance In 100 Days—Kofi Jumah." December 15, 2016.