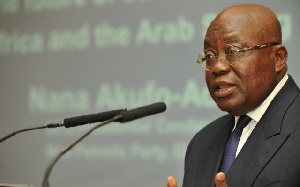 By Francis Kwarteng
"We are going to see if he will deliver some of the promises he made, they really don't make economic sense; I don't think that every district in Ghana needs a factory" (Prof. Kwaku Nuamah (American University), "Some of Akufo-Addo's Promises Don't Make Economic Sense—Prof. Nuamah," Ghanaweb, December 16, 2016).

"If you look at the promises, they were made based on information that was not first-hand. Those information were secondary and different from you being in power and making such promise, so I think Ghanaians should be careful on the expectations, if they are to expect more" (Dr. Lord Mensah (University of Ghana Business School), "Don't Raise Your Expectations Too High—Lecturer Tells Ghanaians," December 14, 2016).

Food for thought

"Social revolutions and group revolutions are good, and we need that, but we also need personal revolution—revolution within ourselves that change who we are as people" (Ziggy Marley).

President-elect Akufo-Addo has not been sworn in yet and already some greasy sympathizers of the NPP are moving the goalposts to suit the presidency of Akufo-Addo in the event that he does not deliver on his Elysian political promises, a most likely eventuality—if we should add. Call it post-factual or post-truth politics.

Now it appears Ghanaians are being treated to healthy portions of manufactured uncertainty or controversy, perhaps for the sake of political convenience or expedience.

Anyway, this was bound to happen because we had known it in advance. Alas, the wheels of our sham democracy have gone repulsively rusty even before they were set in motion.

In Ghana elections, voting, or exercising the franchise are confused with "democracy." This "democracy" is a mere formality.

It does not even exist as a matter of course. Actually, what we have been calling "democracy" all along is rather a schadenfreude, winner-takes-all kleptomaniacal democracy.

Thus, the Ghanaian political system has paternalistically been hijacked by a rotating cabal of political sociopaths, nation-wreckers, vicious ethnocentric hegemonists, and kleptomaniacal vampires devoid of any sense of moral economy, social justice, patriotism, moral compass, Afrocentric Pan-Africanism.

That is, in Ghana political luddites, pathological kleptocrats, sticky-fingered centaurs, and traitorous neocolonial skunks who call themselves "politicians," and their Janus-faced political theologians, have held the nation to ransom for far too long.

This fraudulent marriage between these politicians and the nation has enormously contributed to the country's arrested development, yet a marriage that could easily have been resolved through strategic disengagement with the active support of a patriotic popular sovereignty and a judicious exercise and application of the elective franchise.

The masses have consistently failed to support this strategic disengagement because they have easily allowed these crooked politicians to serenade them with their liberal profession of unpatriotic love and cornucopia of honeyed lies.

Having been marinated in the cesspool of Afro-pessimism, the masses have simply allowed the moral mediocrity of politicians to dissuade them from patriotic acts of social justice.

These preceding sentiments are far from the kind of social dynamics we have always hoped to see as a direct consequence our clamorous demand for dethroning our duopolistic dictatorship and executive dominance.

Unfortunately, the sort of critical mass we desire simply does not appear to be present in this lukewarm generation of Ghanaians.

This is also why we have called for a centrist political organization free from the polarizing proclivities of the NDC and the NPP, to wrest political and ideological power from the existing duopoly—that is.

Such a centric political force will have to demonstrate a technocratic capacity for localizing export-oriented industrialization, will be Afro-optimistic in philosophical outlook, and will look forward to establishing or opening up a Pan-Africanist continent built on a strong foundation of export-oriented industrialization with a viable continental market that largely addresses itself to commercial intercourse among African countries.
This patriotic centrist force will de-emphasize ethnocentrism, political ethnocentrism, and ethnocentric regionalism in Ghanaian politics.

Among other policy strategies for national development also, it will pursue comparative advantage and pragmatic nationalism and make transparency and accountability the pillars of statecraft. Pursuit of a more responsible fiscal policy is also a must.

Dr. Kofi Kissi Dompere's corpus of economic, scientific, philosophical and mathematical texts (and others we have mentioned and discussed on this forum) charts the way forward for this patriotic centrist political force we are proposing.

Of course, only this proposed alternative force can truly bring about the kind of industrial revolution we seek in Ghana and across Africa.

At this point in time we will leave it to the future generation to judge the merits of our propositions.

The emotional sophistry of partisan politics

In the final analysis, then, no one should give us an emotional sermon about Ghana being a Lower or Middle Income country. The primary reason is that neither of these bogus labels means a damn thing to the average Ghanaian.

Economic or statistical metrics such as Gross Domestic Product (GDP) for instance, on which these bogus labels are largely based, do not tell the entire story about the harsh realities surrounding the human condition (see Lorenzo Fioramonti's books "Gross Domestic Problem: The Politics Behind the World's Most Powerful Number" and "How Numbers Rule The World: The Use and Abuse of Statistics in Global Politics").

Furthermore, they do not provide insights into what constitutes the so-called Human Development Index (HDI) and Happiness Economics. The fact is that GDP (and Gross National Income (GNI)) metrics and such bogus labels as a Lower or Middle Income Country benefit Western donors and international financial institutions to a certain extent, and sitting governments in Africa particularly, for instance, and also that they usually belie the crushing mass poverty and suffering of citizens, even deep structural problems with a national economy. There are just too many distortions inherent in the GDP metrics.

It is in this general context that one group of politicians or another is able to cite this bogus status as capping its policy achievements, especially when this status was chalked under the government of one political party as opposed to the other. With such bogus or dubious labels firmly in place, Western donors (and international financial institutions) quickly jump on them and use them as excuses to cut foreign aid and other forms of financial aid to African countries.

Western donors are then able to focus their political economies on resuscitating their dying, bleeding economies, to channel limited funds toward improving the standard of living and quality of life of their citizens, and to direct strategic and tactical policy efforts toward recovery from the global economic meltdown.

On the other hand in the absence or diminished presence of foreign aid, international financial institutions also directly or indirectly benefit—somewhat—by extending loan facilities to these cash-strapped countries under the controversial banner of conditionalities—"loose" conditionalities in many a situation. African countries do not need foreign aid anyway (see Damisa Moyo's "Dead Aid") given that they are not technically poor. Poor leadership is the problem.

In a nutshell, for us our gold standard for measuring the pragmatic and rational effectiveness of leadership and governance is through the Ibrahim Index of African Governance (IIAG) and being awarded the prestigious Ibrahim Prize for Achievement in African Leadership—no less.

Therefore, any leader(s) who fails to meet the rigor of the Ibrahim Index and who is also passed over for the Ibrahim Prize is not worth celebrating. This applies to all Ghanaian leaders in the Fourth Republic. The undeniable truth is that we simply cannot substitute mediocrity, the hallmark of politics in the Fourth Republic, for both the Ibrahim Index and the Ibrahim Prize.

Concluding remarks

"Doing infrastructure is not anything to boast about, it is necessary and you must provide it as government…What is important is that your management of the economy should make the ordinary Ghanaian comfortable…If you want to win elections in Ghana it is important that the quality of life of the individual is improved.

Infrastructure is important but infrastructure must serve the human body (human being)" (Yaw Osafo-Marfo, "We'll Focus On Economic Management, Not Infrastructure—Osafo-Marfo," Ghanaweb, December, 16, 2016).

This statement in part summarizes what this series is fundamentally all about, that is, about our deepest and poignant expectations of Akufo-Addo and his incoming government.
An elitist ethnocentric hegemonist for that matter, Yaw Osafo-Marfo could not have said it better.

As a matter of fact we strongly believe in this progressive political philosophy wholeheartedly!

Yet it should also be backed by the policy power of actionable deeds or actions, accountability and transparency, political morality and so on, and not be shrouded or buried in the politics of complacency and political expedience as is the proverbial wont of our scheming, lazy politicians.

Pretty soon, we are certain of this, when the reality sets in we will be told the National Democratic Party (NDC) emptied the national coffers before leaving office, just as the NDC also blamed the New Patriotic Party (NPP) for ransacking the public purse before it too took over from the NPP. It is the same old politics. As a matter of fact it has begun already in muffled forms.

Now—with the politics of complacency installed as king in full regalia, the people can rest assured that the Akufo-Addo presidency is never going to assume the bloated apocalyptic irony of a Ben Ephson, that Ghanaians can drift off into that phantasmagorical dreamland where meretricious promises become alchemized goldweights of fulfilled fantasies, and that the good citizens of this once-great great country called Ghana finally have their redeeming stratosphere of beatitude here on this sickly earth!

Unfortunately, Kofi Annan's politics of complacency does not tell us whether the incoming administration will revoke or retain the stringent IMF conditionalities President Mahama went in for. Or whether those conditionalities had already been met under the Mahama administration.

With or without the conditionalities, the long-awaited savior is finally here! And therefore who needs a utopian or dystopian dreamer?

Why will Ghanaians wait for 72 solid years for this to happen?

In fact if Ghanaians knew this were ever coming someday, why then did they elect Nkrumah, Busia…Mahama to political office?

If we knew Akufo-Addo were going to be here someday, why then did we resort to all those coup d'états?

What were Ghanaians waiting for when they could have voted for this prophet of economic soteriology before his miraculous conception?

Yes, the long-awaited cacogenic redeemer of Ghana's apocalyptic fiction is here!

Change has finally arrived for good! The Aha moment…the Eureka effect has finally come to stay!

With noble friends like his Lordship King at the helm of affairs in this phantasmagorical dreamland, who needs enemies to undo these goldweights of fulfilled fantasies?

So the die the cast!:

No more tears, no more grinding privation, no more open defecation, no more ethnocentrism, no more funerals, no more deaths, no more dumsor…

No more cedi depreciation, no more hell, no more unemployment, no more public corruption, no more children studying under trees, no more Ghana being an underdeveloped country…

No more underpriced commodities willfully executed in Kumasi and Abossey Okai (Accra) to spite or create popular disaffection for a sitting government…
Only snow-white tears of joy all the way!

Ghana is now already a developed country under Akufo-Addo?

And who says developed countries don't have problems?

Only Akufo-Addo's developed country will be different from all other developed countries in human history?

Charlatan Owusu Bempah's invocation of divine intervention—sort of a Faustian deal, a Faustian contract, a pact with the devil of economic prosperity—in Akufo-Addo's behalf will culminate in certain alchemizing of Ghana, that long discredited "burning bush" of economic uncertainty, so-called, into the long-awaited or anticipated "Heaven on Earth," a land flowing with milk and honey…

Ghana under Akufo-Addo, a Shangri-la…Minnie Riperton's "Loving You":

"Loving you is easy 'cause you're beautiful

"Making love with you is all I want to do

"Loving you is more than just a dream come true.

"And everything I do, is out of loving you

"La la la la la, la la la la la

"La la la la la, la la la la la

"Do do do do do, ooh

"No one else can make me feel the colors that you bring

"Stay with me while we grow old, and we will live each day in spring time…

"And every day of my life, is filled with loving you

"Loving you I see your soul come shining through

"And every time that we have
That long-awaited sultry…sensuous "La la la la la, la la la la la…" land is finally here.

Only Akufo-Addo making love with them, namely Ghanaians, will make them feel "the colors" that only he can bring out! What more do Ghanaians want?

But…fake Owusu Bempah, Akufo-Addo, Bawumia, Kennedy Agyapong, village champion Chairman Wuntomi…will certainly prove doubting Thomases like this clueless, shallow-thinking author, a naysayer, wrong and as well, put him in his place!

Will Akufo-Addo allow the Flagstaff House to be turned into an insane asylum for psittacine tongue-speaking wackos, psychos, or sickos, or a welcoming embrace for those hardworking patriotic technocrats, dedicated men and women who are battle-ready ready to radically change the status quo and to exert pronounced or positive impacts on the average citizen's standard of living and quality of life?

Will quack Owusu Bempah's church ever be burnt down?

Has public corruption come to stay because it oils the engine of the country's kleptomaniacal democracy?

Can the Akufo-Addo presidency be able to build the strong institutions that can sustain a just society, industrial revolution, and an economy based on the idea of export-oriented industrialization?

Does Akufo-Addo have the necessary depth or stereoscopic perception to neutralize Ghana's dependency complex, to get rid of or minimize corruption in the private sector?

Has the Faustian redeemer—araneid trickster—come to stay?

They say no matter how tall one grows, one can never grow taller than the hair on one's head.

With Akufo-Addo's bald head, is there any chance that he could ever grow taller than the non-existent hair on his head?

Perhaps this is the greatest challenge for the people of Ghana and his incoming administration?

They also say, it is easier said than done!

Until then, we shall deliberately await the verdict of the conspiracy of time, unpredictability, and hindsight!

"I have no education; I have inspiration. If I was educated, I would be a damn fool" (Bob Marley).

We shall return with…