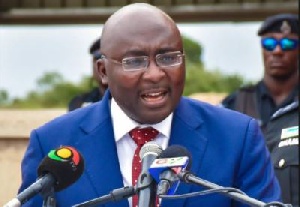 Folks, it is disgraceful that Alhaji Dr. Bawumia, Vice President, would make utterances that clearly portray him as an outsider in the government that he is part of. We know him as an unrepentant liar and fabricator, but we hardly expected him to make utterances that deepen his credibility crisis and make us wonder whether he is really part of the government or whether he really is an insider.
Here are two major instances:

1. "CABINET APPROVES RTI BILL"

"The Vice President, Dr. Mahamadu Bawumia, has announced that a revised version of the Right to Information (RTI) Bill has been approved by Cabinet and forwarded to Parliament.

"Cabinet has given approval for the Right to Information Bill to be laid in Parliament for debate and approval because it is very critical that we pass the Right to Information Bill," Dr. Bawumia stated during the Norway-Ghana Business and Investment Forum in Accra yesterday.

(See https://www.ghanaweb.com/GhanaHomePage/NewsArchive/Cabinet-approves-RTI-Bill-636118).

Public expectation was that this bill would be debated this week and ratified. All of a sudden, a different voice has come from the Minister of Parliamentary Affairs and NPP Majority Leader in Parliament (Mensah Osei Kyei Bonsu):
"The Majority Leader and Minister for Parliamentary Affairs Osei Kyei Mensah-Bonsu has told journalists Thursday that Cabinet was yet to approve the Right to Information (RTI) bill.

This contradicts claims by the Vice President, Dr. Mahamudu Bawumia, that the bill had already received cabinet clearance and was subsequently forwarded to parliament for consideration."

(See https://www.ghanaweb.com/GhanaHomePage/NewsArchive/Cabinet-yet-to-approve-RTI-Bill-Mensah-Bonsu-636939).

Meantime, a Ranking Member of the Constitutional, Legal and Parliamentary Affairs Committee of Parliament (Alhaji Inusah Fuseini) revealed that Parliament would not be able to fulfill Akufo-Addo's wish to have the Right to Information (RTI) bill passed before the house rises. Apparently, Akufo-Addo wasn't properly informed before shooting his mouth on March 6 that all was set for the bill to be passed by March 23.

So, the dust has settled to expose Bawumia as ill-informed, uninformed, or ignorant of happenings within government circles. If Cabinet did approve that bill, was Bawumia part of the team? Is he not part of Cabinet? And for him to be contradicted by the majority Leader this way speaks volumes that Bawumia is an outsider in the very government that he tells tons of lies to prop up. A pitiful political neophyte he is!!

2. "570 DAMS TO BE BUILT THIS YEAR"
Bawumia also shocked us by announcing that the government would build 570 dams this year when the government's own budget and fiscal statement presented to parliament and Ghanaians made it explicitly clear that only 100 dams would be constructed as budgeted for. So, where at all is Bawumia positioned? Inside the inner circle or outside it?

3. SO-CALLED AILMENT AND TREATMENT IN LONDON

Let's place everything in the context of how Bawumia was reported to have fallen sick and was either confined to the Kanda residence or flown to London in secrecy.... and all the drama that unfolded thereafter for such useless gasbags like Gabby Otchere Darko to attempt adding value to him only to backfire. Too bad for him. Is Bawumiah really Ghana's Vice President?

MY COMMENTS

Much is happening to prove that Bawumia is either walking on slippery grounds or is virtually being elbowed out. Otherwise, how could he not know better not to deceive himself and us that Cabinet had approved the RTI bill when, indeed, it wasn't so? And how does he relate to the Ministers and Deputy Ministers below him in the pecking order so they don't come out to make utterances that downgrade him (as Osei Mensah Kyei Bonsu has done)? And he hasn't reacted so far to clear the air or claw back some lost grounds!!

As for the claim concerning 570 dams, we already know that Bawumia goofed. It is beyond argument that he has bitten off more than he can chew. He is still fixated on the "rally ground talk" that Justice Atuguba cautioned him against as far back as 2012 during the hearing of the NPP's useless petition. Such an unrepentant liar continues to undercut himself and to make it difficult for him to aspire for anything higher than what he is now.
In other words, the more Bawumia lies, the grimmer his chances of leading the NPP after Akufo-Addo becomes. Whatever is motivating him to continue telling damaging lies is best known to him and his handlers. As for me, I have already written him off as a pesky bug to be squashed if he ever shows up as a candidate at the polls. Lying here, lying there, isn't the way to go; and he had better learn that lesson.

More importantly, as he continues to make public utterances to undermine his own integrity, the more he makes us wonder whether he is really a Vice president with authority to function as provided for by the Constitution of Ghana. We already know how the creation of the useless Ministry of Senior Minister, headed by Basket-Mouth Yaw Osafo-Marfo (which is even not recognized by Parliament to be given budgetary support) has overshadowed him.

We also know of how Osafo-Marfo has moved fast to occupy the premises vacated by former President Mahama that had initially been set aside for Bawumia, implying that Bawumia has no official "locus" in the workings of the Asante-Akim Mafia. Just after Mahama left office, we were bombarded with news reports about the edifice being constructed for him (that he had led the NPP's voracious gang to damn as too extravagant—and we haven't heard anything about that project ever since, but we know that Bawumia is still occupying the Kanda residence that his father had acquired).

Is that how to give status to the Vice President of Ghana? Or is it an adroit means to exploit the weaknesses in our Ghanaian system, assuming that he is paid rent allowance? Otherwise, what is being done to give him an official residence as done to all our former Vice Presidents? Again, isn't it strange that government functionaries (Ministers/Deputy Ministers/Parliamentarians, Public officers in the Civil Service, etc.) would be given official residence (bungalows) while Bawumia is left to his fate to live in his father's Kanda residence? What is happening here?

Folks, there is a lot to make us wonder a lot. Did Aliu Mahama live in a private residence? If not, why Bawumia? Something is not adding up properly here, which makes me wonder why Bawumia is still bent on running the fool's errand that he has been given all these years. And in doing so, he is fast emerging as the fool who insists that his dead mother is not dead but sleeping, even when the stench and the buzzing of flies prove him otherwise.

If it turns out to be that clandestine manouevres by the real insiders of the Akufo-Addo administration and the NPP machine have succeeded in implementing schemes to undermine and emasculate Bawumia as the Vice President, much concern should be aroused and expressed. What it means is that although Bawumia is in office as provided for by the Constitution, he lacks the clout to function.
Many instances when he acted in the absence of Akufo-Addo could give us the inkling because he never issued any official statement to stamp his authority on the situation. Take, for instance, when Akufo-Addo left on a 10-day foreign trip and armed robbery spiked. Bawumia never acted decisively, which forced Akufo-Addo to cut short his trip and return home to make moves for tackling the menace.

In this sense, one can see Bawumia as ineffectual, ineffective, and grossly handicapped. Why couldn't he make any decisive move as the Acting president to attempt solving the problem? And when Akufo-Addo returned, Bawumia faded, turning attention to ceremonial events. Such a weakling isn't productive. That is why all the ugly noise he makes in carrying out the fool's errand irritates.

Ghanaian politics is, indeed, dirty and full of nonsense. But can those who claim to be COMPETENT and Ghana's "interrectuals" not give us anything about it to respect? Just consider how they are trying desperately to equalize their mis-steps regarding the obnoxious agreement with the United States, blaming everything on the NDC (citing previous agreements signed in 1998 under Rawlings and 2015 under Mahama, which the NDC has debunked). Can't these "interrectuals" prove their worth for once? I wonder; I truly wonder.

I shall return…

•E-mail: mjbokor@yahoo.com

•Join me on Facebook at: http://www.facebook.com/mjkbokor