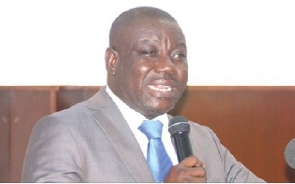 In fact, the malicious way politics is done in Ghana, pitting a section of the population against the other, all in a bid to manifest and justify which side of the political divide one belongs to, has made many a Ghanaian a political bigot and a fool.
From the irresponsible, loquacious and jumping the gun attitudinal manifestations by Isaac Adongo, the dishonourable NDC member of parliament for Bolgatanga Central, doubling as the Deputy Ranking Member of Parliamentary Committee on Finance, one could clearly tell that he is a misfit in his two positions.

He has been to the Ghana Broadcasting Corporation misinforming Ghanaians on the appointment of a Kenya national, Thairu Ndungu, as the Deputy Managing Director of Operations at the Consolidated Bank of Ghana (CBG), on expatriate pay. He claims it is totally wrong for the appointment to go to a foreigner whereas there is loads of equally qualified, or more qualified, native Ghanaians in the country for that position.

This view as expressed and trumpeted by Adongo makes him a parochial-minded person unfit to be a member of parliamentary and on top, a Ranking Member of Parliamentary committee on Finance.

Why shouldn't a foreigner hold such a lucrative position in a banking sector in Ghana? Could he intelligently explain that to me? Unwilling to spend my precious time on such a seeming blockhead rendered as such by the nature of the politics of lies, propaganda, intimidation and cluelessness as practised and championed by the NDC, I will just rush to tell him how in the greatly-advanced western countries, they advertise and employ foreigners into certain topmost management positions.

The Bank of England in the recent past employed a Canadian as their governor. Let me better quote from Britannica, one out of many sources, to prove my point, "Mark Carney, in full Mark Joseph Carney, (born March 16, 1965, Fort Smith, Northwest Territories, Canada), Canadian economist who served as governor of the Bank of Canada (BOC; 2008–13) and as head of the Bank of England (BOE; 2013–20)"

From Wikipedia, "Tidjane Thiam (French: [tidʒan tiam];[1][2] born 29 July 1962) is a French and Ivorian businessman, and the executive chairman of Freedom Acquisition Corp.[3] He was the chief executive officer (CEO) of Swiss bank Credit Suisse from March 2015 to February 2020. He was the chief financial officer of British banking group Prudential from 2007 to 2009, and then its CEO until 2015".
From the above two cited examples out of the hundreds that have taken place in Britain, let alone, in other western advanced countries, does clueless Isaac Adongo want to tell me that Britain does not, or did not, have equally qualified or more qualified British nationals to hold those positions?

Come over to Europe and the Americas to see how some Ghanaians are in higher positions over and above the local citizens. However, that does not mean that there are not equally qualified native citizens around to hold those positions.

The positions go to such foreigners for a number of reasons. Therefore, it is totally irresponsible on the part of Isaac Adongo to do silly politics with the promotion of a Kenyan at the bank to the point of inciting some equally-clueless customers of the bank to embark on public demonstrations against the bank and the government of Ghana.

Time is not on my side today but I shall come back with many facts to drag Isaac Adongo to the cleaners until he stops doing dirty politics in Ghana.

He is either the first, or among the first, to take swipes at the Bank of Ghana's Monetary Policy Committee and the 2023 Mid-year Budget Review by the Finance Minister, Ken Ofori-Atta, in Parliament on Monday, July 31, 2023.

Does Adongo pause and think, before opening his wide "hippopotamus" mouth?