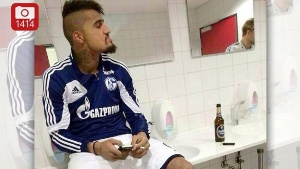 Tue, 19 May 2015 Source: Nii Ayitey Tetteh
By Nii Ayitey Tetteh
Either it was a throwback video or Michael Jackson had woken from the dead. At least that's how it looked from afar. Minutes later with the hat and jacket off, the dancer's identity was revealed. Costumed like the pop legend, Kevin Prince Boateng mimicked Wacko Jacko' moves, as he moon-walked to loud cheers from his AC Milan colleagues in a packed- San Siro filled with 88,000 spectators. It was the icing as Milan celebrated annexation of the 2010/2011 Italian Championship. Kevin was loving every moment under the spot light, responding wildly as he tried to catch his breath. Perhaps it was all happening a bit too fast. He was 24, playing for one of the world's greatest teams; the future looked every bright as those lights; the world was at his feet, literally.

Fast Forward to May 2015, the same Kevin who had the world at his feet in 2011, now had the world on his back. Lazy, poor attitude, undisciplined! The invectives poured; Kevin had just been released (a nicer word for sacked) from his German club Schalke just two games to end the season. For most people his "sacking" was inevitable. His brushes with German and Ghanaian football authorities haven't won him any prizes in the school of endearment. His poor attitude had finally caught up with him. The gavel has been rather quick in coming down on his career, but is Kevin Prince Boateng really finished as a top flight footballer?

Chequered career

Throughout his personal life and turbulent career, Kevin has been no stranger to adversity. Born on March 6, 1987 to a German mother and Ghanaian father, Kevin, who calls himself

''The Ghetto Kid" was brought up in the poor Wedding district of Berlin. He grew up in a neighbourhood known in Berlin as "third back yard" where the unemployment rate was more than 15 percent and 15,000 crimes committed yearly. It was there that Kevin imbibed a "survival of the fittest" value, which would go on to shape his world view later on in life.
His personal life and career has since been one big roller coaster. Sometimes he was down, sometimes he was up. When indiscipline cost him his place with the German U-21 team after making a total of 41 youth appearances, he was down. When he failed to cut it at Tottenham Hotspurs due to wild parties and lack of focus, he was down. When he was thrown out of the 2014 World Cup in Brazil after clashing with Ghanaian authorities he was down. But the man, with 26 tattoos, who started out as a right winger, has also experienced a number of highs.

When he powered Portsmouth to the English FA Cup final in 2010 where they lost to Chelsea, Kevin was close to fulfilling his potential. When later that summer, he shone in central midfield, helping Ghana to a quarterfinal showing at the 2010 World Cup, Kevin could smell stardom. When Genoa bought him and later transferred him to AC Milan after his brilliant World Cup outing, Kevin saw an opportunity and he grabbed it. Kevin impressed at Milan and when he was handed the famous number 10 shirt, his stardom was sealed. He would go on to become one of the top earners at Milan but when the club struggled to cope with those huge wage demands, coupled with Kevin's niggling injuries, Milan cut their losses and surprised the world when he was transferred to Schalke in 2013.

Schalke gladly took a player whom they thought would replicate special moments he had created at Milan. Moments like; when he scored one of the fastest hat tricks in Serie A history in just 14 minutes after coming off the bench against Lecce in 2011; when he scored a breathtaking goal against Barcelona in the UEFA Champions League in February 2013; when he showed leadership in January 2013 by leading a walk off the pitch in protest against racial abuse from fans of Italian Lega Pro 2 side Pro Patria, an act for which he became a United Nations ambassador for anti-racism. That was the kind of player Schalke bargained for when they signed Kevin and put him on an 8 million Euros per year salary.

Fragile emotions; fragile knees

When Schalke signed Kevin in 2013, their excitement probably blinded them to a player who had steadily been declining in form. Had Schalke paid more attention, they would have realized that his club appearances and influence had waned at Milan and his frequent knee injuries had affected his game, playing mostly with a wobble. Instead, Schalke put their hopes in him and though his first season didn't go according to script, he was given a pass. This season however, Kevin was not going to be given any such pass and after making only only 11 Bundesliga starts, Schalke's tolerance wore thin, demanding more and more from him.
Admittedly, he has been a contributing factor with controversial images and appearances in the media. Schalke still stuck by him, but when Kevin reportedly started factions within the team's camp and clashed with Coach Roberto Di Matteo, Schalke had had enough. So, when on May 10, Schalke lost 2-0 to Cologne, putting their European place for next season at risk and continuing a poor run of only one win in their last eight games, scape goats had to be found. Kevin was the easy target.

Kevin needs to do a little introspection and he would realize that a pattern seems to be developing; that of a player who isn't at the top of his game physically but more importantly a player who is developing a reputation of a bad apple constantly spoiling the bunch. It is enough for clubs and country to cope with a player with niggling injuries but when that player cannot control his emotions and optimize his efforts, then he would always be an easy target for team cleansing. At this rate, Kevin would find it difficult attracting high profiled suitors and while he could reform, it is difficult to imagine him at another top team. At 28, Kevin can regroup, see a shrink, get into shape and also clean his image, but unlike the bright lights and moon-walk in the San Siro, this new path would be a lonely one to walk; it would be hard, hazy and rocky.

niiayitey29@gmail.com

Follow me on twitter @niithesoccerguy

(Culled from the 90 Minutes)
Source: Nii Ayitey Tetteh