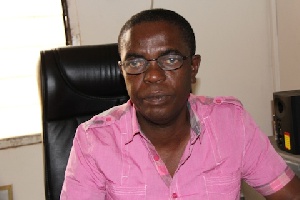 By K. Badu
I could not believe my ears when a few days to the just ended general election, I heard Massa Kwesi Pratt impertinently insisting that the Ghana health authorities should assemble a fleet of ambulances that will transport the supporters of the NPP Party to nearby health centres during the declaration of the election results.

According to the firebrand journalist Kwesi Pratt, the shock of the election results will send the vast majority of the NPP supporters into cardiac arrests which the Ambulance Service might not be able to cope with the large number of cases.

Surprisingly, however, Massa Kwesi Pratt failed to acknowledge that he is not immune from heart fibrillation or extreme palpitations following shocking news.

Unfortunately, Massa Kwesi Pratt has been at the receiving end of his own ballistic missiles, ---it is being alleged that he is still palpitating heavily following the declaration of the 2016 general election results.

Yes, Massa Kwesi Pratt has been missing in action following the declaration of the 2016 election results.
Apparently, Massa Pratt's inexplicable absence from the public space has generated volumes of vineyard news.

Some tattletales have it that Massa Kwesi Pratt received a shock of his life and he is yet to recover from the suspected heart muscle fibrillation. He was indeed not expecting an NPP win.

Obviously, Massa Kwesi Pratt was not in favour of an NPP victory, hence did everything humanly possible to dissuade potential voters from endorsing Nana Akufo Addo.

So, it was not surprising when MASSA Kwesi Pratt try his level best to shoot down expedient poverty interventions such as 'one village one dam' and one district one factory proposed by the NPP Party.

In fact, it was beyond amazement when listening to MASSA Kwesi Pratt's unreasonable explanations pertaining to the feasibility of such a policy during Kwame Sefa Kai's Tuesday 27 September 2016 edition of Kokrokoo chat show on Peace FM.
According to MASSA Kwesi Pratt, since the NPP Party communicators were struggling to develop a distinction between a dam, a borehole and irrigation in their explanations, he cannot see how and why an NPP government can implement such a policy.

What left me more besotted was MASSA Pratt's brutalised claims that since the NPP Party has been clamorously touting 'one village one dam' , while one dam may serve three villages, NPP communicators were thus belying the facts about their policy. How pathetic?

In fact, MASSA Kwesi Pratt's inveterate and risible proclivity towards anything NPP is out of this world. For if that was not the case, how could a senior citizen like Pratt oppose such an advantageous policy that could ameliorate the existential poverty in the northern part of Ghana?

Sadly, our development has been beclouded by sycophancy, negligence, corruption, cronyism, nepotism and needless dubieties, -----'we can't do attitude'.

With all due respect and without seeking to be condescending on this occasion, I will dare state that MASSA Pratt's inexorable incertitude somehow gives oxygen to the views of the supremacists like the impolitic Turkish taxi driver who once indiscreetly asseverated that "Africans are not intelligent".
All the same, we must forgive the vociferous Turkish taxi driver and rather direct our frustrations towards the so-called senior citizens like MASSA Kwesi Pratt, who have been needlessly holding back our advancement with their voracious actions and inactions.

Apparently, MASSA Kwesi Pratt claims to be 'Nkrumahist', albeit he does not seem to share his Doyen's ideology of development through industrialization.

Well, I hope and pray that the Almighty God gives Massa Kwesi Pratt good health so that he could live longer to witness how President Akufo Addo's government will help bring a real transformation to the lives of the good people of Ghana.