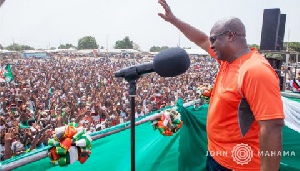 It is an undeniable fact that freedom of worship is an inalienable human right, which is enshrined in the International Covenant on Civil and Political Rights. More importantly, freedom of worship has been transposed and given meaning in Ghana's 1992 Constitution.
And, as such, there is no permitted abridgment as to which religious sect one could join. Indeed, individuals have their inherent dignity and inalienable rights to choose or join any congregation of their choice.

Let me however stress forcefully that this opinion piece is not seeking to upbraid those churches that have contributed in the past, and still contributing meaningfully to the advancement of humanity.

As a matter of fact, the vast majority of Ghanaians owe a great debt of gratitude to orthodox churches for their unstinting missionary endeavours.

In my humble opinion, the orthodox churches deserve every commendation for their numerous charitable endeavours. However, the same cannot be said about the "mushroom churches".

Regrettably, though, the founders of these mushroom churches have succeeded in proselytizing and swindling unsuspected truth seekers, who only want adulterated, more 'palatable' forms of Truth, watered down and compromised for convenience.

I must however confess that it pains my heart so much to witness some of the founders of the one-man churches getting away with their ceaseless scheming guiles and irrevocable self-aggrandisement.
It is against such background that I am struggling to understand how and why some supposedly enlightened public figures such as Ex-President Mahama and other NDC apparatchiks would bank all their hopes on Obinim's stickers to perform wonders for them.

First of all, it was Ex-President Mahama who advertised Obinim's alleged magical stickers during the NDC's recent Unity Walk at WA, in the Upper West Region. Former President Mahama somewhat uncharacteristically beseeched President Akufo-Addo and his appointees to consult Obinim for supernatural stickers to help them to quickly change the fortunes of the country. How pathetic?

Following former President Mahama's unsavoury remarks, a host of NDC apparatchiks have been joyously singing Mahama's cacophonous composition. The NDC Member of Parliament for Bolgatanga Central, Isaac Adongo, has been stressing that everyone requires the intervention of God from time to time to be healed and to be empowered for greater works. Adongo thus insists that he sees nothing wrong if Mahama, who has Akufo-Addo's interest at heart is directing him to seek help from a powerful man of God such as Obinim (See: Obinim sticker comment: 'What's wrong if someone wants to help your plight?– Adongo; ghanaweb.com, 15/04/2018).

Speaking on Asempa FM, Adongo stressed plangently: "This is someone God has blessed with the anointing. He has given him the power to heal the sick and is helping humanity so what is wrong if someone recommends that go and use some of the stickers which have the power to help you?"



Well, if we were to engage in adverse inference, could we then suggest that the likes of Mahama and Adongo will most likely consult Obinim for the alleged magical stickers to help them clasp power in the near future?
I will thus suggest that since Adongo and his minions have absolute trust in Obinim's magical stickers, they should use their good offices to ensure that Obinim pays the right taxes on his lucrative business.

It is true that the likes of Obinim have registered their churches, or often seen as charitable entities-non-profit making organisations. But do they deserve such benevolent status? No.

As a matter of fact and observation, the founders of one man churches are making a lot of profits from their unconventional trading, in addition to ripping off their poor followers to feed their opulent lifestyles.

In a way, they have been given charitable status in the view that they will help the needy in the society, albeit they have refused and still refusing to oblige. In brief, they prefer to rip off their poor followers to boost their bank balances.

In my view, the "mushrooms churches" are not charitable, thus they must be given tax codes and let us start deducting taxes which can be used to develop their communities.

Isn't it true that some of these mushroom churches owners go about bragging about their wealth? They do. So where then lies the fairness in leaving those "fat cats" from the tax net and then turn around and pursue their impoverished church members?
Unlike the orthodox churches, (Roman Catholic, Presbyterian, Methodist, Anglican amongst others, the one-man Churches are not charitable in any sense, so why give them tax concessions?

It is, however, boundlessly unconscionable to allow the one-man churches to go scot free and then turn around and pursue low income earners such as pepper and tomato sellers for taxes from their meagre earnings.

I would thus like to stress that it is unfair not to include the one-man churches, many of whom are blissfully engaging in trading activities. Indeed, there is no justification in allowing these one-man churches to take home all their profits from their trading activities.

There is no denying or hiding the fact that some of the unscrupulous founders of the one-man churches are trampling on the inalienable human rights of their members, thus the authorities cannot and must not look on unconcerned.

Whichever way you may analyse the topic under discussion, in international best practice, charitable organisations are exempted from paying direct taxes and they, in turn, reciprocate by undertaking socially responsible projects.

It should also be mentioned that in most well-regulated precincts, if a charitable organisation chose to engage in a profitable activity outside its normal ambit, then profits that would be accrued from such activity become taxable.
Going forward, in Ghana, there should be a Charity Commission to oversee the activities of all the mushroom churches and that of registered charitable organisations and social enterprises.

In sum, the authorities must attach heightened importance to this quagmire and endeavour to implement expedient measures to curb the unscrupulous activities of the one-man churches.