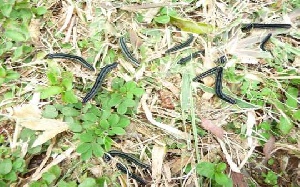 When I provided direct evidence to show the devastation being caused by the fall army-worm last farming season, I was accused of doing politics.
The Agric Minister accused me of seeking to dampen the successful government policy of planting for food and jobs.

He went on to say that contrary to detractors, Ghanaians should expect a BUMPER harvest, after he had fraudulently declared that the army-worm had been defeated.

When I confronted him again, when he appeared before the public accounts committee sitting on the same issue with more evidence from Builsa South, he exploded angrily and said even if all the farms in my constituency were infested/destroyed by the worm, it will not affect the expected bumper harvest nationally because the farms in my constituency constituted a very small proportion.

He accused me of condemning government and asked that I commend government for a job well done in fighting the fall army-worm.

Well, how could there be a shortage of maize across the nation when the army-worm purportedly had not negatively affected the maize crop nationally except in Builsa South?
How can we have a shortage of maize when planting for food and jobs guaranteed a BUMPER harvest and has created 745, 000 jobs?

The Truth will always Stand! The Truth is that the Agric Minister deceived Parliament, deceived Ghanaians with regards to the magnitude of devastation the fall army-worm caused.

Today the truth has exposed him. He is clearly super incompetent and must honourably resign or be fired! I remain a citizen Mr. President.

Dr. Apaak - MP, Builsa South