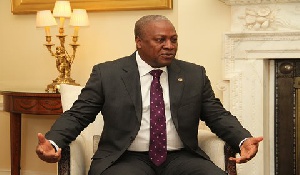 "I don't use Fords. I don't like American cars. I use Japanese cars. Toyota is my car."
The above is a quotation from what President Mahama said to the Clergy during a breakfast meeting at the seat of government on 23rdJune, 2016.

The President was obviously reacting to a piece of investigative journalistic work that saw a businessman and contractor from Burkina Faso disclosed that he had given President Mahama a Ford Expedition vehicle in 2012 as a gift.

The President could have communicated better his reaction to the alleged bribery saga. Disclosing his distaste for American vehicles was diplomatically wrong of him as a President whose country receives aid in various shape and form from the United States of America. Some of the aids come from taxes of businessmen trading in American cars of which the President of Ghana doesn't like.

By inference and insinuation, President Mahama was also saying that American cars are inferior, low quality and not deserving of his taste as President. Mr President, this was unnecessary.

There is no doubt from the statement President Mahama made that he saw Japanese cars to be of high quality, durable and everlasting than American cars. The question to ask President Mahama is:Are you also the marketing manager for Japan Motors?
What you said of your car taste was wrong and needless. It was not a smart thing to say as President of a country that receives aid from America and I suggest that you offer unqualified apology to the President and people of the United States for undermining their vehicles.

I am highly convinced that the President erred when the ford expedition vehicle was received and kept like a State secret until the expose'. Wrong is wrong is wrong. There is no way sweet words can be put together to explain off this serious revelation.

The NPP must be commended for calling for further investigations by the relevant agencies into this bribery allegation. All those who have filed petitions at the Commission of Human Rights and Administrative Justice (CHRAJ) must be commended for wanting to know the truth or otherwise of this gargantuan saga of Presidential magnitude.

The media consultants to the President must make it known to him that there are times the best communication is silence. The varying and contradictory statements from government communicators about the Ford saga only make their case worst. They must as well be told that you don't do crisis communication by embarking on insults spree.

Ghanaians are very discerning and no amount of feeble and weak communication by government communicators will help or save the shame at this stage.
The President must do himself good by hastening slowly. The pressure on him is making him talk in un- presidential ways.

The fine details of the Ford Expedition vehicle will surely be known now or in the future. Deciding to play semantics with the case won't help President Mahama. The car must be returned and President Mahama must resign or be impeached. This should be non- negotiable. Very best.

Tamale North