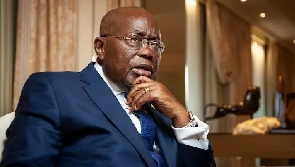 Our elders say when an old lady dies and you appoint another old lady to replace her in the family, you are just postponing the funeral. In other words, you haven't done the family any good.
I heard one of the proposals the Nana Akufo-Addo government has put before the IMF is that, they want the IMF to glorify the suspension of the payment of loan interest until 2026. Of course, the other proposals are that IMF gives Ghana $3 billion, which will pave the way for Nana Addo to go and borrow more and more.

Is it true that Nana Addo wants to postpone our loan interest payments until 2026? On a more serious note, do you know what that means to you? Do you see that the "break the 8" is another empty slogan just to annoy Ghanaians because they know they will not be in power in 2026?

So, this wicked, insensitive, and lazy old man wants to put the next NDC government into the difficult situation of governing? Didn't President Kufuor do the same thing to President Atta-Mills with the single spine salary structure? Didn't Rawlings tell us these people are the same, with just a change of their names?

Hon. Ken Ofori-Atta, the Finance Minister, told us if we don't get the IMF bailout by end of March, Ghana's economy will collapse. We are almost at the end of April, how far is Ghana's economy? The NPP is now priding itself that the IMF bailout that will go through by June or July. The one devil called IMF is today their saviour. These people have no shame.

People have started saying, with the hardships these IMF conditions have brought to Ghana, we should never go back to the IMF. But how will we not go to the IMF, when we are suspending our loan interest payment to 2026?
The years 2026 to 2030 will be the most difficult period in the history of Ghana and the party that got us there can never get us out. The best they can do for us would be to get us deeper into our hardships.

I have told you what to expect if Nana Addo succeeds in postponing the interest payment to 2026. I have told you these people, who got us there cannot get us out. Election Day is December 7, 2024. I have heard that the National Identification Authority (NIA) says they are back to business and issuing the Ghana Card. Please if you don't have a Ghana card, this month, stop whatever you are doing and go get your Ghana Card. If there was an error on the one issued to you earlier, make time this month and get it fixed.

If you don't vote to wipe out the NPP from active politics in Ghana, that would be the greatest mistake of your life. Your children and grandchildren will never forgive you after you have long left this world. Just imagine Ken Ofori-Atta is Ghana's Finance Minister in 2026. That alone should scare the hell out of you.

Mahama reba!