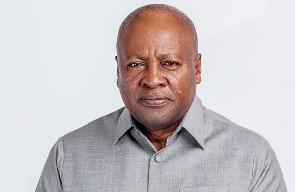 I have been laughing my head off reading a statement by former President John Dramani Mahama that says, "Ghanaians lived a far better life under me than under President Nana Akufo-Addo".
Is flagbearer aspirant, John Dramani Mahama serious at all? Does he really mean what he is saying or it is just a mere political talk overflowing from his abundance of lies to deceive Ghanaians who he claims to have a short memory?

Fellow Ghanaians, did you live a much better life under the four or more years of acute power shortage that earned Ghana the Guinness Record of 'Dumsor' and the international mockery of 'dum, dum, s3, s3'?

Did many small and medium scale companies, especially those in the fish industry, otherwise called cold stores, not collapse? Are Ghanaians with head on their neck and brains in their skull happy about the fact they lived a much better life under that situation?

How and why did then president John Dramani Mahama come out to assert that he suffers from the dead goat syndrome so he doesn't care about the moaning, complaints and insults by Ghanaians if indeed, Ghanaians were living a much better life under him?

Why was he always happy dancing to the lyrics of 'Yen ntie Obiaa' by Daddy Lumba? Why did he say he would not listen to any Ghanaian who had never been a president of Ghana before? What prompted him to say that Ghanaians were living a much better life in those days?
Was there any worldwide catastrophe like the coronavirus pandemic (Covid-19) that brought the world economy to a near standstill during the reign of former President John Mahama? No!

Was there any war of such magnitude as to exacerbate the already difficult economic situation faced by the African nations as the ongoing Russia-Ukraine war?

Former president, John Dramani Mahama is not serious at all as a prodigal son who has realised his mistakes, regrets for them and is asking Ghanaians to accept him back to give him a second chance.

By his seeming childish pronouncements coming out of his abundance of lack of policies and programmes to persuade many a discerning Ghanaian to vote for him, he is bound to say anything that passes his mind without giving it any thought.

Ghanaians are probably not living a better life because president Nana Akufo-Addo is trying his best to acquire almost every Ghanaian youth some knowledge through his free Senior High School education that is constantly being sabotaged by John Mahama and his supporters.
Ghanaians may not be living any better life now because the NDC flag bearer contestant, John Mahama had completely misused, or ransacked, the nation's coffers as attested to by his infamous "Ya we nan pa no nyinaa amma aka dompe", thus, "we have chewed all the flesh and just left with bare bones".

From many absurd statements continually being made by the flagbearer contestant one will only have to agree with Rockson Adofo, the proud and fearless son of Kumawu/Asiampa soil that John Dramani Mahama will always be a misfit in the post of the president of Ghana.

He has not yet grown out of his obvious infantilism hence totally unfit to be accorded a second chance to come back to rule Ghana.

What are the policies and social intervention programmes by former president, John Dramani Mahama to rightfully alleged worsened economic situation under President Nana Akufo-Addo, if he were given the nod to rule Ghana? Apart from his destructive criticisms of president Nana Akufo-Addo, he has nothing to tell Ghanaians to persuade them to vote for him.

Ouch, I nearly did him the mother of all disservice. He has promised to provide Ghanaians with small hen coops to those interested, give them little money to buy chickens, rear them for egg production to earn them a little income.
Again, he promises to procure interested Ghanaians little piglets, rear them and when grown, they can kill them and sell the meat to raise money for themselves.

Is it how best he will serve Ghana to make the life of Ghanaians much better and Ghana great?

Ghanaians, judge for yourselves.

Dr. Kwabena Duffour in a thousand years will not reason so childishly as does his opponent John Dramani Mahama, the incompetent one.