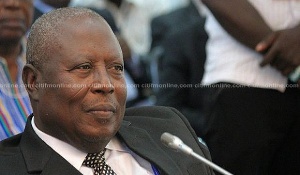 I was shocked to the bone when I read online about the sarcastic response to the Special Prosecutor, Hon Martin Amidu, by Ms Gloria Akuffo. When the Special Prosecutor complained about his office not being resourced in terms of finance and personnel, he was accused by the Attorney General of talking too much and/or lying.
Then presidential aspirant Nana Akufo-Addo endeared himself to the Ghanaian electorates when he promised to deal drastically with official corruption in the country by appointing a Special Prosecutor to prosecute government appointees and top civil servants found to have involved themselves in corruption should he win election 2016.

Until today, there is no sign of the Special Prosecutor starting to prosecute anyone let alone, collecting the money embezzled by the erstwhile NDC government appointees or the current NPP government appointees.

Was that promise and the appointment of the Special Prosecutor only a political gimmick?

I am disgusted at the response to Hon Martin Amidu by Ms Gloria Akufo. Martin has made a name for himself by being the second, if not the first, Ghanaian, who is honest and indeed is resolutely determined to fight corruption.

Reading his history and how he was sacked by the late President Evans Atta Mills for standing his grounds against corruption and his determination to prosecute Alfred Agbesi Woyome, the self-styled financier of NDC, for defrauding Ghana to the tune of GHs52.2 million, goes to tell how Martin is a man of unrivalled integrity.

Therefore, for the Attorney General who I honestly see as a misfit in her position, to seek to sabotage the Special Prosecutor by accusing him of talking too much when indeed he has not been resourced to do his job according to the designation of his post, makes me doubt the competence and sincerity of Ms Gloria Akuffo in fighting corruption. Is it the case of "you scratch my back and I scratch your back" hence the NPP not ready to prosecute anyone? If it was not so, Hon Martin Amidu who recently warned that no chief or anyone should approach him to beg for any offender, will have been permitted to start his job by now.
It is on record that Ms Gloria Akuffo went to kneel before Asantehene Otumfuo Osei Tutu II to bless her to be able to do her job successfully. That was a sign of absolute incompetence! I published two articles to rebuke her so I will not revisit it again. It is not the blessing by any chief that can help her do her job if she is actually academically and professionally not capable and able to execute the duties of the office of Attorney General.

I think Martin should rather have been appointed as the Attorney General and he will have done a better job. He is under someone who does not seem to tell her left from her right hence unknowingly or knowingly sabotaging him.

Has Gloria been approached by some chiefs, some rich or some powerful persons to not allow Martin to prosecute anyone hence the obvious intentional or otherwise delay to facilitating the execution of the duties of the Special Prosecutor? Why is he being obstructed, if I may query?

Time is of essence, if I should emphasize to NPP and His Excellency the President. The clock is ticking and time and tide wait for no man.

NPP from empirical observations are wobbling on their legs as I write. They fail to listen to good advice and seem not to have any solid strategy in place to rallying Ghanaians behind their implemented long term policies.

Ghanaians are by nature known to reap the fruits of their labour there and then, without having patience to wait a bit longer before enjoying the benefits of their toil. They are not ready to work for posterity to enjoy the fruits of their sweat but themselves.
If the White people had done that, their lands would not be such greener pastures for many Ghanaians including myself to move to their countries to fleece or enjoy their pastures.

Let me be frank with NPP, should Hon Martin Amidu in whom many people have confidence as a proven incorruptible and honest person resign his post out of frustration and sabotage as it currently appears to be the case, the death knell for NPP will have been sounded, and their defeat in election 2020 is a forgone conclusion.

People will tag both NPP and NDC as the value being the same. Therefore, with Ghanaians' impatience for waiting for implemented long term policies to bear fruits, they will kick out NPP to bring the corrupt "create, loot and share" NDC back.

I shall strongly admonish both His Excellency the President Nana Addo Dankwa Akufo-Addo and the Attorney General Ms Gloria Akufo to resource Hon Martin Amidu, the Special Prosecutor, to enable him start prosecuting people. What has become of Alfred Agbesi Woyome, the Ghanaian swindler of the 21st Century? He is still sauntering down the streets of Ghana a free man. What a joke after all the hype to collect the money within months of NPP coming into power as trumpeted by NPP.

The NPP are failing for listening to Asantehene Otumfuo Osei Tutu II's ill-advise to them. I have heard he told President Nana Akufo-Addo that governing is not by rush ("buga buga") but peacefully going about things.

If it is true that he advised the President as alleged, that is the day the President failed to plan but not his plan failing him. If Asantehene had done same to Ms Gloria Akuffo and the likes who hurtled to his Manhyia Palace to beseech his blessings, knowing he is a diehard NDC member, that is the very moment the NPP deviated from their plan hence all the challenges they are facing.
Who tells you running a successful government is not by "buga buga"? Does Asantehene understand the various types of leadership styles?

Why is himself resorting to despicable force and illegalities to have his own way in the ongoing Kumawu chieftaincy dispute, colluding with the police to inflict injuries on innocent persons?

Is he not using force to achieve his objective but for which I am resisting him, being a vessel of God?

The Attorney General must allow the Special Prosecutor to do his job to save NPP from defeat to enable the President have a sound mind and time to successfully implement his long term policies for the collective welfare of the usually impatient Ghanaians.

Should she continue to frustrate him, then the President had better sack her for Martin Amidu is worth more than two of Gloria Akuffos. This is a fact and I can put my head on the block for that. Once Martin starts working in all honesty, the popularity of the President and NPP that is nose-diving will start to boost, I can assure people of that.

I know all those that have cotton sticking out of their anus but currently happily jumping over the quenched fire will be scared to do so once Martin lights his indiscriminating fire of prosecution. I mean all those that have embezzled State funds and assets.
Therefore, nobody should seek to be a hurdle in his way. Whoever does that will incur my wrath and that of the Ghanaian electorates, let alone, God's.

It is about time discerning Ghanaians, especially those in the NPP fraternity, began to speak their mind without fear or favour. If our party leaders err, let us point it out to them or chastise them. If they are being sluggish, let us tell them to quicken up. That is the only way to get them to live up to the expectation of Ghanaians. Does NPP as a party have any effective strategist with the knowhow to devise appropriate methods and policies to help them stay in power longer to realise the fullest implementations of their long term policies? I am afraid not! I shall explain why in my future published memoire.

I have respect for those who respect themselves and respect the ordinary Ghanaians. I have aversion to those who disrespect the poor in the society for the fact of them being poor and needy.

This is the view of the son of Kumawu and Asiampa soil. I SHALL surely meet His Excellency Nana Addo Dankwa Akufo-Addo one day and during his presidency of course, God willing.

Rockson Adofo