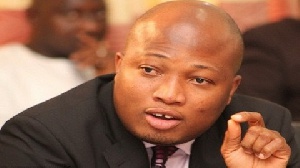 The Member of Parliament for North Tongu in the Volta Region and a Ranking Member of the Foreign Affairs Committee of Parliament, Samuel Okudzeto Ablakwa has written an open letter to the Chief of Staff, Akosua Frema Osei-Opare asking for an update on the temporary foreign travel ban imposed on ministers of state and other government appointees.
The Chief of Staff in a circular dated June 21, 2018 indicated that President Nana Addo Dankwa Akufo-Addo has placed a temporary ban on foreign travels by all government officials.

That meant that all ministers, deputy ministers, metropolitan, municipal and district chief executives, as well as all heads of government agencies, were to temporarily suspend their foreign travels.

The letter from the Office of the President addressed to all the affected officials, dated June 21, 2018 and signed by the Chief of Staff, Akosua Frema Osei-Opare said "guidelines in respect of future foreign travels aimed at minimizing disruption to government's domestic work will be communicated to you shortly.

Below is a copy of Okudzeto Ablakwa's open letter

OPEN LETTER TO THE HONOURABLE CHIEF OF STAFF, AKOSUA FREMA OSEI-OPARE REQUEST FOR UPDATE ON TRAVEL BAN IMPOSED ON MINISTERS AND OTHER GOVERNMENT APPOINTEES ON 21ST JUNE, 2018.

Dear Madam,

I convey to you warm compliments from the Minority in Parliament.
Respectfully, on the 21st of June, 2018, you communicated under your name and signature to all Sector Ministers and Deputies, Regional Ministers and Deputies, MMDCEs and Heads of Government Agencies informing them of a Presidential directive to temporarily suspend all foreign travels.

In the referenced communication, only the Honourable Minister for Foreign Affairs and Regional Integration was exempted.

As you will recall, the document in issue was made public and it is fair to admit that it did attract considerable media attention and enormous national interest.

Speaking on the matter to the press; both your Deputy, Mr. Samuel Abu Jinapor and former Information Minister, Dr. Mustapha Abdul-Hamid vouched for the authenticity of the document which was at the time in wide circulation.

They both attempted to offer some clarity and assured the nation that "soon" new guidelines covering future foreign travels will be developed as Government strives to cut expenditure and keep Ministers and other appointees focused on domestic duties.

This open letter is addressed to your high office in utmost good faith and in the spirit of Good Governance requesting that you provide an update to Ghanaians on this ban, four months on.

This update, if provided, apart from helping build confidence in our governance processes so that matters of this nature are not thought of as propaganda stunts, it will also enable those of us in the Legislature adequately discharge our Constitutionally mandated oversight obligations.
It is worth the reminder about how a similar ban on the purchase of new vehicles by Ministries, Departments and Agencies dated March 21st, 2017 which was also signed by your good self and made public has seen no public reversal 19 months on and yet evidence abounds on the purchase of fleets of new vehicles right from the Presidency to Ministries, Departments and Agencies.

Respectfully, this tendency to go public with bans of all sorts and remain silent thereafter hoping all Ghanaians will forget and move on does not promote trust in public officers neither does it create a good image for Government. It also destroys our quest for accountable governance.

In the index case of the ban on travels; it's been four long months since this matter became the subject of national interest. Ghanaians deserve to know:

1) Is the ban still in force?

2) If not, when was it lifted?

3) If still in force, when will it be lifted?

4) Are the promised new guidelines ready?
5) What is contained in the new guidelines?

6) Considering that Government officials including your Deputy, assured of considerable savings to the State, in all humility, can the taxpayer be kindly informed how much Government has saved in specific terms?

7) What has been the general impact assessment of the ban?

With all due respect, it is imperative to point out that we seek to continue in the spirit of public engagement on this matter as initiated by your Government when your signed memorandum was made public and formed the basis for extensive commentary by numerous Government officials.

It is within this context that we have elected to utilize an open letter approach which we believe will enhance the quality of transparency and accountability we all yearn for.

With the raison d'être of building public trust in our public officers and democratic institutions, I humbly look forward to your response in good time.

Kindly accept my very best wishes.
Signed,

Samuel Okudzeto Ablakwa

MP, North Tongu

[Ranking Member, Foreign Affairs Committee of Parliament.]

10/10/2018