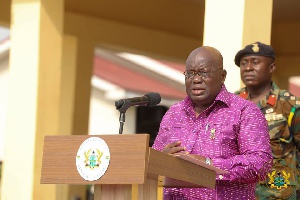 Folks, one very ludicrous claim made by buffs of the NPP administration has been this one: that the Akufo-Addo administration is a listening one.
They've said so in comments on the government's about-face (about-turn) on some of its unpopular measures and policies that Ghanaians have roundly condemned. Some moves made regarding the tariffs of utility services and what-not attracted vitriolic reaction from the public and the government had to either abandon them or make amends, mostly after the fact, to make its supporters see it as a "listening" one.

Now, the real moment to test it is here. Its obnoxious move to cede Ghana's security climate to the United States per the obnoxious agreement that Cabinet endorsed and which Ntiwul placed before Parliament for ratification has met stiff and unrelenting opposition. And the objection has come from all quarters (politicians, security experts, ordinary Ghanaians, and what-have-you, home and abroad).

The pace has already been set for a stiff opposition to the agreement. Already, public pronouncements have indicated that opposition to this despicable agreement won't subside, ebb, or evaporate just because of the stentorian manner in which Ntiwul and some "brain-dead" NPP supporters are defending it.

The implications are clear: Ghanaians will go to any length to ensure that the agreement isn't ratified by Parliament. Already, gratifying happenings are in-the-making:

"A pressure group is set to march to parliament Friday to protest an agreement between the government of Ghana and the US government. The group, Economic Fighters League believes the agreement which will grant some privileges to the US army to operate in Ghana, amounts to selling the sovereignty of Ghana and must be shot down by lawmakers."
(See: https://www.ghanaweb.com/GhanaHomePage/NewsArchive/Group-to-storm-parliament-over-US-agreement-636549).

I wholeheartedly welcome this move and encourage all others to get together and build a strong fort against this move by Team Akufo-Addo to compound Ghana's problems. Without this agreement, Ghana has been able to survive all these decades. What do we need the United States' involvement in our national security atmosphere for?

From what has unfolded so far---and given a strong indication that the agitation will intensify and not lessen just because the US Ambassador is attempting to play down the seriousness of the matter or that Ntiwul and his backers are taking steps to explain issues----I wonder if the United States will have any conscience to abandon this move.

In a democracy, the government doesn't just do anything at all just because it sees itself as the power-wielder. It walks closely with the ultimate wielders of power (the people) all the way, acting on public sentiments for good governance.

What Team Akufo-Addo has come out with regarding this agreement on "security co-operation" doesn't accord with public sentiments. The earlier it is ditched, the better it will be for the political and security atmosphere in Ghana. Is Team Akufo-Addo really a listening one? The moment of truth is here to test it.
I shall return…

• E-mail: mjbokor@yahoo.com

• Join me on Facebook at: http://www.facebook.com/mjkbokor