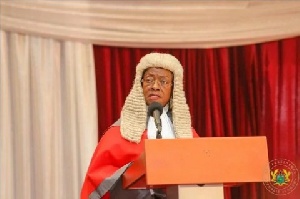 Esi (not real name) is a single mother of six. She had returned to the village, from Lake Volta, at my instance, facing the most difficult of life's economic challenges; you can imagine what life looked like, for a mother of six, with no support, apart from yours truly's widow's mite, it was one that came with frustrations, and a lot of turbulence.
Some ten years ago, Esi had a fight with Aba (not real name), as a result of an earlier fight between their respective children. Aba reported the case to the Police, after which Esi was arrested, and detained. After several hours of trekking to the police, I was able to secure bail for Esi.

The day I secured the bail, Aba was right with me, regretting the situation she had put Esi into. She subsequently told the Police, in my presence, that she was no longer interested in pursuing the case, admitting that the two of them were known friends; after all, it was a fight.

At the time of the bail, we were told that the CID who was originally in charge of the case had gone for a weekend funeral, and was not back, so another CID who was taking us through the bail processes, advised Aba to go for an Affidavit from a Commissioner of Oaths, to the Police, as requirement for the case to be discontinued, as per her wish.

The following day Aba brought an Affidavit, as was advised, and I took her to the Police, together with Esi, and the Affidavit was duly presented, to the CID, and subsequently the case was entered as discontinued, after meetings with the Crime Officer and the District Commander.

A couple of days later, after I had left the country, I had a call that Esi had been re-arrested, that the CID who was originally in charge of the case, who was absent at the time Esi was given bail, and the case discontinued, was now back from his weekend funeral, and that he had said he did not agree with Esi's bail in his absence, so in spite of Aba's disinterest in the case, in spite of the Commander's involvement, and in spite of the Crime Officer's involvement in the discontinuation process, Mr. CID had Esi locked up for nearly 48 additional hours, threatening to make sure that Esi was imprisoned for two years.
Of course I knew it was a gimmick, to get the parties involved to part with something. And as was expected of our illiterate village relatives, Esi's family was seized with fear, a fear that came as a result of the threat of imprisonment, and with that threat in mind, they eventually cut the long story short, Esi was granted bail again, this time the CID was reported to have been sorted out, properly, you get me?

In the course of my work, I have come across how some of these fear-mongering forces uninformed people to be treated unjustly, and how people with power use their positions to intimidate the poor. It comes in many forms, the judge threatening to impose prison sentences on those who are afraid to go to jail, the Police intimidating the poor into paying bribes to avoid being thrown into cells, and being framed up for prosecution, the executives of political parties in power making calls to get some people freed or arrested, and so on.

Last week I read a news article, that the Duayaw Nkwanta Circuit Court, in the Tano North District of the Brong Ahafo Region, has sentenced a 33 year old man, to ten years in prison. The convict, Kofi Asante, is reported to have been sentenced by the sitting judge, His Lordship Alexander Graham, for stealing two turkeys valued at GH¢400.

The following are all the rest of the details to the case as reported; "On September 20, 2017 a complainant detected two of his turkeys were missing and therefore decided to search for them. During the search, he spotted the feathers of the birds and decided to trace which led him into the kitchen of the accused, where he had slaughtered and was smoking them. The complainant notified the police via phone and Kofi Asante was arrested and the meat retrieved from him. During interrogation, he admitted to the offence and was accordingly charged for the offence. When he was arraigned before court, he pleaded guilty, and the judge sentenced him to ten years in prison".

Do you get where my anger is building up from? We were in this country when KKD was accused of rape. Rape is not a bail-able offence, yet KKD had a bail. KKD was a prominent influential person in Ghana, with a lot of links in high places, with a lot of public presence. KKD now walks free. Could Kofi Asante have gotten bail if he was the person who was accused of rape, in the same manner as KKD, would he have been walking free, like KKD is back on our television screens?
But, anyway, it's always about the poor, and the less influential, at the receiving end of the law. Kofi Asante did not have the money to have "settled" the Police before the case travelled to court. He would not be able to secure the services of a lawyer, to act in his corner, he would not be able to understand his own plea, as it is possible the police might have coached him to implicate himself, something which happens so often with the Police and criminal suspects, and Mr. Judge, so you threw this hungry man into jail, for ten years, for stealing two turkeys, for food?

Do you remember Patrick Timbilla, the police Commissioner who was indicted in what appears to be the biggest scam scandal to have hit the Ghana police service? He was indicted for leading in a fake Police Recruitment drive, and was reported to have taken several millions of money from the public, promising young people enlistment into the Ghana Police Service. What is the worst thing that has happened to him? We only produced a report, and asked him to proceed on leave, that was all. No prosecution, nothing.

You see the usual selective justice? A police commissioner who seemed to have thrived on fraud, a police commissioner who should be arresting scammers, now indicted for scamming the very civilians he should have protected; why is he not in jail for duping people in millions?

How could we have made a law that sends a turkey thief to ten years imprisonment, but we have allowed Woyome to, still, be walking free, after taking from us GHC51miliong? How much is turkey, GHC400? Is this the case of vindictive judgment, or "I will show you where power lies" kind of judgment?

We are witnessing the daylight robbery of our resources; the stealing of millions of our state resources, GYEEDA, SUBAL, GIZZARD, Rubbish bins, and all of those thieves are hanging in there, none seem to bother to think of jail. A poor man, obviously hardly able to survive, in a poverty situation created by the same elitist thieves, you and I, that has pushed him to steal these turkeys, and he confesses upfront, that he, indeed, stole those turkeys, yet we hand him ten years imprison sentence?
My brother, God rules ooo. All those who are finding ways of incriminating the poor, and all those who are finding ways of exonerating the rich, all those who are finding ways of exacting vindictive punishments, and all those who think they have power, and therefore could appropriate them to the detriment of the poor, all of us, will have our share in the ultimate judgment.

How did this happen? A hungry man who has stolen food, not money, not robbery, he stole food, to keep himself alive, yet we tied him to the stakes, and shot him to jail, when we know, that, most probably, there are several of more hard core crimes, that the very people who prosecuted Kofi Asante have found ways of "solving" without any charge, or when we know that we have in the past deliberately twisted Police charge sheets, to favor more hardened criminal suspects, in the same Police Stations, when we know that there could have been times when the same judges have given the most lenient of judgments in worst cases, yet a hungry Kofi Asante, who has no advocate, should be thrown into jail to serve a ten-year term, in hard labor; no problem.

Justice is not only when the law is applied. Justice is served when there is equity in the law, when there is equality before the law, and when those applying the law are doing so knowing that they have done same, with the same intentions, consciously fair in all similar cases.

God rules… James Kofi Annan