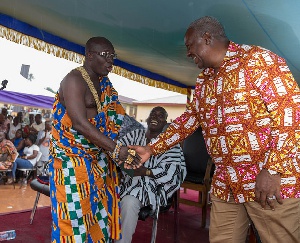 Once again Kundum is here with us and if you don't feel an Ahanta, just forget it because you will never feel like one again. It's our festival, it's our celebrations, it's our story and our way of life. Every Ahanta community has warmed itself into the Kundum already particularly Dixcove, Kwesimintsim, Busua, Agona Nkwanta and other major Ahanta towns and villages.
Whilst growing up at Apemenyim, I used to hear "yeko sie nu o". It means we are entering the Kundum season. Soon the "gongong" beater would beat the gongong kon! kon! konkon!! konnkoonn!!! and announced that from henceforth no one makes noise in the village when the sun sets. Not even pounding fufu. If you want to pound fufu, send it to the outskirts of the town. No loud music, and you don't shout anyhow else you risk being hauled to Nana Ackah Chie's palace to explain why you are not observing the silent hours.

Guess what? It's time for Kundum and the whole Apemenyim comes alive with renewed spirits. Farmers return home early to prepare their foods mainly "foomfoomi, kyenami ne abresa" or fufu to escape the rush hours of Kundum. The village square and the streets go dead as no one is expected to make noise. They whole village goes into reflective mood and take stock of what happened last year. Those were the days that Apemenyim didn't have lights. We would all gather by the fire side in our various homes to listen to bed time stories about the Ahanta legendaries. Stories that gave birth to our risings and greatness as people.

It's time to forget the past and forgive ourselves for wrong doings and come together as one people. The traditionalists would recite their prayers, the Christians would also do theirs. Apemenyim didn't have Muslims then and during the grand durba, we would all come together in our best clothes. Haha! Those were the days we struggled to put on the kente cloth due to its size and those who are not comfortable wearing it like how the elders wear it, would wear it like the "Okyeame" style. Just fold it around your neck and go your way.

All these while, I thought that was all about Kundum celebrations until my late grandfather Nana Ackah Chie III brought me to Kwesimintsim. It was at Kwesimintsim that I saw the real fun side of Kundum celebrations. Kwesimintsim too has had a protracted long standing disputes on chieftaincy matters and were not celebrating Kundum until Nana Egozi Esuon III was installed and Kundum went very "hitech", stylish and fashionable.

One evening I was surprisingly caught up in a thick human traffic at Kwesimintsim "Ewiabir guamu" amidst heavy drumming and dancing. I just didn't know what was going on because I have never seen it before. What is it? It's Kundum!!! Wow! That is the fun side of the whole festival. People from the surroundings of Kwesimintsim - Anaji, Assakae, Apremdo, Effia and typical Ahantas from Takoradi came to Kwesimintsim every evening to dance the Abisa and walked back home deep nights. It was such a wonderful time to feel an Ahanta with good sense of belonging and fun.
Very early in the morning, Nana Egozi Esuon III himself would come to "Ewiabir guamu" and majestically dance the the Abisa together with the elders of Kwesimintsim. It's very glorious to watch him beautifully clad in the royal kente dancing the Abisa artistically. As the weather clears, he is quickly whisked away. That is when you dress based on your professions to display your crafts, talents and come to the square and dance with the king.

On the 8th day, the celebrations are over after intensive drumming and dance coupled with grand durba and merry making. After all Kundum signifies the end of famine and beginning of bumper harvest. The night after grand durba is a bit scaring as we whoop away the Kundum amidst throwing of pebbles on rooftops. No one is supposed to be seen outside or be met as the "abrafour" whoop the Kundum away amidst traditional rituals. They would tour the whole Kwesimintsim town as they undertake a cleansing exercise.

The day after is a brand new day and a new beginning on the Ahanta calendar. The past remains past and we look into the future with new hopes as we expect bumper harvest for the farmers, good catch for the fisher folks, increased profits for the traders and well wishes for every Ahanta and whatever he or she is doing with hands and brains. May all your efforts be blessed and a year by this time, you are prosperous and in good health.

Every group of people have their distinctive cultural features as people and that makes them unique and separate them from all other ethnic groups in the world. The Ahanta is not too different. Our customs and practices set us apart from the rest of the world and we should be proud of ourselves. For those who are suffering from psychoses of cultural shocks may term our practices as weird whereas those who are appreciative enough will learn from the values in our practices. We should not let their skewed sense of judgment about our customs and practices coil the Ahanta in us but rather bring the pride in us and hold our values as people in high esteem.

It's Kundum time and indeed, time to be an Ahanta and a Ghanaian. Time to show your pride that you are a descendant of Otumfour Nana Badu Banso the warlord that came through the mouth of the whale. Just in case you don't know, the blue whale is the biggest mammal on planet earth. The animal that rule the sea and that is what we stand for as people -greatness! We only associate ourselves with greatness because our forefathers were conquering heroes.
When the drumers hit the stick on the drums and the abisa begins, it's time to get the past behind, unite and build the future together as one people with common destiny. One people whose strength lies in unity. We can only be recognised and contribute our bit together for the development of mother Ghana only when we have rallied together and held ourselves hand in hand both in hard and sweet times.

Soon you will hear the talking drum calling us all at Kwesimintsim. It's a language that only we the Ahantas understand and I will be glad to respond because it's time for Kwesimintsim Kundum 2017. Indeed Kundum is the fun side our lives as people. It's our culture and heritage. Let's protect it.

Ahanta Apemenyimheneba Kwofie III

dkwofie17@gmail.com

#Ahantadiaries_25_08_17