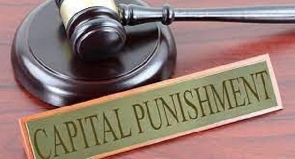 I shall be 100% in favour and supportive of any presidential, governmental or parliamentary proposal for the introduction of capital punishment in Ghana if there were to be any.
Yes, capital punishment has proven to be not foolproof to deterring people from committing certain crimes for which one will be executed for it if found guilty.

However, it may have curtailed the otherwise propensity to kill at any least provocation by some people who fear being killed if they murdered other people.

If, without the implementation and enforcement of capital punishment a hundred potential murderers would have killed people, with the institution and mercilessly enforcement of capital punishment, only about twenty of them will go ahead to commit murder.

In some states in the United States of America (USA), one found guilty of committing a first degree or felony murder will be executed in what may be in consonance with, or similitude of, the Mosaic Law of "an eye for an eye and a tooth for a tooth".

What are first degree and felony murders, a reader may want to ask the writer?
"First degree murder is the intentional killing of another person by someone who has acted wilfully, deliberately, or with planning.

Generally, there are two types of first-degree murder: premeditated intent to kill and felony murder. The rule of felony murder is a legal doctrine in some common law jurisdictions that broadens the crime of murder: when someone is killed in the commission of a dangerous or enumerated crime, the offender, and also the offender's accomplices or co-conspirators, may be found guilty of murder".

In Ghana today, we hear of married couples killing their partners for all silly reasons bordering on either the accusation of extra marital affairs or disagreement over divorce in what may be the case of, if I can't have you, nobody else can have you.

The rampancy of armed robberies leading to the death of innocent people; rampancy of ritual murders by some fetish priests as a means of securing their patronisers power, fame and quick wealth in what may be 'sikaduro', all call for stringent measure to curb such desires.

Faceless people allegedly committing large scale arsons, kidnapping people that they end up killing, etc., all call for a deterrence measure in what clearly will be the capital punishment.
In my country Ghana, as cowards and fearful of death as most of us are, the very moment an enforceable capital punishment is introduced, all the unnecessary killings we are witnessing today will pale to nothing. They will cease completely, becoming a history.

Why don't we go for it then but to allow people to continue to kill others for no justifiable reason?

Look at the police inspector, Tycoon, in Kumasi who recently killed his estranged girlfriend over an alleged Ghc5,000.00 she owed him?

Look at the case of a pastor and a chief in either Western or Central Region killing people for rituals on intent to obtain quick wealth, fame and power?

In my own Kumawu town, a few years ago, one Mr. Kwabena Anane, a staff of Tweneboa Kodua Senior High School, killed the boyfriend of his step-daughter for the silliest of all reasons. He had warned the student boyfriend of his step-daughter not to go out with the girl anymore.
However, he continued to befriend her so one night when he saw them together, he got boiled up, gave the young male student a chase and shot him dead.

Look at the case of that Daniel Asiedu aka Sexy Dondon, who killed Joseph Boakye Danquah-Adu (Hon.), member of parliament for Abuakwa North in the Easter Region at his residence in Shiashie, a suburb of Accra on February 9, 2016. He has not even been properly tried to bring closure to the case but allowed to change his versions of the events leading to that brutal murder, who his accomplices or paymasters were, if any.

Does keeping these guys in remand for years, the state feeding them and bearing their medical expenses not encourage other potential murderers to go out to murder as either armed robbers, contract killers, partners in marriage, etc.?

If there was capital punishment in Ghana, could some foreigners e.g. Chinese galamseyers, shoot Ghanaians to death with impunity? No.

In the South Asian countries where capital punishment is practised, the crime rate is low.
When you fall foul of the law, whether you are a native of the country, a foreigner in transit or an immigrant, you will face the full rigours of the law. There is no mercy or exceptions.

It is a disgrace that some of the pastors at the "One man churches" are said to commit murders for rituals but are left off the hook.

For evidence on this, the Ghanaian authorities can contact former pastors/prophets Obotan, Demon Breaker, Manasseh and Kwaku Obofour.

To stop this infatuation with the alleged ritual murders for power, fame and wealth, by our Ghanaian pastors, there must be a capital punishment in place in Ghana.

Do you support introduction of capital punishment in Ghana? Yes or No? Pleas pass your comment.