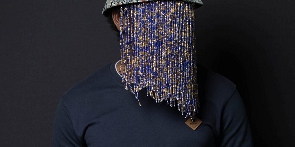 So Anas Aremeyaw Anas and his Tiger Eye Pi were expecting any competent court of jurisdiction in Ghana to award them Ghc25 million in their libel suit against Kennedy Agyapong (Hon).
Anas Aremeyaw Anas was a renowned Ghanaian investigative journalist until he was exposed for being a die-hard blackmailer, extortionist and a pure criminal by Kennedy Agyapong.

Anas Aremeyaw Anas had been a household name on the lips of many a Ghanaian for blowing the cover off some alleged corrupt judges, customs officers, government appointees dealing in illegal surface and alluvial mining (galamsey) and Kwasi Nyantakyi, then the head of the Ghana Football Association.

Little did Ghanaians know that Anas was worse in committing the very crimes he accused his victims of until he was exposed in a "Who watches the watchman" exposé premiered by Kennedy Agyapong in retaliation to those of Anas on Kwasi Nyantakyi and the judges.

Anas Aremeyaw Anas as always an evidentially-proven criminal as he is, sued Kennedy Agyapong for defamation of character.

He accused Kennedy of tarnishing his (Anas') reputation by his premiering of 'Who watches the watchman'. Subsequently, he sued him for Ghc25 million in compensation and damages.
Without wasting breath, Anas is whatever Kennedy described him of - extortionist, blackmailer, murderer, corrupt, etc.

He is a murderer by the extension of the untimely deaths of some of his victims he wrongly accused of corruption that led to their dismissal from their jobs.

I had previously published my views on Anas as regards the conduction of his criminal investigations into instances of official corruption in and outside Ghana. Therefore, there is no need for me repeating myself here but to request interested public readers to revisit such publications.

Anas is not a credible investigative journalist but a rogue in search of power and quick wealth.

He only sets up people, films them, edits his films to suit his purpose and then presents them to the public as having done credible investigations.
I have only to commend Kennedy for taking on Anas and his team of criminals until confirmation of same by the court.

As always greedy as Anas is, he was expecting the court to award him Ghc25 million towards his insatiable quest for quick wealth. What a nutter!

Anas should be behind bars by now, if he were living in any serious and civilised nation but in "Ghana dee saa" nation, he is a walking free man.