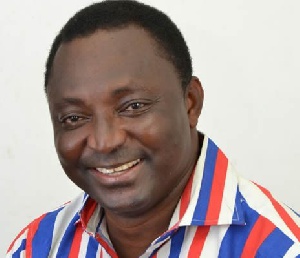 Exactly Seven months ago, 7th December, 2016 the New Patriotic Party, NPP won the most decisive, free and fair elections in our dear country's country. Some party loyalists are crying of neglect and lack of job opportunities.
The _*Office of Fred Amankwah – Sarfo has been receiving numerous calls from party faithfuls and loyalists otherwise known as "grassroots" across the country with complaints of neglect by the party. In each of these complaints, we have assured members to exercise restraint and keep their hope alive as efforts are underway to ensure that majority of our party youths are taken care of.

The euphoria and the great sigh of relieve that herald the victory of the New Patriotic Party in the 2016 election should be sustained. We urge all party members to continue to keep hopes alive as the fulfillment of their expectations is guaranteed.

The leadership of our party are working with the government to roll out a number of private business initiatives to create the enabling environment to meet the expectations for job creation and equal opportunities for all.

As posit by Kingman Brewster "There is no greater challenge than to have someone relying upon you; no greater satisfaction than to vindicate his expectation."

Our support for the election of _*H.E. Nana Addo Danquah Akufo Addo*_ and the party's parliamentarians should continue to manifest in our disposition as the team put measures and programs in place to meet the expectations of the party members.
The success of the December 7, 2016 election was anchored on the sacrifices of the rank and file of the party. The clarion calls to duty to campaign and to vote for the party received overwhelming response.

The rank and file from polling stations and below put on spirited efforts to help secure victory for the party. The journey towards the victory were not spared agonizing moments and sacrifices including loss of live, loss of family unity, loss of friendship, loss of businesses and loss of employment.

It will be acknowledged that since 2009 many of our party members have had to endure humiliating experiences in the hands of our political adversaries.

It is therefore important that efforts are expedited in fulfilling the expectation of people whose efforts significantly contributed to securing our victory.'

Effective communication by the leadership of the party at various levels and the engagement of party members to explain issues to them can help reduce some of the frustrations as they wait for jobs and other business opportunity.
Although six months of governance may be too short to allow frustrations to set in, the reality is that many are willing to accept some explanations from those with trusted authority.

The _*Office of Amankwah – Sarfo*_ wish to empathize with the rank and file of the party and urge all party members to wait a little while as efforts are made by the party to meet their expectations.

Thank you.