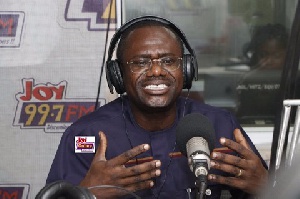 A former Environment, Science and Technology Minister, Mahama Ayariga, has debunked assertion that the newly launched digital property addressing system is the first of its kind in Ghana in four decades.
President Akufo-Addo speaking at the launch of the system Wednesday, said the last time Ghana attempted developing a comprehensive address and postcode system was in 1974.

The location-based system, which will provide an effective means of addressing every location to facilitate the implementation of key government policies, according to Akufo-Addo is the dawn of a new era.

"Today marks the end of an era and the beginning of a new one. We are launching a solution to our locations and addressing problems. This will ultimately, change the way we do business. The project born from a partnership of the Ministry of Communications and Ghana Post will give the country a trustworthy database of addressing," he stated.

But speaking on Starr Chat Wednesday, Mr. Ayariga who is also the MP for Bawku Central dismissed the president's claim as untrue.

According to him, under the erstwhile John Mahama administration there was an attempt to develop a similar system.
"Sometimes I wonder…digital addressing, when I was Minister for Environment overseeing Town and Country Planning I had seen Subah Info Solution develop a digital addressing system for Ghana. I had gone to their office to inspect the work. They had taken me through the work. I had seen it. In fact, I took the Town and Country Planning Director [then] to the office of Subah and told them that they should work with Subah…one of Zoom Lion's subsidiaries. I directed them to work with Subah to develop the digital addressing system," he told Starr Chat host Bola Ray.

He added: "Subah has the system already and I had instructed the Director Town and Country Planning to go and work with Subah to complete the process. All they needed was the collaboration of the Town and Country Planning offices across the country. They have covered I think by that time about 50 percent of the country. Digital addressing system everything Subah Info Solution has it.

"When I heard  this morning that the president was going to launch a digital addressing system, I was wondering is it the one that Subah had already done?"

Vokacom, a Ghanaian Information Technology firm, designed the system at the cost of 2.5 million dollars. The digital address system will be a precursor to the National Identification Authority's Ghana card.