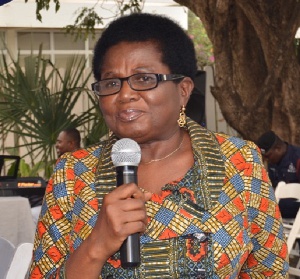 I have been wondering about how we celebrate our Independence Day anniversary. I have a problem with our public functions in general, which I feel drag on for too long. But it is not just the length of time the celebration takes that irks me, I feel that the Independence Day celebration, in particular, is an event that is not certain about its identity.
I attended the 63rd anniversary of Ghana's Independence official celebrations in Kumasi and a very grand affair it was. The decision to rotate the site of the official celebrations has been an inspired one. The people of Kumasi outdid themselves, and their enthusiasm and welcome brought an added spice to the celebrations.

The guest of honour, the Prime Minister of Trinidad and Tobago, Dr Keith Rowley, did us proud. He and his wife appeared in magnificent Kente outfits. He wore his Kente with such aplomb you might have thought he had had practice, going through his teenage years, wearing cloth to church every Sunday. Mrs Rowley's Kente was dramatic and she carried it with such poise.

It was the Honourable Prime Minister's reply to the toast at the dinner at Manhyia Palace hosted by the Otumfuo, the Asantehene, that would stay with us for a long time.

It is stories like his own of being the first one in his family to attend High School and that being possible only because of the introduction of free secondary school, which would resonate with many in this country.

What manner?

But back to the event at the stadium.
It appears we are still trying to work out what manner the independence celebrations should take. What we currently have is such a hotchpotch that it is not surprising that it takes so long to go through the programme.

The President did not start his Independence Day address until 1.20p.m., for a function that asked guests to be seated by 8a.m. I can understand a march past of schoolchildren, even though it wouldn't be my choice, it appears to be very popular with many people and if the children do like it, then maybe we could have a march past of schoolchildren as our Independence Day mark.

Then there is the march past of a mix match of groups. This, I do not understand at all. I sat there trying to work out where the rhyme and reason came in a group made of NABCO, Afforestation, representatives of 16 regions, Kayayee and others that I forget.

Then there is the march past of the uniformed people, or, as I hear them being called, the security services. This is not an easy blend, made up as it is of the Police, the Fire Service, the Prison Service, Immigration, sometimes the Customs part of the Revenue Authority, and the military.

To try and have a march past of all these disparate groups and organisations, seems to me like aiming at the impossible.

From my idiosyncratic perspective, it is the length of time it takes that concerns me the most and that is why I would be seeking to cut down on the participating groups, but it is not the only reason why we should take another look at the composition of the March 6 parade.
We seem to have a serious case of identity crisis on our hands by trying to mash all these institutions into one event. Why don't we decide on one thing that will mark the identity of March 6?

Take France, for example, and for their July 14, they have a military parade and it is as impressive an event as you would ever find.

I might cite how President Donald Trump was so charmed by the French July 14 military parade, he tried to institute one in the US for their July 4 Independence Day celebrations.

I would vote for us having a military parade and a military parade only. It will not include the Prisons service, or Immigration, or Customs or Fire Service, or even the Police.

Marching is what soldiers do, it is part of their DNA and we should let them do it on March 6 and if it is so desired, they can display their equipment and other toys that they so crave.

The rest of the uniformed services can concentrate on what they are supposed to do and have such a hard time doing.
If it is a march of schoolchildren that is desired, then let us have that and that alone and not try to mix it with anything else. I would say the March 6 parade should not have room for any other group. It is either a schoolchildren march or a military parade.

Otherwise, the temptation is too great to turn it into questionable partisan point making, like the pathetic group of NDC-clad people that I saw in a video performing at the Navrongo event.

Time

Apart from the difficulty of trying to blend such a disparate group and not forging a clear identity for the celebrations, there is the problem of the length of period that the ceremony takes. All our public events take far too long.

It is not fair to expect people to be seated by 8a.m., which was the advertised time for the Independence Day Parade in Kumasi, and the President of the Republic starts his address at 1.20p.m.

As far as the Independence Day celebrations go, it would help if we had a clear identity for what kind of day we wanted and then we would do the timings accordingly.
I have never understood nor appreciated the music and dance that is introduced in programmes at every function. I am quite prepared to sit through a programme of traditional music and dancing, if that is what the programme is. I would pay to watch any day, a programme of traditional music, drumming and dancing, I would join in the singing and dancing, but I detest intensely the interjection of the drumming and dancing into functions where they obviously do not belong.

And I acknowledge this is a losing battle, but I still would like us to have not only an advertised time of starting but a closing time also of official functions.

At 63, we should not really be having arguments about these things now. We should have a clear identity of how we celebrate March 6, which would not be subject to change by the organising committee of the year.

Yes, we are a kaleidoscope nation and if we want to mark independence day with traditional singing and dancing, we could; but if it is march past we want, then we should let the soldiers do it (my preference) or school children, if we insist, but the current hotchpotch is too messy.

And takes too long.