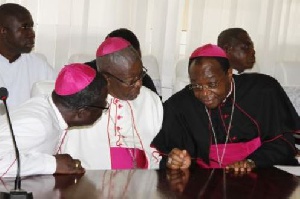 My Dear Bishops,
Do permit me to engage your attention at whatever time you are reading me. A few days back the Secretary-General of the Ghana Catholic Bishops Conference (GCBC), was captured making a statement that to me was not clerical of a Cleric.

As l put up this piece, it is my belief that he made that statement in his personal capacity, and not necessarily the take of the GCBC. The statement was in response to the National Democratic Congress' (NDC) failure to sign the "Vigilantism and Related Offences Act".

Very Rev. Fr. Lazarus Anondee, was heard loudly saying, if the NDC or any other stakeholder refuses to sign the document, they will use the pulpit to incite their congregations not to vote for such parties. I am a Catholic and l don't want to believe that the GCBC endorsed that statement, and l believe he did it in his individual capacity.

If my suspicion is correct that it is the case, then the GCBC must hurriedly come out to correct the negative cultivated impression the NDC has, over the comment.

Fast forward, l think the Catholic Church is gradually exposing its flock into the arena of political partisanship which is very unholy. Let individuals choose our preferred ways, but not the body of the Church as a whole leading us in such directions.

I am of this opinion because Arch Bishop Charles Gabriel Angela Palmer-Buckle has faced up in a number of political engagements. The first which became public was the infamous New Patriotic Party (NPP) crisis meeting held at President Kufour's residence, July 23, 2015.
In that crisis meeting, he featured the Catholic Bishop when he was Arch Bishop of Accra Metropolitan Arch Diocese. Mensa Otabil was there as an owner of a church (a known hater of the NDC). NDC enemy No.1 was there as leader of the Presbyterian Church, Prof. Martey. In what capacity was Arch Bishop Charles Angela Palmer-Buckle - there to represent? Was he representing the Ghana Catholic Bishops Conference? If not, has the Conference sanctioned him?

He is currently a member of the Electoral Commission's Eminent Advisory Committee. When the selection was being done, was the GCBC consulted for nominations. He served on the National Reconciliation Committee, NPP Mediation Meeting, and the current EC, too. May I know whether he is the only Catholic Bishop of the Conference to be representing the Conference on political issues? And why so?

Well, if the GCBC is on the verge of going politically partisan, it can do so without dragging us along. But, don't attempt to do this from the pulpit - my humble and harmless plea.

Camillus Maalneriba-Tia Sakzeesi

camillussakzeesi@gmail.com

0266223333/0248433700