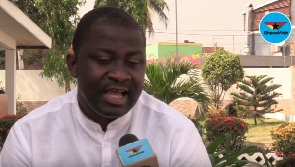 It is heartwarming to note that, the Ghana Football Association (GFA) earlier this week met officials or representatives of Premier League clubs in the country to deliberate on issues pertaining to the 2019/20 season.
According to Ghanafa.org, among the issues that came up for discussion were officiating, the StarTimes television broadcast rights deal, and matters that border on integrity. Reading the story on the GFA's website, I sensed a conscious attempt by the FA to open up on financial matters relative to our domestic league. With that, I believe, the GFA deserves commendation.

Elsewhere, being transparent to your publics as a corporate entity does not really earn praise or elicit the kind of commentary that seeks to laud and put you in shining lights as if it is so extraordinary to be clear and forthright to members of your association. It is a natural occurence. It is expected of you. It is incumbent on you and, in this case, the GFA, to be transparent in not just money matters but indeed in its entire operations.

Context is important here. Our football has had a history where not everything was open to major stakeholders like the clubs and the media. I neither expected previous football administrations to come to the public sphere with everything nor am I advancing the argument that, the present FA, under the leadership of Kurt Okraku, should publicise everything it does.

That is not practical. It is a wild expectation to have, even imprudent, in fact, impossible. Yet given our football's recent history, deliberate efforts should be made to keep stakeholders in the know of developments such as the ones they disclosed this week.
Not only will such disclosures make the GFA look good in the eye of the corporate world and the general public, they will additionally and steadily inspire confidence in the entity, which many, either rightly or wrongly, painted with dirty brushes and in ignoble colours in the past.

I commend the football administration particularly for their openness on the StarTimes deal, the breakdown they provided and so on. The clubs have a role to play; to be professional in their business and conduct so as to reposition themselves for the best.

Even if it can be argued that, the amounts involved in the StarTimes deal for example, are not good enough, it is necessary for clubs to also work to raise revenue for their activities and not always come, cup in hand, expecting something from the FA.

For now, I pat at the GFA on its back for their transparent gesture. It is nothing extraordinary but the FA's move must be acknowledged as good while we expect more financial injection into our game. And anytime the financial booster comes, they should always be willing to make disclosures.