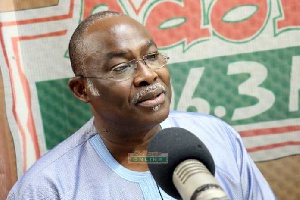 Contrary to what the presidentially ambitious Ekwow Spio-Garbrah, of the country's main opposition party, the National Democratic Congress (NDC), would have Ghanaians believe, it was the Jerry John Rawlings-led junta of the Provisional National Defense Council (PNDC), the infamous popularizer of the Chinese-made Changfang machine-operated and environmentally destructive Galamsey, as well as the faux-socialist regime of the National Democratic Congress, of which Mr. Spio-Garbrah was both a major diplomatic representative and a cabinet appointee, that ruthlessly, recklessly and callously dismantled the Nkrumah-established Ghana Industrial Holdings Corporation (GIHOC), and not the Prime Minister Kofi Abrefa Busia-led Progress Party (PP) government (See "Why Spio-Garbrah Says NDC May Have Built Over 1,000 Factories" Graphic.com.gh / Ghanaweb.com 1/10/20).
To be certain, by the eve of the opportune overthrow of the Nkrumah-led Convention People's Party (CPP), most of the poorly conceived and environmentally incongruous 300-plus factories that Mr. Spio-Garbrah claims the CPP had established had effectively collapsed. For instance, several factories and industries established by the Nkrumah government were so far removed from the sources of their manufacturing raw materials that they were as good as nonexistent. We must also highlight the fact that the much-touted Komenda Sugar Factory did not officially go into operation until 1967, a little over a year after the well-deserved overthrow of President Kwame Nkrumah.

At any rate, any visionary and progressive Fourth-Republican government that is really desirous of developing an economically sustainable sugar plantation and factory would be far better off reviving the Asutuare Sugar Plantation and Factory, which is widely known to be sited on relatively better sugar-producing soils than any other industrial plant facility of its kind in the country. It is also farcical for the former Education and Trade and Industry Minister, in the Rawlings and Mahama governments, respectively, to claim that the Akufo-Addo-led New Patriotic Party (NPP) has done absolutely nothing to positively impact and facilitate the exponential growth of factories and industries in the country, except to facilely create such cheap sloganeering labels as "One District, One Factory" to enable the NPP leadership to claim undeserved ownership of individually owned and established factories and businesses.

Maybe somebody needs to remind Mr. Spio-Garbrah that the ideology of the neoliberal and market-oriented, property-owning Danquah-Busia-Dombo-inspired New Patriotic Party is to primarily facilitate the creation and the growing of individually owned businesses, unlike the faux-socialist and state-capitalist oriented National Democratic Congress which regressively hews towards absolute state control of industries and economic resources. By the way, even the Chinese and the Russians have since long moved away from this development-stultifying and stifling economic ideology.

Under President Addo Dankwa Akufo-Addo, young and startup entrepreneurs have been personally invited for hands-on workshops and the awarding of grants and soft-loans to help them to build their individual businesses at the Jubilee House, by both Nana Akufo-Addo and Vice-President Mahamudu Bawumia. You simply cannot make the same case for Candidate John Dramani Mahama, even when the latter was substantive President of the Sovereign Democratic Republic of Ghana, from July 2012 to January 2017. In simple English, President Akufo-Addo is well known to put his money where his metaphorical mouth is; you simply cannot say the same thing for the infamous Woyome-protecting SADA Scam-Artist known as Little Dramani.

No honest politician can also look Ghanaians straight in the eye, as Spio tried to do the other day, by pretending as if merely presiding over Dumsor for a protracted four-and-half years is a rational and a comprehensive policy initiative for the growing and the development of businesses enterprises in the country. If, indeed, over 1,000 factories were created under the watch of President Mahama, as Mr. Spio-Garbrah so scandalously claim, this was clearly in spite of Dumsor and not because of Dumsor. The fact of the matter is that absolutely no progressive business-oriented government anywhere in the world ever developed industrial entrepreneurship by simply turning off the lights and putting an entire country into total darkness for approximately five years. That is madness, if Ekwow Spio-Garbrah really wants to know.

Indeed, if he had any remarkable presence of mind, the Clinton-expelled former Ghana's Ambassador to the United States would rather be counting the number and percentage of privately owned business enterprises that collapsed under the Mahama-supervised regressive regime of Dumsor and be profusely apologizing for the same, instead of egregiously and flagrantly adding insult to injury by slavishly patting the back of the self-proclaimed and self-styled "Presidential Spare-Tire" for having so wickedly, unprecedently and grossly incompetently and thoroughly destroyed Ghanaian businesses with Dumsor. You would think that globally well-traveled diplomats and major former cabinet appointees like Ekwow Spio-Garbrah would have some common-sense appreciation of good leadership skills and genius. That is the typical profile of the National Democratic Congress' leadership for you, My Dear Reader.
By Kwame Okoampa-Ahoofe, Jr., PhD

English Department, SUNY-Nassau

Garden City, New York

E-mail: okoampaahoofe@optimum.net

*Visit my blog at: kwameokoampaahoofe.wordpress.com Ghanaffairs