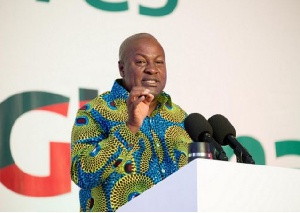 I must admit with all sincerity and joy that our great NDC party has yet launched another successful and remarkable campaign in the Chiana-Paga Constituency.
With the presence of some of our party steward's made it one of a kind. More admiring on the great day was the brilliant speech delivered by our Outgoing Member of Parliament for the constituency.

With the level of enthusiasm and euphoria exhibited by the thousands of party loyalist, I am very positive of our retention of power.

To reflect back memories, not quite long that a great gentleman came to visit our land (Paga). Our most respected Chiefs got carried away by the level of wisdom and condor showcased by these giant. As a result, they bestowed on him a gracious name 'WEPIA' in our local parlance it means ' a Gift from God'.

This gentle giant is non-other than H. E John Dramani Mahama.

Before I forget, let me quickly add a testimony of that great name today.
Due to his generosity our constituency can boast of:

A Senior High School with a brand new bus at Navio.

An Administration Block

A CHPS compound in Kayoro

Just to list but the few.
As the Youth leader of in the constituency, I feel proud to mention that our quest 4 years ago to join the JM team to the promise land has not been in vain.

Before any transformation and touching lives can truly be felt, a solid foundation need to be laid so as to enable the future look bright and promising.

I wouldn't say all our problems have been solved; far from that. But with this appreciative beginning, I am confident of our prosperity in the next 4years under JM.

As a Youth leader , I wish to state with emphasis to my great brothers and team not to let our party down. This is the time we ought to go out and do our bid for the NDC.

The campaign starts now and we all must passionately get involve. We originated from the grassroot so we go back to the grassroot system. Let's appreciate our party so we work hard to retain our seats.
We will stop at nothing until after December 7.

God bless Ghana

God bless NDC

God bless JM

God bless Chiana-Paga Constituency.
#JMtoaso

Insha Allah Victory is Ours

Agenda 57%

...signed...

Hajj Seidu Sulemana