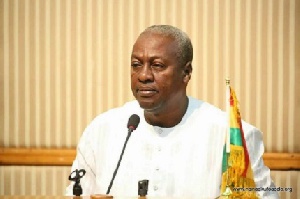 By: Abdulai Nantongmah
* Unlike 2012 when Prof John Evans Atta Mills won the elections for John Mahama, through sympathy votes and the impressive economic performance of his government, the man John Mahama in 2016 suffered the most humiliating defeat ever recorded by an NDC Presidential Candidate and sitting President in Ghana.

* The four years opportunity given him to make a mark in history and market himself into the hearts of Ghanaians was finally put to test in December 2016, and the man John Mahama was pronounced by overwhelming number of Ghanaians as a failure, hence recording 44% of valid votes cast with a million votes deficit.

* The man took his 4 years of branding, achievements, showmanship, leadership skills and plans for Ghana into the elections of his life, and suffered such an unprecedented humiliation at the thumb of Ghanaians.

* What is there left for him to do OR show to Ghanaians for which He didn't have the opportunity to do OR show in his four years in the Flagstaff House???? Zilch! He could not promise us anything substantial to expect from him between 2017 and 2021.

* As a matter of fact, He went into the 2016 elections campaigning that He has done what Napoleon could not do, so as an achiever, He deserves a second term in office. Urged on by the sycophants around him, with Sweet Soup Drinkers like Kwesi Pratt, Randy Abbey, Owula Mangortey and his appointees supported by some Chiefs, the man John Mahama was described as the "Kwame Nkrumah" of our time.
* Ghanaians in the millions watched with angst the appellations hailed on the man who per the living conditions o f Ghanaians deserved a kick in the butt.

* Unfortunately, these Sweet Soup Drinkers are at their sycophantic best now, 2017, urging the man John Mahama to return into the boxing arena of heavyweight political competition for power. True to the good old books of yore, the naked King has stepped out of his bedroom in his transparent apparel. He is calling for support from the sycophants, in order for him to make a comeback.

* Those who through this profitable sycophancy have secured 7 cross country vehicles and V8s in their homes, are stampeding themselves to go on radio to endorse their benefactor, John Mahama, who is unfortunately their victim. He does not know He is a victim of sycophancy, because greed has no conscience.

* Clearly, little attention has been paid to why and how he John Mahama became the weakest ever NDC Presidential Candidate on the ballot. He is still tickling himself into thinking that He is the "Kwame Nkrumah" of today and has a magic wand. Even when He stops tickling himself, the sycophants will tickle him.

* By the time NPP finishes with their investigations into cases of corruption under John Mahama's government, go ahead to implement their Free SHS policy, start implementing their One Village One Dam policy and achieve economic stability and growth, the man John Mahama will be the easiest candidate for the NPP to beat again in 2020.
* Make no mistake, the NDC is currently suffering integrity deficit as a result of the many cases of corruption under the John Mahama's administration. The anti-corruption prosecutions will further injure the reputation of John Mahama as a leader that Ghana needs.

*His poor oversight over his appointees and lack of interest in good counsel, will be on the ballot in 2020, and every discerning person can predict another humiliating defeat for John Mahama.

* Sycop hancy Can't Win 2020, just as it couldn't win 2016. Stand by your own words, YOU BOW OUT WHEN THE APPLAUSE IS LOUDEST.

-----------------------------------------------

If you are in doubt, look at the 2016 Presidential elections and go onto the streets to talk to Ghanaians.