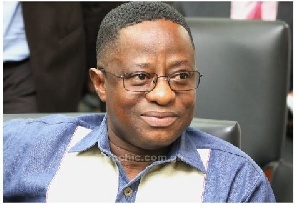 On his assumption of the presidency, Nana Akufo-Addo appointed over 100 state ministers but the one who has caught my attention in a positive light is Mr. John Peter Amewu. Personally, I do not know or have never before met the current Ghana's Minister of Lands and Natural Resources Mr. Amewu, but it must be put on record that from his initial approach to his appointed position so far, it is clear that sector ministry is now under knowledgeable and competent hands.
Mr. Amewu's unswerving demeanor and composed behind-the-scenes maneuvers, for instance, toward the illegal mining or the galamsey soap opera is quite impressive. On that note, if I were to grade him as student in a class, his initial score would be a "B-plus" accompanied with the following feedback: "John, you made a good attempt at addressing all the key elements of the assignment provided. Your responses to the questions were coherent and for the most part your paper/work almost met all the requirements of the assignment. If you keep on the way you have begun this course there is no doubt you will excel with an "A+" in this class (ministry). Keep up the good works!"

On the more serious note, though, there are a lot of Ghanaians, as usual, who don't see the staunched "galamsey fighter" Mr. Peter Amewu in any encouraging light except criticizing or blaming him for everything going wrong with those self-serving and greedy galamseyers and their enablers across the country. Evidently we live in an era in which buck passing and superstitious thinking seem to form an intrinsic part of Ghana's socio-cultural psyche.

Aside from the blatant hypocrisy, many Ghanaians, including the opposition parties, tend to spiritualize or weaponize national tragedies and other unfolding events for exploitations or just for cheap political advantage. At the time of writing this piece, for example, some evolving media reports were that the MP for Kumbungu Ras Mubarak is trying to subpoena Mr. Peter Amewu to appear before parliament to answer some questions relating to the deadly illegal mining incident near Prestea in Western Region.

The Kumbungu MP is said to be "unhappy" and wants the poor Minister of Lands and Natural Resources to come to parliament to explain the actual circumstances surrounding the deserted galamsey shaft that caved-in and killed about 14 illegal miners at Kubekrom Abease near Prestea-Nsuta (see: myjoyonline.com, July 8, 2017). The loss of human life, under whatever condition, is a pitiful development that shouldn't be used as political weapon by anyone, period!

One of the cardinal roles of the legislative branch in a genuine democratic society is to embark on oversights, especially, of the executive arm of the government. So it is within the constitutional rights of the nation's parliament to summon any of the cabinet ministers for questioning, if the need arises. However, irrespective of the issue or what the parliament's line of questioning is, it must not be motivated by sheer politics or be allowed to degenerate into political circus. All the potential questions to the minister must be intelligently crafted. The inquiries must convey seriousness and expression of unqualified support for the world to know that Ghanaians through their leaders are united and unwavering to take back their precious lands from illegal miners.
Let's remember that the current minister of Lands and Natural Resources Mr. Amewu did not invent galamsey. Neither did he unfortunately ask the 14 illegal mining victims who perished near Nsuta-Prestea to sneak back into an abandoned galamsey pit somewhere in the middle of the night when the Natural Resources Minister is probably sleep holding tight to his spouse in bed. It is unfair and hypocritical for anyone to turn Mr. Amewu into a poster child for the wrath of the self-absorbed galamseyers by virtue of his position as the sector minister who oversees Ghana's vast natural resources that happen to include mining activities.

The guy (Mr. Amewu) needs our moral support and a little bit sympathy from all patriotic Ghanaians for him to stand up to the wiles of the entrenched illegal mining destroying Ghana's nature. Ghanaians are integral part of the galamsey mess; hence we all have to be part of the solution. Arguably, at this point in the nation's history, the Ministry of Lands and Natural Resources is one of the most demanding and sensitive positions in the country today.

It is because galamsey is not only a hot-potato issue, but also it's a phenomenon that has gained deep roots into the moral and socioeconomic fabrics of Ghanaian society.

Honestly, let's admit that besides the potential threat of global terrorism, galamsey is also one of the most dangerous threats facing Ghana's sovereignty and national security as we write. It is mind-boggling, therefore, that a sizable bunch of our compatriots are incapable of looking at the bigger picture and can't see galamsey as an existential threat to the country's long-term environmental identity.

Galamsey is a national cancer; and like all forms of cancers, they do not pop up overnight; they take years to develop. Every level-headed Ghanaian knows that there are some influential/powerful people, local and foreign, as well as ordinary folks behind the galamsey malignancy.
Mr. Amewu is doing the best that he can under the messy galamsey circumstances. His success or otherwise will depend on Ghanaians' general attitude and willingness in terms of purposeful cooperation.

Certainly, there are promising signs that the Akuffo Addo administration is resolute in its effort to clamp down on galamsey and reclaim the country's beautiful lands from its greedy destroyers.

Some of us have firm hope that President Akuffo Addo will not give in to any pressure—internal or external—to abandon Minister Peter Amewu in his dedicated attempt at fighting and defeating galamsey. As I have stated before, defeating galamsey in Ghana today will definitely be a landmark legacy for Nana Akuffo Addo presidency and his detractors know this.

Many of us are not least surprised the president's galamsey cause would be sabotaged by trying to use Mr. Amewu as a decoy. For me, Mr. Amewu is doing a great job and thus number one on the list of all the current state ministers. I may be biased here because I have mortal hatred for the so-called galamsey.