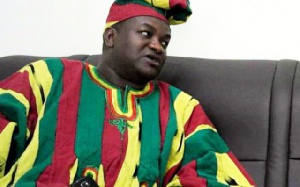 If my eyes and ears are not deceiving me, playing hallucinatory tricks on my mind, I should think to have read somewhere that the All People's Congress (APC) presidential candidate, Dr Hassan Ayariga, alias Ayaricough, has been disqualified by the Electoral Commission (EC) and is being arraigned for a number of charges brought against him by the EC.
Among the charges probably levelled against him is he possesses a fake Ph.D. A person claiming to be what he is not is not deemed trustworthy enough to lead a nation, the EC may think hence disqualifying him on moral grounds.

If indeed he is not whom and what he claims to be, and subsequently disqualified and charged to court, is he not worse than who honestly declared in public that he has lost his School Certificates?

I invite readers to read the entire contents of the underlying web link with all the incorporated cited web links as authored by one Dr Prosper Yao Tsikata to see whether or not Dr Hassan Ayariga possesses the two doctorate degrees he claims to have acquired academically and, or honorary.

https://www.modernghana.com/news/729315/re-ec-drags-ayariga-to-cid.html

This is a man who has been teasing Nana Akufo Addo, Ghana's biblical Joseph or David in the making, at any least opportunity he gets or on any public platform offered him to give his views on public issues. He either teases him through constant stupid coughing or goes about claiming Nana is not a qualified lawyer even though he has been practicing professionally as a lawyer, very renowned in the law circle, way before Hassan Ayariga started to grow pubic hair in his private parts.

He was trying his hardest, a discovered agent of President Mahama and NDC probably, to make Nana Akufo Addo appear unpopular, if not a criminal, in the eyes of the Ghanaian public with the aim of ruining Nana's political ambitions to become the President of Ghana to render selfless service to his people and his nation.
The bible says in Matthew 7:2 – "For in the same way you judge others, you will be judged, and with the measure you use, it will be measured to you". As Hassan Ayariga sought in every possible little way to denigrate Nana Addo but failed, he is now suffering the consequences of his evil-mindedness in the exact manner and form as held in the cited bible quotation.

He wanted to extinguish the light of Nana Akufo Addo's candle forgetting that it is said, "Blowing out someone else's candle doesn't make yours shine any brighter".

I neither want to gloat over the misery of joker Hassan Ayariga nor do I want to tell him, Hey Mr Ayaricough, it serves you right! However, I shall advise him to cease being mischievous and rude towards Nana Akufo Addo from today forward.

Finally, how, when and why did the award of honorary doctorate degrees come about? Read my research about it as found on the internet.

"For more than 500 years, the honorary degree has provided an opportunity for colleges to build relationships with the rich, famous, and well-connected, in hopes of securing financial donations and cheap publicity.

A Brief History of the Honorary Degree
Oxford University, where the "honorary degree" claims its origins

In 1478, representatives from England's Oxford University approached a young bishop named Lionel Woodville. At the time, Woodville was a man of great honor: he was not only the head of the Cathedral Church of Saint Peter, but enjoyed the distinction of being King Edward IV's brother-in-law. Well-connected, wealthy, and of noble standing, he was just the kind of man that Oxford wanted to curry favour with.

At the behest of the university, a finely-dressed courier was sent to deliver Woodville a doctorate degree. For the nobleman, all of Oxford's strict academic requirements were excused; with the presentation of a piece of paper, he was swiftly and automatically declared the modern-day equivalent of a Ph.D. This marked the first "honorary" degree in history"

Is Hassan Ayariga that influential, rich and popular to be awarded an honorary doctorate degree by a Spanish University? Is it because he can cough continuously for several hours? Oh my gosh!

Rockson Adofo