At the height of the 2016 electioneering campaign in the United States of America, the issue of fake news had taken center stage among other major issues surrounding the polls.
The situation was not much different from Ghana, which at the time was also readying itself for a major presidential and parliamentary election.

Quite characteristic of such periods is the vast production of political propaganda and fake news by political actors intended to paint opponents black and win for themselves public favour.

While propaganda or disinformation seeks to selectively apply facts to favour an individual, fake news largely concentrates on faking facts to achieve a political goal.

Unfortunately, Ghana's politics appear to be increasingly inundated with fake news, which if not immediately checked, may comfortably settle on the bed of the country's politics as an acceptable means of political battle just as propaganda.

Last week, the presidency had to take to issue an official release to discredit a fake news that President Akufo-Addo had initiated processes to legalize homosexuality in the country.

The source of the fake news cannot be immediately indicated, but it came at a time when a national debate had been reignited over the legalization of same-sex marriage in African countries.

It was premised on a recent encounter between leaders of Commonwealth countries and British Prime Minister Theresa May, where the latter urged presidents whose local laws frowned against same-sex marriage to revise their law.

"I'm all too aware that these laws were often put in place by my own country. They were wrong then, and they are wrong now…Yet there remains much to do…Nobody should face discrimination and persecution because of who they are or who they love. The UK stands ready to support any Commonwealth nation wanting to reform outdated legislation that makes such discrimination possible," she said.
Many citizens had begun calling on the government to state its emphatic position; whether or not it was ready to review its laws to accommodate homosexuals, but the presidency did not immediately react to the calls, giving room to opponents who capitalized on the situation to publish a fake report suggesting the government had initiated moves to legalize homosexuality in Ghana, following Theresa May's appeal.




Read one of the fake releases below:

STATEMENT OF HIS EXCELLENCY NANA ADDO DANKWA AKUFO-ADDO'S TRIP TO THE UNITED KINGDOM

While in the United Kingdom, the president of Ghana, His Excellency Nana Addo Dankwa Akufo-Addo engaged with his counterparts and especially the British Prime Minister, Theresa May. Among the discussions, as Ghanaians may be rightly aware, bothered on the legalization of same sex marriage in Ghana.

Prime Minister May intimated among other things that the colonial regime instituted certain laws for their former colony which seems to have blocked any moves to legalize homosexuality in Ghana.

In addition, she pledged support to aid Ghana remove such barriers to pave way for the legalization of the act in our jurisdiction.

While sometime in 2017, a question was posed to him on his position on this issue, the president intimated that indeed, as a nation, we have not had any force from any civil society groups or from individuals seeking the passing of laws to legalize same sex marriage in Ghana.
In that interview, the president indicated that in the near future, the legalization of same sex marriage is bound to happen.

This, the president still stands by. Indeed, with his record as a human rights lawyer, and having championed the repeal of the Criminal Libel Law in the early 2000s, he is committed to sustaining the rights of individuals within the country.

He would make every right decisions through the appropriate bodies and for this matter, Parliament for consideration on the issue of same sex marriage and its status in Ghana.

The president would appreciate if public discussions would be directed at the positive side of guaranteeing the rights of individuals no matter their sexual preferences and orientations.

The government, and its machinery, would, in the coming days, start a process to set in motion, a legislation that would pave way for individuals to pursue their sexual preference without any hindrance.

The president urges all Ghanaians to be circumspect on this subject as rights are seen to supercede any other beliefs so long as the subject of democracy is up and adopted in Ghana.

Thank you.

Signed:
Eugene Arhin

Director of Communications, Jubilee House-Accra

The government was forced to counter the fake news with a distress press release in which it emphatically declared that homosexuality would not be legalized in the country; at least under tenure of President Akufo-Addo.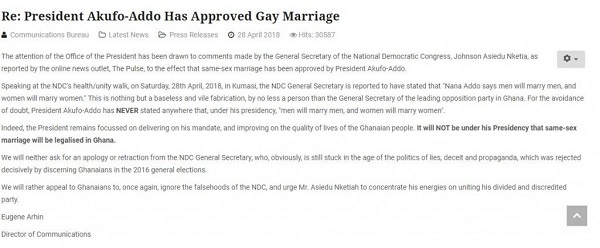 Presidency reacts to fake homosexuality news

The response, although timely enough to quell the spread of the fake news, was too late to late to inform some Ghanaians including the General Secretary of the opposition National Democratic Congress (NDC), Johnson Asiedu Nketiah, who told thousands of party enthusiasts on Saturday that the government would soon legalize homosexuality.

Against a recent article titled "We never promised $1milion per Constituency! it was just a mere thought- Vice President" which flooded social media was exposed to be fake news. Again, many had shared it innocently without verification.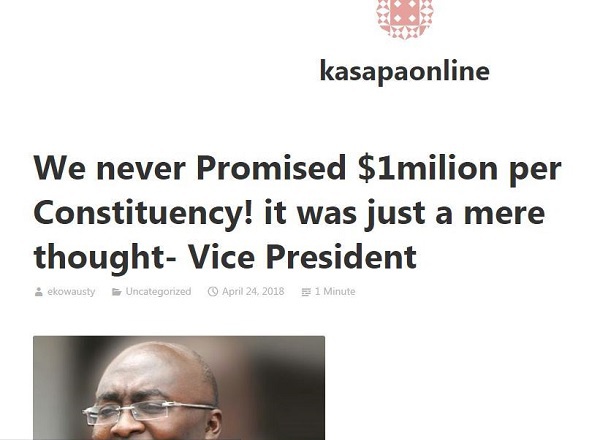 These and many other examples indicate the threat posed by fake news to journalism in Ghana, and also how much politicians have to struggle to correct false impressions of ignorant citizens acquired from fake news.

Ultimately, the news consumer who is at the receiving end of the information; whether fact or fiction as in fake news, must take the pain to be selective in the sources from which they consume news.

And the reality that makes fake news travel far, is the dominance of social media and the freedom it gives users unlike traditional news media.

This even becomes a huge challenge to traditional media outlets, who are sometimes misled to reproduce these fake stories from social media without carrying out proper checks as the ethics of journalism demands.