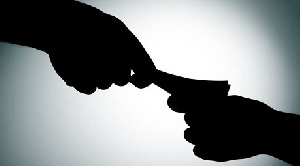 No matter where you stand on the political spectrum, NPP or NDC, upper-class or lower-class, rich or poor, you will still get hit — at least once, in your lifetime — by the heavy blows of corruption. I do not know the origin nor the etymology of corruption, but I do know that corruption is a man-made product, not divine. From breaking down our healthcare system to denying people their right to education and sports, destroying our talents and crushing down our institutions. Corruption has killed thousands of people in Islands, mainlands and hinterlands. Not just that, the canker has torn families apart and have left families with famine. Could this be the reason why we appear to be fighting against it? We all know the answer. But the question is, have we made any progress, so far, in our fight against the menace? The answer is clear.
A plethora of methods have been adopted for fighting corruption: the traditional method, where chiefs are the justices; the law court system, naming and shaming by investigative journalists, etc. And now we talking about the office of the special prosecutor and the RTI bill. But, referring to the recent hue and cry raised by the special prosecutor about the unwillingness of some government officials to make available, documents needed to aid in prosecution coupled with the decades of hibernation of the RTI bill in parliament as some evidence, tens of thousands, running into millions, of Ghanaians are now seeing some particles of truth in the words of the cynics, which verbalize that the motive for the setting up of the office of the special prosecutor and the RTI bill were defeated the very day they were conceived. Alas, reports show that the canker keeps touching and winning more souls, and its effects keep multiplying. Should we sit unconcerned while corruption nibbles us to death?

But is there any panacea at all for corruption?

Education is not just an equalizer; education is the perfect cure for corruption. It is the tool that was used in building the Singaporean army. The father of Singapore, Lee Kuan Yu, observed earlier that economic and social progress, and military might are not the natural order of things. But depend on relentless effort on the part of government and citizens. He understood that to build an army, he needed to re-orientate his people's minds (minds that detested military due to certain precedence) through education and get them to like soldiering.

This worked perfectly for Singapore, a former dejected British colony that transmogrified from third world into a modern metropolis. And since we believe in the Singaporean story, we can tell the story in our own way with our own words under our own circumstances. Do you know that no Ghanaian president nor finance minister ever was or is incompetent? But corruption makes them appear so. Let's get it right, education is not just about learning mathematics and management. Facts and non-facts. Education is about learning values, and learning to hold on to characters that will allow economic principles and economic modules to function.

As we find ourselves at the crossroads in our journey of fighting corruption — after having tried diverse abortive methods — we can only adapt education as the tool to curtail the canker. This is not to suggest that the preceding methods should be shunned, no. It should complement solemn education. It is allowed not to have a particular knowledge on a particular issue at a particular point in time. But the time is now for us to realize that no amount of fine laws can unleash us from the grips of corruption until we fine-tune our minds. Yes, laws do we work properly in other places, but it works because the people have been conscientized. I cannot discharge justice justly if I share the same defects with the culprits.

To defeat corruption, the Ministry of education must come up with a curriculum that will capture corruption as a subject — which will span the causes of corruption, catalogue of corrupt practices, and consequences of corruption, etc. — and teach it at basic, secondary and at the University level. This is the most compelling and realistic way we can effectively and efficiently retire corruption or reduce it to the barest minimum. This alongside sincere and effective multimedia public campaign could be a useful tool for fighting the threat. Because it is very common that people routinely engaged in corrupt practices without knowing. Much like extinguishing fire, fighting corruption should be done bottom up.
Prevention is better than cure is a terrible cliché, I agree. But I tell you what, prevention is better than cure. Thus, instead of waiting to prosecute fully-fledged criminals after they've injured the country, it is more logical if people are re-moulded to perceive and accept corruption as their greatest enemy — and the truth is, it is our greatest enemy — at their early ages of life. This way, we can create a new generation of non-fictitious honorable men and women who will take Ghana to greatness.

This might sound a little bit theoretical, but in my journey, I have learnt that it is a theory that matures into a law. Hence there is prospect in this proposed path. Remember, it is the attitude of man not the aptitude that determines his altitude.

Allow me, therefore, to end with the words of the Argentine revolutionary, Ernesto Che Guevara: ''Seguimos en combate hasta la Victoria siempre.''

Rahim Newton

abdulrahimnewton@yahoo.com