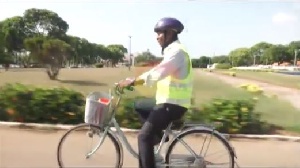 "Ras Mubarak rides bicycle to Parliament over economic hardship" was the headline that made the news when the Member of Parliament (MP) for Kumbungu Constituency cycled to work. To me, I felt this title was blown out of proportion as it could have better been captioned "MP exercises to Work".
As a professional planner, my intention is not to score any political point by vilifying the action of the MP but rather to point out the action as a mockery of a sustainable means of transportation in Ghana. Moreover, implicit in the action is an indirect statement by Hon Mubarak and a confirmation of a stereotype that bicycles belong to the poor and economically disadvantaged in the country. Perhaps he could have sold his V8 Land Cruiser and walked to drive home the point of his economic hardship.

The world over, cycling has emerged as an important mode for accessibility. It is now trendy and becoming chic for different lifestyle apart from the fact that it is one of the healthiest mobility options. In some countries, this concept of cycling has been widely embraced to the extent that the countries with the most bicycles per capita are among the most developed, such as Netherlands, Denmark, Germany, Sweden and Norway.

In fact, in the Netherlands, where the population is about 17 million, there are 22 million bikes implying a ratio of 1.3 bikes per person (BPP). This far exceeds that of China where the population is in excess of 1.37 billion but with a bicycle statistic of about 500 million (0.36BPP). What about a comparison with the USA? The US has a population of 325 million against 70 million bikes, meaning 0.21 bikes per person.

It is, therefore, no surprise that the Dutch Prime Minister cycles to work. The French President Macron even took a bike ride with the Prime Minister of Denmark, Lars Lokke Rasmussen on his tour of the capital city Copenhagen on August 29, 2018.

In Ghana, the Chief Executive Officer of Vodafone Yolanda Cuba sometimes cycles to work. So the action of the MP can best be described as tone-deaf as he parks his luxurious car and picks a bike to complain of economic hardship.

From his short experience dangling on a bicycle, I would most welcome his call for reforms into our colonial dependency on automobiles. A starting point would be the recognition of a cyclist as a legitimate road user with adequate provision made to accommodate our right to road space through dedicated bike paths.
The dedicated bike paths could be aligned with trees to provide comfort against the scourging sun and serve as a means of carbon sequestration to mitigate the high pollution from vehicles. Secondly just as every building has a parking space for cars, there must also be a consideration for sheds meant for bicycle parking.

Thirdly, It is imperative that a wider public sensitization is carried out to improve upon road safety for cyclist. Lastly, private actors would like to look into developing public bike sharing schemes just like the Velib in Paris-France and the Barclays Cycle Hire in London-UK.

The neglect of cycling as a productive means of mobility in Ghana is a worrying concern. It holds immense potential for local economic development, environmental sustainability and healthy lifestyle for the population. I look forward to the day when riding a bicycle would not be looked at with contempt and equated to economic hardship but rather a sustainable healthy choice made by discerning citizens.

The Writer is Urban Planner and Metropolitan Governance Analyst

Email: kbfghana@yahoo.com