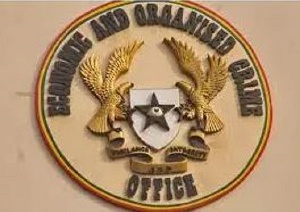 I have sighted a statement by the Economic Organised Crime Office (EOCO) signed by its Executive Director which called for the suspension of its Eastern Regional Director, Fred Denzy for a comment he made in a speech he gave at a public forum themed "Youth In The Fight Against Corruption", in which he mentioned that the government cannot win the battle against corruption if he doesn't tackle the prosecution of people under his government who have been accused of corruption.
His suspension is clearly wrong because;

Firstly, it was his opinion and he is entitled to it. Secondly, if such a move is upheld, it will deter public servants from accepting invitations to educate the public at such public forums on corruption, and also prevent them from engaging themselves in public discourse on serious national issues. Moreover, what he said was only a fact which corroborates the reasons why Ghana got this messed and ate up by corruption under former President Mahama. Note, a major reason why Ghana got totally consumed by corruption was because H.E John Mahama failed to prosecute his people accused of corruption under his government. Furthermore, it smacks autocracy, agenda to gag and an affront to democracy, rule of law, freedom of speech, expression of opinion and the 1992 constitution.

Most serious of their action is its bad political consequences and indictment on the President when he is not even a party to it, the heads of EOCO have in fact put the President and government under a bad political spot light, and so the earlier they right it, the better.

The President is an advocate of freedom of speech and expression of opinion, and he has been one of the greatest of it of our time with lots of examples to attest to that.
The action of the heads of EOCO was needless and populist, and can only be described as an act of desperation intended to catch a glimpse of the president of which I am sure per the values he holds he is not interested in such.

I have monitored the President for long, and I know he has no agenda to rule a nation devoid of the public's right and freedom to get their opinions heard so that democracy and development can be well enhanced. In fact it is even against the tenets and ideology of the New Patriotic Party (NPP), a party and its roots he has supported, defended and worked for its development his entire life since its inception.

I will only advise the heads of EOCO to rewrite this national shame and its political blur on the President through the cancel of the suspension of the Eastern regional director.