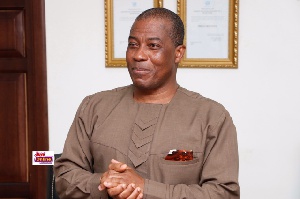 Not long ago, the good people of Asuogyaman woke up only to see the posters the former MP for Asuogyaman, Kofi Osei Ameyaw, with the inscriptions, "Kofi San bra Biom".
The said posters were financed and shared by the former MP through his appendages - Asuogyaman Development Foundation in collaboration with Asuogyaman Devoted Ladies; groups which by checks do not exist in Asuogyaman. If Mr. Kofi Osei Ameyaw is confident in himself, why does he need people to call on him before he comes to contest?

The purported call for the coming back of Osei Ameyaw to lead Asuogyaman NPP into election 2020 is nothing but a hoax and could best be described as a failed attempt to test the waters he has already muddied.

Never again should Kofi Osei Ameyaw think that he can once again deceive the reasonable masses in Asuogyaman. In any case, how has he accounted for the two parliamentary term opportunities the people of Asuogyaman entrusted him with to serve them as MP?

The delegates who have the decision making power are wide awake and would any day bring to the notice of Kofi Osei Ameyaw and his surrogates that, he can fool some of the delegates some of the time, but he can't fool all of them all the time. The highest form of embarrassment awaits him should he continue to hurt the same delegates who got abandoned after voting him to lead the New Patriotic Party into various elections.
Notice is hereby served to Kofi Osei Ameyaw and his surrogates led by one Jonathan Hagan who is the Presiding Member of the Asuogyaman District Assembly that, no amount of their machinations will live to see the light of day. Delegates in Asuogyaman have decided and done so wisely that Kofi Osei Ameyaw should not even think of any such thing as hiding behind any group to stage a comeback that is dead on arrival.

As if these are not enough, there is one Razak Kojo Opoku who claims to be from the Office of the President (which i believe is not true) and has been tasked to speak directly to the Polling Station Executives in the constituency on Osei Ameyaw's behalf.

Razak Kojo Opoku is with the message that this time around, they want to deal directly with them ( Polling Station Executives) because they have realised that whatever they send through the Constituency Executives and the Electoral Area Coordinators do not reach the Polling Station Executives. This is Osei Ameyaw's typical divide and rule tactics he uses to create confusion in the party but this time it will not work.

Notice is again served to Kofi Osei Ameyaw that, whether he deals directly with delegates or not, he is fighting a lost battle. Whatever he brings will serve as compensation for the number of times he has deceived the people. This is payback time for him.