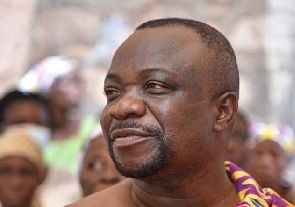 It will be necessary and befitting for the constituents of Sekyere Kumawu Constituency to have the name of late Philip Basoah (Hon.) etched in their memory by erecting a monument in Kumawu in his memory.
It is following his sudden death come about so sadly that the township of Kumawu and its satellite villages are witnessing an unprecedented reconstruction of asphalted roads in the history of Kumawu by the New Patriotic Party (NPP) government. If so, why can't a side street or road in Kumawu be named after him as his legacy and in remembrance of him by posterity?

His death should not be in vain. I can personally see him as having sacrificed his life to serving his people and constituency both in life and in death.

He suffered unnecessary animosity, jealousy and name-soiling at the hands of his political rivals for all obvious and undisclosed stupid reasons. He kept going without complaining, although as bitter, difficult and littered with hurdles the road to serving his people was.

Many were those that saw him and mocked him as 'MP do nothing', although he was all the while trying his hardest, lobbying for projects for his people and constituency, only to be sabotaged and undermined by some known and unknown enemies from the constituency, especially, from his own NPP and Kumawu, the town and land of his birth.

Now that all the development projects he fought for as his share of the distribution of the national cake on behalf of his people and constituency are being granted soon on his death, it is only right that he is remembered and credited for it. How can it be done without naming a road after his name in remembrance of him?
I hope his teeming supporters that rallied to give the NPP an overwhelming victory in the parliamentary by-election held in the constituency on Tuesday 23 May 2023, following his demise, in what many attribute to sympathy voting, will only agree with me that it is imperative that Basoah is remembered in a lasting befitting way.

What could be lasting more than naming a road after him?

Basoah cannot be remembered much better in any way without first acknowledging the services rendered in audacity by the Kumawu-Etia boys and girls. They demonstrated boldness as of old known Kumawu-Etia people who don't tolerate any nonsense from whomever.

Without them, the enemies of Basoah would have continued to soil his name by showing up at his funeral sauntering around as if nothing had happened and the NPP leadership continued to deny Kumawu Constituency her share of the national cake.

Nevertheless, the bravery of the boys and girls has paid off, hence I say thank you to them and I tip my hat to them.
I hope both the public and the traditional leaders with the support of same Etia boys and girls and the multitude supporters of Basoah will agree with me that it is just right a street is named in his memory.

By so doing, it will kill the taste of future political saboteurs if the people they sabotage finally become more popular and loved even in death as it is in the case of Basoah.

Do some Christians not say with certainty that "if the Jews knew they were killing Jesus Christ only for him to end up becoming so popular and famous and worshipped throughout the world, they wouldn't have done it"?

Similarly, if those that constantly undermined Basoah to incur his public wrath to cost Kumawu Constituency any share of the national cake knew he would become so much adored in death to earn the constituency a double portion of the national cake, they wouldn't have done it.

Once again, I call for a street to be named after him in the Constituency, preferably, in Kumawu.