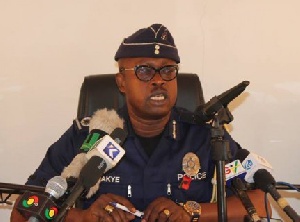 Communication requires dexterity. When the source of a message fails to manage his delivery well, the import will be lost and a negative impression created.
It is even worse when such deliveries are propaganda-powered, a feature of National Democratic Congress (NDC) politics in the run-up to the 2016 polls.

President John Mahama could have handled the Kofi Boakye promotion stuff better than he did when he was rapping Otumfuo, the Asantehene, during his Ashanti Region leg of his nationwide 'Accounting to the people' campaign tour.

It was even unnecessary to broach such a subject in a public space as the president did. We are constrained to recall the "I do not like American cars" goof and the non-interesting reactions it triggered.

The curious would want to find out whether there is something special between Kofi Boakye and the Asante King that he (King) would isolate him (Kofi Boakye) for an exclusive treatment. Such anxieties would not have reared their heads, were the president discreet. Unfortunately, the King could not express gratitude to the caring president for acceding to his request.

We are discussing this subject because questions are being posed about the negativity inherent in the president's announcement. Answers to these questions are necessary for us to make an informed judgment. No malice is intended: we are only righting a communication anomaly. The inherent goof is too loud to be pushed under the carpet. It has apparently taken the shine off Kofi Boakye's excitement.
Is it normal for the president to be persuaded to cause the promotions of public officers? Now we know such anomalies are commonplace in the public system.

We have no umbrage against the president getting excited about a development and going ahead to spice it the way he wants it with a touch of propaganda; after all, he savours this. But to manage the matter under review the way he did it yesterday is to say the least inappropriate.

To tell the world that Otumfuo made an appeal for the promotion of then DCOP (now COP) Kofi Boakye suggests that the elevation was not based on merit: are we being told that but for the King's intervention the gentleman would not have had the lift?

Our president, as well as other politicians, need not be reminded about considering the import of their remarks before uttering them.

We hope that other deserving Superior Officers and even NCOs would be blessed with the intervention of prominent personalities in society.
Next time somebody is promoted because the chief of his hometown or village appealed to the president, we should not find it anomalous because the precedent has been set. Reciprocity is important in such favours.

It would be interesting to find out what the president intends to achieve from the goodliness. It adds to his much-touted compassion, a quality he has inscribed on billboards across the country.

Kofi Boakye, enjoy your rank; but President Mahama has spoilt the party.