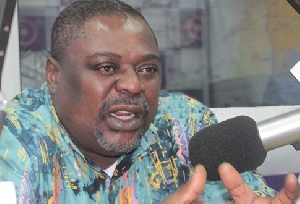 I tip my hat to a fellow internet Columnist going by the name Eric Bawah. A publication he put out on Modernghana on Wednesday 26 October 2016 titled, "Of Mutum Banza And Incompetent President", has indeed exposed the mouthy toady Koku Anyidoho.
In this publication, he questions on what grounds "who born dog" Koku Anyidoho could insult Dr Alhaji Mahamudu Bawumia, one of the few shining academic stars, technocrats and men of integrity in present day Ghana, calling him "mutum banza", a Hausa phrase meaning "a nonentity"?

Folks, just read the publication yourself to better understand where I am coming from and how Koku Anyidoho's credibility is now in tatters if at all he has ever had any credibility.

Dr Bawumia has cited 170 case by case instances covering a whole range of issues to question the competence, credibility and acceptability of President John Dramani Mahama as the President of Ghana. Failing to answer those or the majority of the posed questions, then President Mahama is not worth standing for re-election because he is incompetent.

Instead of the NDC, especially Koku Anyidoho, the NDC Deputy General Secretary, countering the instances cited by Dr Bawumia on academic or professional level, he has rather chosen to insult him. This goes to tell that Koku Anyidoho, who has the mind of a midget but the huge mouth of the pig or hippopotamus, is academically deficient to engage Dr Bawumia in intellectual debate hence choosing the fool's pathway of insults.

Yes, he could insult him if he, Dr Bawumia, had done something silly but not when he has only thrown a tangible challenge to the President and the NDC, failure to live up to which challenge makes one clearly incompetent.
The 170 economic claims yet to be challenged by the NDC and especially President Mahama, Vice President Arthur-Amissah and Koku Anyidoho are found in the web link below.

https://www.modernghana.com/news/729277/my-170-economic-claims-yet-to-be-challenged-bawumia-remi.html

Koku is being taken to the cleaners to be well laundered with bleach and hot water by Eric and when he comes out, he will learn to debate intelligently rather than displaying his folly through seeking to tarnish the reputation of a man of unique integrity, Dr Bawumia.

The NPP should not give any attention to, or spend precious time on, these nonsensical diversionary tactics desperately being employed by the NDC to put brakes on the ferociously blowing wind that is going to sweep President Mahama out of the presidency.

The NDC have determined to attack Dr Bawumia because they find his truthful revelations a ton of thorns piercing them from all angles. They will not succeed as the NPP are so specialised to have some people like Erica Bawah, Rockson Adofo, and K. Badu etc., to take care of such accusations while those campaigning on the ground do their job without distraction.
Let us all look forward to NDC bigot Anyidoho publishing his CV for the public to judge between him and Dr Bawumia to determine who indeed is a "mutum banza"

The wind of change is blowing so all discerning Ghanaians should get involved to give the wind the speed it needs to clean up the presidency of John Dramani Mahama come 7 December 2016.

I want to see any Ghanaian that cares about his or her neighbour join the NPP to garner more votes able to kick out President Mahama from power because everybody or most people are suffering economically in Ghana as a result of the perpetration of corruption by the NDC government as supervised by President "Me be dii be keke Yen ntie Obiaa" John Dramani Mahama.

Once again, I say, more grease to your elbows, fellow selfless Ghanaian, Mr Eric Bawah.

Koku Anyidoho, a coward who probably cross-dresses in private and goes by the names Margaret Jackson and Nana Akua Tweneboa Kodua "aye hot" at the hands of Mr Eric Bawah.