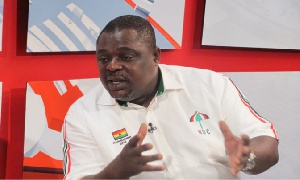 Hmmmmmmmm!!!!
I have had to sigh deeply because, in as much as I never expected Nana Akufo-Addo to achieve anything of positive significance should he ever become President, I am amazed at the high level to which he is flying his despicable leadership flag of Incompetence and Impotence.

I am amazed because I thought that in this day and age of enlightenment, stealing will be done in a more organised manner and with much more finesse and style.

Somehow, Nana Akufo-Addo has surrounded himself with, Family, Friends, Cronies, and Concubines, and under his watch, corruption is now being GLORIFIED without any sense of shame nor remorse.

When the NPP was in opposition, no opportunity was lost to drag the name of the NDC in the mud of corruption.

The NPP succeeded in tagging the NDC with corruption and there is no denying the fact that, the NDC lost a lot of electoral grounds because of its inability to fend off the corruption attacks waged by the NPP.

When, in the face of the glorification of, thievery, stealing, looting, nepotism, cronyism, corruption, hooliganism, and the breakdown of law and order vis-à-vis the utterances of the NPP when they were in opposition, an allusion is made to George Orwell's Animal Farm, the NPP decides to be extremely barmy about the analogy.




Every average mind knows the story of the Animal Farm and so I do not see why Bawumia and his NPP acolytes should be angry about their current actions and inactions being likened to what happened in the Animal Farm after the Pigs led the Revolution and took-over power.

After the pigs took-over power, they did worse things than they accused the farm owners of doing.

In like manner, the NPP is doing worse than they accused the NDC of doing so if their actions are being likened to the actions of the pigs in Animal Farm, why all the hue and cry?

It is only the NPP simpletons who will get lost in a labyrinth of misty theories and postulations over a literary reference to how the pigs in George Orwell's Animal Farm, became more corrupt than the human beings who used to own the Farm.

"Four Legs good; two legs bad", is an everyday phraseology and I laugh when I hear the simpletons in the NPP scream and soil their pants in their banal and barmy attempt to say that they are being called pigs.

Of course, if they feel they are behaving like pigs and so are hurt that some allusion has been made to pigs, that is their own cup of bitter tea to drink.

Is it not a fact that Akufo-Addo and his ilk referred to the former NDC Administration as one that was made up of Family and Friends?

What are we witnessing today under the watch of Nana Akufo-Addo?
Assuming without admitting that the former NDC Administration was loaded with Family and Friends, is what we are witnessing today not worse than what was supposed to have existed in the past?

Nepotism and cronyism are forms of corruption and that is the extent to which Nana Akufo-Addo is carrying corruption in a DISGRACEFUL PALANQUIN.

Just look at how Nana Akufo-Addo has surrounded himself with his Family, Friends, Cronies, and Concubines:

1. Ken Ofori Atta – Finance Minister – Cousin

2. Nana Asante Bedietuor – Secretary To The President – Cousin

3. Sophia Akufo – Chief Justice – Cousin

4. Gloria Akufo – Attorney General – Cousin

5. Gabby Otchere-Darko – Defacto Prime Minister – Cousin

6. Samuel Atta Akyea – Minister for Works & Housing – Cousin

7. K. Amoako-Atta – Minister for Roads – Cousin

8. Gyankoma Akufo-Addo – Creative Arts Council – Daughter

9. Nana Adjoa Hackman – GNPC Board – Gabby's Wife

10. Ama Busia – Envoy To Brazil – Ex-Concubine

11. Virginia Hesse – Envoy To Czech Republic – Mother of Akufo-Addo's First Daughter

The above, is only a tip of the iceberg as far as the disgraceful corruption-laden, Family, Friends, Cronies, and Concubines, Akufo-Addo-led NPP Administration is being carried aloft without any form of shame in an extremely disgraceful palanquin.
In all the State Institutions, Akufo-Addo has his Family, Friends, Cronies, and Concubines, littered all over the place.

Have we so soon forgotten how the Ghana @ 60 Anniversary Committee was made-up of Ofori-Attas and people from Kyebi?




Finance Minister, Ken Ofori-Atta

A cursory look at the Financial Sector points strongly to how Ken Ofori-Atta and his Databank "boys and girls" have hijacked the sector and obviously doing things that will inure solely to their benefit and not to the benefit of Ghana.

If you consider the hefty amount of money that was wasted on the roadshow for the current bond that did not catch the attention of investors and so did not meet its required target, it tells a vivid story of how Ken Ofori-Atta and his friends travelled abroad to go and lavishly spend the taxpayers money "waa waa waa".

Of course, the inability of Ken Ofori-Atta to make a full disclosure on the $2.25billion KENBOND, amplifies the fact that, Ghana's financial sector is being run by a cabal that is out to use all kinds of white-collar vehicles to steal monies and fatten their bank accounts.

If it is true that Databank was really suffering from cash crises for a number of years because of the misuse of investor funds to support Akufo-Addos' failed bids in 2008 and 2012 to win political power, then the appointment of Ken Ofori-Atta as Finance Minister, and the loading of Ghana's financial sector with his cronies, speak volumes of how they have an agenda of using the machinery of state to make money and stash away funds.

If it is true that Ken Ofori-Atta too has Presidential ambitions and hopes to take-over from Akufo-Addo, then we now understand why they are in a hurry to make money through any means possible and so do not care if they are hoisting high the flag of corruption and carrying corruption in a DISGRACEFUL PALANQUIN.

Keli Gadzekpo, Board Member, Bank Of Ghana, and Board Chair of ECG, co-founded Databank with Ken Ofori-Atta.

Yoofi Grant, CEO of Ghana Investment Promotion Centre, is a Former Vice President of Data Bank.

Daniel Ogbamey Tetteh, Director General of Securities and Exchange Commission, is a Former Vice President of Databank.

Deila Awo Asimeh, Board Member of the Securities and Exchange Commission, is a former Company Secretary of Databank.

Ernest Akore, Board Member of Ghana Revenue Authority, is a Former Non-Executive Director of Databank.

Sampson Aglikor, Head of Financial Services Division of Ministry of Finance, is a former Vice President of Databank.
Ntiwaa Daaku Kwakye, who also worked at Databank, is now a Special Assistant to Ken Ofori-Atta at the Finance Ministry.

Felicia Gyamfi Ashley, who was also head of Human Resources at Databank, is now on the Entity Tender Committee of the Finance Ministry.

Eno Ofori-Atta, Deputy Managing Director of SIC Financial Services Limited, is a sister-in-law of Ken Ofori-Atta.

Michael Asare Bediako, who is a brother to Gabby Asare Otchere-Darko, is a Special Assistant to Ken Ofori-Atta.

The list goes on and on!

How can anybody convince any right-thinking person not to believe that all the nauseating cronyism and nepotism that is going on under the watch of Nana Akufo-Addo, is not inspired by a very greedy agenda to, loot and plunder the nation's wealth?

This is certainly the best definition for; CREATE, LOOT, AND SHARE!!!

It is ipso facto that, Nana Akufo-Addo and his gang are out to make money through any means possible and enrich themselves through any means possible.

It is also ipso facto that the agenda is to only amass wealth and make sure that even after they have been booted out of power in 2020, they will still possess a lot of wealth.

All the attempt to sell off, ECG, GRIDCO and VRA, is to ensure that they sell such strategic state assets to themselves through friends and cronies so that after they have been booted out of power, they will still be in control of such assets and can afford to sabotage successive governments.

They lie bad!!!

They have forgotten that after they have been booted out of power, there will be a Special Prosecutor who will deal mercilessly with them.

The NPP's corruption is not sitting only in the disgraceful palanquin of Nana Akufo-Addo and his civilian family, friends, cronies, and concubines: the corruption has seeped into every facet of the Ghanaian society.

Per very credible information being picked up, almost all the Security Agencies are now reeling under the heavy weight of corruption.

With the flag of corruption flying high at the Seat of Government without any sense of shame, men in uniform who have thrown their professionalism to the wind, are also busy engaging all manner of corrupt acts.
Are we not hearing that there may soon be some form of mutiny in the Police Service because some Top Officers are chopping the Welfare Funds of the Junior Ranks "nyafu nyafu"?




Chief of Defence Staff, Major General Obed Boamah Akwa

Are we not hearing that some top officers in the police service are hiding official vehicles and planning to auction such vehicles to themselves and thereby depriving the Service of vehicles to function properly and fight crime?

Are we not hearing that the recruitment exercises into the Ghana Armed Forces is fraught with all kinds of unacceptable underhand dealings and denying qualified persons the opportunity to be enlisted?

Does this not remind us of what a certain Colonel Damoah used to do in the days of Kufuor as President and Addo Kufuor as Defence Minister?

History certainly has a very harming way of repeating itself sometimes.

My brothers and sisters, "… deep in my heart I do believe that we shall overcome someday".

I will end here for now and hope we can meet again same time next week under the shade-giving Umbrella.

Hastaluego Amigos.

Shalom.

Koku Anyidoho

Deputy General Secretary (NDC)

Founder/CEO, Atta-Mills Institute (AMI).