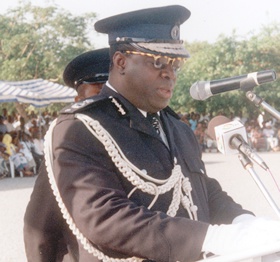 The Statesman article on Tuesday 21st November 2006 Proclaims "Kufuor gives IGP the all clear" What kind of message is John Agyekum Kufuor sending to Ghanaians?

This is an ignominy to our nation. The government of Ghana does not run its police department in centralized system but rather on a decentralized structure. This gives hegemonic powers of authority to whomever the government appoints to be the inspector general of police which is currently Patrick Kwarteng Acheampong (IGP). Therefore, the IGP is required to provide credible accountability to the government for the entire police department from the ten Regions. If any thing does go wrong with the police, the IGP must be held responsible.


The fact, remains that the former Great Accra regional police commander ACP Kofi Boakye & co has been found liable for criminal wrong doing through the Georgina Wood committee investigation, in which Patrick Kwarteng's name was mentioned several times by (ACP ) Kofi boakye. This signifies that the IGP is not credible to run the nation's police force.


To begun with, the Georgina Wood committee has found some police members liable for criminal offenses, which are under Patrick Acheapong supervision. Despite the ethnical dilemma, ACP Boakye did fabulous work as a Regional police Commander .Yet, the IGP was called to testify on these hearings. He should not be allowed to retain his position as the IGP of the police department. Patrick Kwarteng Acheapong has failed the nation by not monitoring his police force. . It was his constitutional obligation to provide accountability to the government, which he has failed to do. The article indicates that " Joe Ghartey the attorney general and Henrietta Mensah- Bonsu, a renowned law professor, have both recommended to President John Agyekum Kufuor that they find nothing in the Justice Georgina Wood committee's work to warrant adverse findings against the IGP" When are Ghanaians going to know the unknowns about this case? If the attorney general is now saying this to Ghanaians without given us the facts about this case.

The Attorney – General Joe Gahartey should use his common sense in way to interpret the language of our constitution that the IGP is no longer credible to be involved with the nation's security matters. The IGP should not be allowed to rob or killed somebody for unjustifiable reasons before he can be found liable for a wrongdoing. The social dilemma that the IGP is implicated in is a serious issue within our nation. Therefore, John Agyekum Kufuor should fire the IGP. There shouldn't be any conflict of interest in these matters. Ghanaians do not own Patrick Kwarteng anything. He has failed the nation. He must leave the police force. Kufuor should run the nation as a business entity. This will yield effective results. The IGP has failed the nation with his lack of accountability. He must be fired, period.